This is two weeks in a row that I'm breaking my Tuesday Training tradition, but with Lindsay's Tuesday Trainer "on vacation" this week (and a decreasing number of days until Christmas) I wanted to share my new Eggnog Spice Biscuit recipe with you instead.
But first, my latest masterpiece from this month's painting class! This was the hardest class I've taken at Just For Giggles – but the result is worth the effort and stress.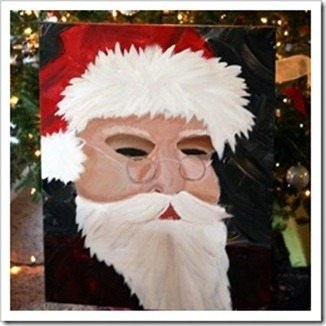 Melody and Jean (my mother-in-law) both came with me and we had a great time! Melody is to my right in the green shirt and Jean is on the far right in the white sweater.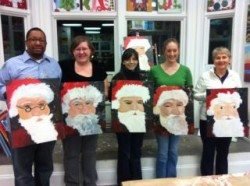 Painting faces is REALLY hard! This weekend's class was a special 3 hour workshop and I used every minute. Megan, the owner & instructor for the evening, was very patient with my millions of questions and helping me understand how to get it right.
Have you tried a painting class in your area?
Biscuit Time
On Sunday morning, before church, I decided I wanted to make biscuits again. I made some from Mama Pea's recipe early last week and decided to try something a little different this time. I had some "Egg Nog" in the fridge, which lends nicely to warm wintery spices, from which this recipe was born!
Eggnog Spice Biscuits
Author:
Ingredients
1 cup + 3 tablespoons Non-dairy Nog (I used Earth Balance Nog)
1 teaspoon apple cider vinegar
2 1/2 cups whole wheat pastry flour
4 teaspoons baking powder
1/4 teaspoon baking soda
3/4 teaspoon salt
1 teaspoon ground cloves
1 teaspoon ground cinnamon
1 teaspoon ground nutmeg
3 tablespoons Earth Balance margarine
2 tablespoons vegetable shortening
Instructions
Preheat oven to 475 degrees.
In a small bowl or cup, mix Nog & apple cider vinegar together and set aside.
In a medium bowl, mix together flour, baking powder, soda, salt, cloves, cinnamon, and nutmeg. Cut in Earth Balance margarine and shortening until mixture resembles course meal.
Add Nog mixture to dry mixture and mix until just combined into dough ball.
Place dough onto lightly floured surface and roll into 1/2 – 1 inch thickness, adding a little extra flour to the dough if needed while rolling – dough should not be sticky. Fold dough in half on top of itself – this will help make the biscuits flakier after baking.
Using biscuit cutter or small round shape (I used small round Tupperware), cut out circles. Place biscuits on parchment-lined baking sheet about 1 inch apart. I usually get 4 biscuits out of the first batch.
Reshape the excess dough scraps into a ball, roll out, fold in half, and cut out additional biscuits. Repeat until all the dough is used and you have at least 8 biscuits. I had some extra dough at the end and twisted the excess to make a breadstick.
Bake for 20 minutes or until browned. Allow to cool slightly on wire rack (or stovetop).
Powered by
Recipage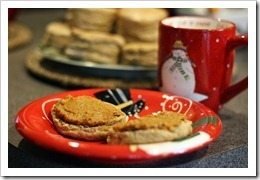 These are tasty without topping, spread with Earth Balance while warm, or with a mix of almond butter, pumpkin, and maple syrup – or earth balance margarine, almond butter, and maple syrup if you're over pumpkin like Kirk is. =)
What is your favorite holiday recipe you have tried this year? Please share and link away in the comments!