When we came home from our long run yesterday afternoon, I can honestly say the last thing I wanted to was stand in the kitchen and cook. Last week was so busy I didn't have any time to create a jalapeño dish any earlier, but there was no way I was going to disappoint you guys on Meatless Monday from A-Z!
Luckily, I had this appetizer prepared in my mind and was able to use the Pimiento Cheese Sandwiches recipe as my inspiration once again. The most time consuming step was scooping out the jalapeños, which wasn't too bad. Just don't touch your eye until you thoroughly wash your hands – no tears wanted for this recipe!
After mixing together all the cheezy goodness in the food processor, I packed these full of of the sauce and baked. Try not to eat all the sauce while you are filling the jalapeños, you don't want to run out!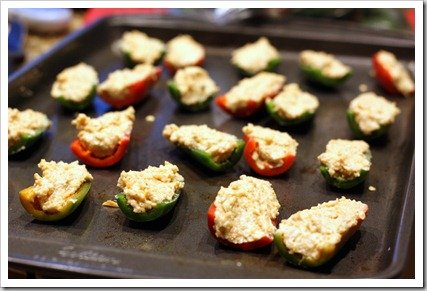 When we bought these particular jalapeños at the farmers market, they did warn us they were particularly hot. And they were! But the creaminess of the cheezy sauce really helps cool down that heat to a manageable (and delicious) amount. If you're concerned about the spiciness, you could certainly use a milder pepper in this recipe (it just wouldn't go along with this week's key ingredient).
Hot Jalapeno Hoppers
Author:
Ingredients
1/4 cup cashews
1 tablespoon nutritional yeast
3 tablespoons water
1/4 cup non-dairy cream cheese
1/2 package cheddar Daiya
1/4 cup Daiya Havarti Wedge
10 Jalapeños
optional: 1/4 cup panko
Instructions
Preheat oven to 350 degrees.
Slice jalapeños in half and scoop out seeds. Place sliced side up on a baking sheet.
In a food processor or blender, blend cashews until finely ground. Add nutritional yeast and pulse until combined. Slowly add water, until sauce is creamy and well combined. Add Daiya Cheddar Shreds & Havarti and blend until smooth.
Scoop cheezy sauce into jalapeños "bowls" with a teaspoon. Bake for 7 minutes or until cheese is bubbly.
Optional: sprinkle baked jalapeños with panko and broil for an additional 3 minutes (or until browned).
Allow to cool slightly and serve.e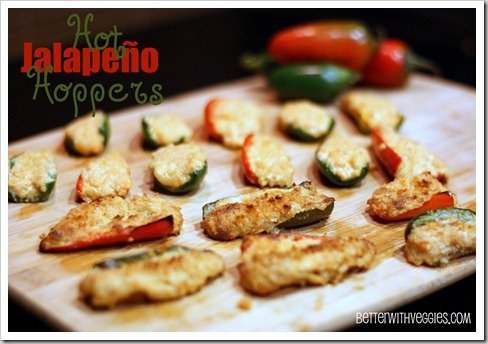 Now it's time to see what amazing Meatless Jalapeño dishes you created this week!
*********************
Questions for you:
Do you consider yourself a lover of spicy foods?
What's your favorite type of pepper?
I'm starting to think about November, any requests for M, N, & O? I'm planning to skip one week in honor of Thanksgiving.