This weekend was about getting things done. I realized last week how behind I am in studying for my NASM certification, so I had to hit the books. I was SURE the six month timeline for studying would be a breeze, but six months expired at the beginning of the month. Thankfully, they gave me an extra few weeks when I realized my mistake and I'm cramming as best I can. Fingers crossed that I can retrain all the science stuff by the end of this week.
The really good part about staying home or once, is that I was able to spend more time in the kitchen! With less than 4 weeks until my second bikini competition, things are getting serious. No cheats, no drinks, all business. If you've been around for a while, you know this is when it gets really hard for me! Thankfully, I still have a high carb day! This is the day I have lots of flexibility, making it easier to enjoy foods I've been drooling over. This week, that meant TWO of the Meatless Mondays from A-Z recipes from the past few weeks.
Lemon Matcha Cakes
Disclosure: Review of Organic Matcha sponsored by Kiss Me Organics. Although I was compensated for this post, all opinions are my own and I only share things that I would recommend to my family and friends. You can read my disclosure policy here.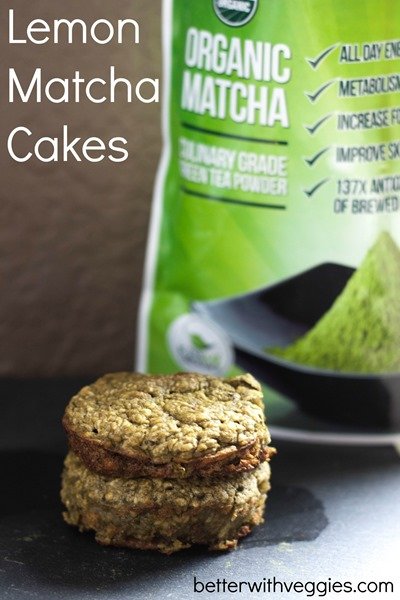 The first one I chose was Megan's Lemon Matcha Muffins. I recently got a bag of Organic Matcha from Kiss Me Organics to try, so I knew I had to try this one the moment she shared it. I have been a fan of matcha for a while (I often get a scoop added to my green tea at Starbucks), but you may not have cooked with it before. Once you do, I bet you're going want to keep using it. Check out these benefits of the Organic Matcha from Kiss Me Organics:
Enhanced Energy & Focus
All-natural increase to your body's metabolism
137 times the antioxidents of brewed green tea, because it contains the entire tea leaf (increases the nutritional content)
I love finding natural ways to improve my nutrition and this matcha powder absolutely fits the bill! This matcha provides a nice light flavor to the finished product and mixed very nicely in the recipe. My only complaint was getting into the package – it was "Heather proof". I ended up cutting the top open, which negated the resealable bag. Oh well!
Now back to the recipe. Megan's recipe makes 10 muffins, but I decided to try larger ramekin cakes. I wouldn't recommend this change, , because it doesn't work quite as well as her original recommendation. Although mine never set up in this larger format, the flavor was great! I suspect if you stick with the recipe and make the smaller muffin version, they would turn out just fine. Sometimes I just have to experiment!
I decided to cover each muffin with an quick lemon matcha pudding mixture to top these off. Although it's not quite recipe-worthy, I can tell you it was a mix of greek yogurt, lemon liquid stevia, unsweetened almond milk, Vega Vanilla Protein Smoothie, and more Kiss My Organics Matcha. If you play with the proportions, I bet this would make a create frosting for the muffins!
Southwestern Hash
Next up, I made Christa's Southwestern Hash, which I have been looking forward to since she guest hosted a few weeks ago!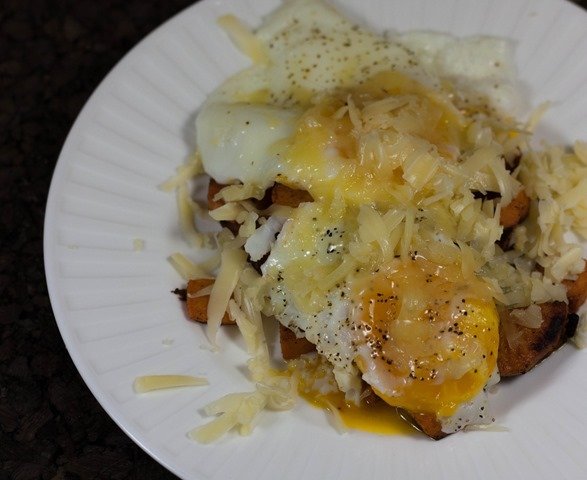 It really is simple, quick, and delicious! The sweet potatoes almost caramelize in the pan and the flavors all melt together to make your mouth very happy! It was actually better than I expected! You need to make this, if you haven't already.
And now it's the time to see what others created for this week's challenge!
We're celebrating the final Meatless Mondays from A-Z today with your final chance to link-up any meatless recipe that features one of the ingredients of the month (yams or zest. If you join the fun, make sure your visit at least a few other participants to make a new friend and share the wealth:
********************
Questions for you:
What was your favorite ingredient from the second round of MMAZ?
Tell me the best thing you ate this weekend?