I came home from work yesterday and had no idea what we were eating for dinner. I wasn't feeling very creative, but I was feeling hungry.
Luckily, Kirk came running to the rescue with this delicious dinner – I love that he enjoys cooking too! I have him trained so well (good thing I'm officially a coach now), he even took notes as he cooked, so I could share this recipe with you today. Isn't he awesome?!
So while I took a bit of a break (and worked on my own training plan), he spiralized, grilled, and sautéed. Dinner was served with just enough time to enjoy and then head out to bible study.
And now to share this yummy dinner with you!
Coconut Curry Chikn and Spiced Corn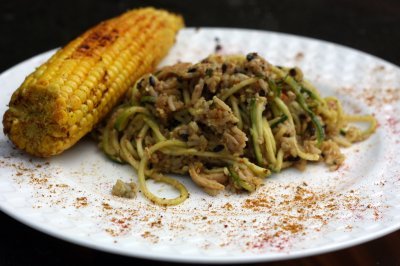 Keywords: grill entree vegan vegetarian
Ingredients (4 servings)
4 ears corn
3/4 cup dehydrated soy curls
1 cup almond milk
1/2 c sweetened shredded coconut
1 teaspoon curry powder
1/4 teaspoon cumin
1/4 teaspoon cinnamon
1/4 teaspoon salt
1 teaspoon olive oil
1 cup sliced mushrooms
1 cucumber
1/4 cup sour cherries
3/4 cup jasmine rice
1/4 cup forbidden black rice
Salt, to taste
Instructions
Shuck corn and rehydrate soy curls according to package directions.
Combine almond milk & coconut in blender and mix until smooth (will still be some texture).
Combine curry, cumin, cinnamon, and salt in a shallow dish (I used Tupperware). Add milk mixture to spices. Coat corn with milk mixture, rolling around to thoroughly coat. Let sit for at least 10 minutes – the longer the better.
Pre-heat grill to high. Cook rice in rice cooker, or according to package directions.
Meanwhile, spiralize cucumber into strips like spaghetti.
After marinating, wrap corn in aluminum foil and place in grill for 20 minutes (reserve marinade). Rotate corn a 1/4 turn every 5 minutes. Add soy curls to marinate.
Heat olive oil in pan over medium heat. Add mushrooms and sauté for 5-7 minutes, or until softened. Add mushrooms, spiralized cucumber, cherries, and cooked rice to marinade.
Plate dinner with 1 ear of corn & 1/4 of marinated mixture per serving. Sprinkle lightly with salt to bring out the flavors even more. Enjoy!
After dinner, I provided dessert. I walked to the freezer and pulled out two each of these fantastic Healthy Bites I just received from Lindsay Cotter!! Well, I did think to order them ahead of time, so I still kind of provided dessert, right?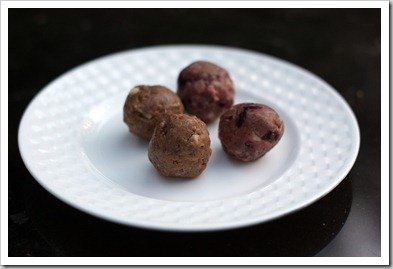 Either way, I definitely helped to eat them! These things are delicious folks, you really should order your own Healthy Bites immediately.
************************
Don't forget about the 20% discount on race plans & 2 months of coaching — only available through Sunday.!Click here for full details on coaching options (starting at $50 for 8 week race schedule & $40 for monthly coaching).
************************
Questions for you:
Who does most of the cooking in your house?

Do you have specialties (like grilling, dessert, or breakfast)?

Are you as bad at taking posed "eating" photos as me?