Most days, my breakfast of choice is a smoothie — quick, easy, and packed with fruits & veggies. Last week, I was in the mood for pancakes, but also love the energy kick of my morning greens. Then I had a thought…if I can slide veggies into a smoothie, why not pancake batter?
I started the mixture while Kirk was working out and I remember greeting him as he walked in the door with "I'm making breakfast and it might suck – but if it does I'll make something else!". =) Doesn't that sound appetizing?
I started with a basic pancake batter recipe and started pulling things out of the pantry. It started with cocoa powder, but the German Chocolate concept arrived when I saw shredded coconut. While we're making the pancakes more nutritious, why not add some protein powder for an additional punch. After a taste of the batter, I had hope. Pouring them into the pan, that hope grew. And then came the taste-test of the finished product. Fingers crossed! I was getting pretty hungry at this point.
Luckily, the pancakes did NOT suck, in fact they turned out even better than I expected!
Now all it needed was a little bit of maple syrup and powdered sugar. I had help from an equally hungry hubby to help pour on the syrup.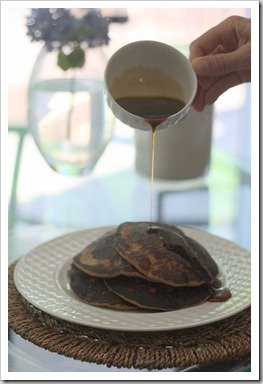 And without further ado, it's time to share the recipe so you surprise your family (or yourself) with chocolatey-coconuty goodness with hidden veggie nutrients.
German Chocolate Pancakes
Keywords: brunch breakfast vegetarian vegan chocolate kale
Ingredients (Serves 4)
1 3/4 cup white whole wheat flour
1/4 cup sugar
1/4 tsp salt
1 1/2 tablespoons baking powder
1/2 tablespoon cocoa
2 scoops (44 grams) Sunwarrior Protein Chocolate
1/4 cup shredded coconut
1 large handful kale
1 1/2 tablespoons maple syrup
1 3/4 cup almond milk
Instructions
Add all ingredients to blender and process until smooth. You may need to scrape down the sides a few times to ensure everything is blended smoothly.
Preheat skillet or griddle coated with cooking spray over medium-high heat. Once heated, reduce pan to medium heat and add 1/4 cup of pancake mixture to pan. When small bubbles form around the edges, flip pancakes. Cook for a few minutes and remove from heat.
Repeat process for remaining batter.
*******************
Serve pancakes with your favorite morning beverage. I think I'll enjoy my next round with some piping hot tea in my new Tardis Tea Mug – custom made by Amanda Barr of Amanda Barr Ceramics. I discovered Amanda's work through Calee (she has the original of this mug – I asked Amanda to make me one like hers!). Being the Dr Who fan I am, I had to have one of my own and I've very happy with this one!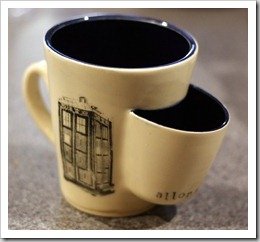 ********************
Questions for you:
What topping would you put on these pancakes?

What would you put on your own custom tea mug?