A few weeks ago, my friends at Vega asked me if I would be interested in testing the new Vega One – a reformulated offering of the Whole Food Health Optimizer.
…[We] took into consideration all the feedback that we have received from our fans/consumers over the WFHO years and used that to fuel a new formulation- that tastes better, smoother quality  and has more antioxidants, probiotics and Omega-3's per scoop. Check out a full write up on the website.
Based on my experience with the Vega Sport line, I jumped at the opportunity to try out the new Vega One – and I was NOT disappointed. Did I mention I also got this cute Vega T-shirt? It makes you look good while you're drinking your favorite smoothie concoction! 😉
I had the opportunity to try 4 delicious flavors: Natural, Chocolate, Berry, and Vanilla Chai. These nutritional shakes are made to blend in smoothies or mix easily on-the-go.
And check out the nutritional stats packed into one scoop: protein, probiotics, omega-3, fiber, greens, antioxidants, and 50% of the recommended daily intake of vitamins and minerals. that's pretty impressive for one little scoop of diary-free, gluten-free, soy-free natural goodness!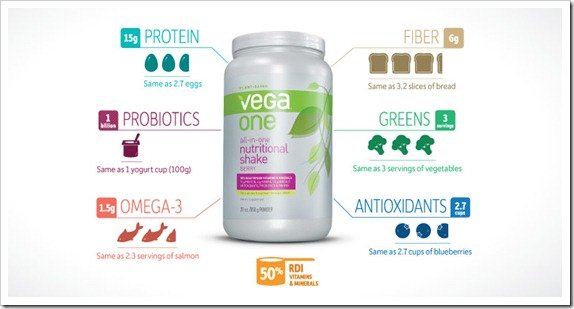 I tried these samples several different ways. My favorite was probably the Almond Smoothie I made with the natural flavor. A very quick and simple breakfast smoothie blending:
1 cup Almond Milk
1/2 banana
1 tablespoon cocoa powder
1 packet Vega One Natural
1 teaspoon almond extract
4-6 ice cubes
This reminded me of marzipan – love that almond flavor!
After my marathon on Sunday, I planned to mix a packet of Vega One Vanilla Chai with Almond Milk for an on-the-go recovery drink. Unfortunately, I completely forgot to buy almond milk in New Orleans, so my only option was water. I'm not going to suggest that was the best recovery drink I ever had (it was just water & powder), but I was very impressed with how well the Vega One dissolved in tap water after shaking in a water bottle. It went down easy and wasn't chalky at all!
Last night I decided to make a bedtime snack with the final packet of Vega One Vanilla Chai:
I blended the packet of Vega One with 1 cup of water and a 12 cubes of ice to make a thick, frosty Vanilla Chai "slushy". I let it rest in the freezer while I did a yoga session, allowing it to firm up even more for a semifreddo treat!
Will I buy more Vega One in the future?
This is certainly not the cheapest product in the market, but this is one item I'm willing to splurge on. The quality of the ingredients and the amount of nutrients in one scoop is impressive and made throwing together a nutritious smoothie easy, without having as many fresh ingredients on hand. If I found a tub on sale, I think it would be nice to keep one in the pantry for just such situations.
Disclosure: I was provided with samples of Vega One in exchange for my honest opinions about the products. All opinions are my own.
**************************
Questions for you:
Have you tried Vega products yet? If so, what has been your favorite?
What is one nutritional product you don't mind splurging on?
What flavor of Vega One would you most like to try?