Are you loving What I Ate Wednesday as much as I am? Last month, Jenn was all about the Veggie love. This month, What I ate Wednesday GOES GREEN!!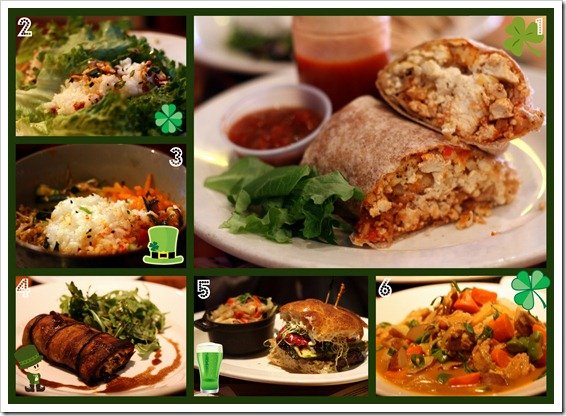 1 – Breakfast Burrito with Tater Tots and BBQ sauce from 13 Restaurant & Bar :: 2 –  Ssambap (lettuce wraps) from Wandering Buddha :: 3 – Bibimbap from Wandering Buddha :: 4 – Eggplant and Daiya Cheese Rolls from Tap :: 5 – Portabello Sandwich from Tap :: 6 – Massaman Curry Seitan from Tap
Two of these restaurants are from marathon day (Sunday) in New Orleans and one is a local Atlanta joint.
13 Restaurant & Bar
My first post-marathon treat was at 13 Restaurant & Bar. Just a short walk from the hotel, we walked into 13 and immediately ordered two spicy Bloody Marys. Remember to order these without worchestershire & Guinness to make it vegan-friendly.
The regular brunch chef had an unexpected trip to the hospital, so we ordered off the normal menu instead. They were actually out of hash browns, so our waiter/bartender suggested tater tots instead. I asked them to throw in some of the BBQ sauce and voilà– deliciousness in a wrap. It did need a little green, so I grabbed some greens from Kirk's plate to add to the mix. Yummy stuff here – the menu was very vegan-friendly, so many options to choose from!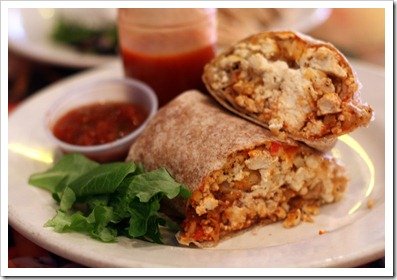 Wandering Buddha

After wandering the city for a few hours and relaxing at the hotel, we found some room in our stomachs for dinner. The Wandering Buddha was recommended by a friend after our first Korean BBQ experience a few weeks ago. Another hole-in-the wall sharing space with a bar, we were prepared this time and walked in like old pros!
Another all-vegan restaurant, but this time with delicious Korean treats. The owner explained that the food was inspired by his girlfriend's mother (who is vegan), who is from a Buddhist province in Korea. After asking for suggestions, we ordered Soju (think Korean Sake), Ssambap, and Bibimbap. I kept forgetting to take pics until we had started eating, so excuse the mediocre photos. This was delicious and unique, if you enjoy Korean food or are ready to give it a try – I highly recommend The Wandering Buddha!


Tap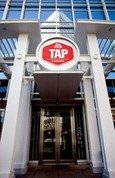 Before the race (last Thursday), Laura and I met up for a celebratory dinner at Tap in Atlanta. What were we celebrating? The completion of her 21 day cleanse – which included no alcohol – and the start of her Vegan Challenge!
Tap has recently updated their menu to include many vegan options and the selection was fantastic! We started with the Eggplant and Daiya Cheese Rolls (yum!), which were very flavorful. I ordered the Massaman Curry Seitan, even after the waitress said it wasn't her thing. I'm so excited I went against her advice this time – it was fantastic! The texture of the seitan was perfect, it was torn instead of sliced and had a very chicken-y texture, but a much better flavor! It was a sweet curry, but the flavors were nicely balanced and I ate way too much of it. Laura had the Portabello Sandwich, which was good, but covered in too much sauce. There were several other options on the menu to try and a great beer selection, so I will be back!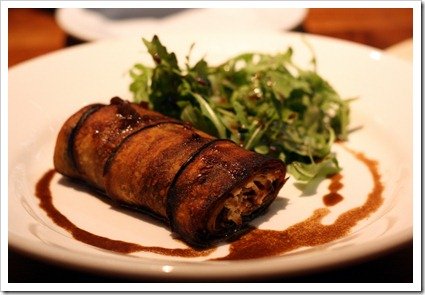 Looking over this week's pictures, I realized that my photographed food is way less green than normal. I think it's time for a green challenge of my own, I need more green in my life again! Expect to see a much greener post next Wednesday. Until then, make sure you head over to Peas & Crayons to check out a few more inspiring WIAW posts of the week!
****************************
Questions for you:
How is your

green

food intake recently? Are you doing a great job getting lots of

green

in your days or is it time to focus on more

green

?

Do you eat different foods for breakfast vs brunch? I think my tastes are fairly similar between the two – although brunch seems to include an adult beverage.

Any tips on remembering to photograph before you eat when you're hungry? 🙂