Growing up, we never lived near our extended family. So instead of going to grandma's house for milk and cookies, Grandma would often send me a tin of my favorite cookies – Molasses.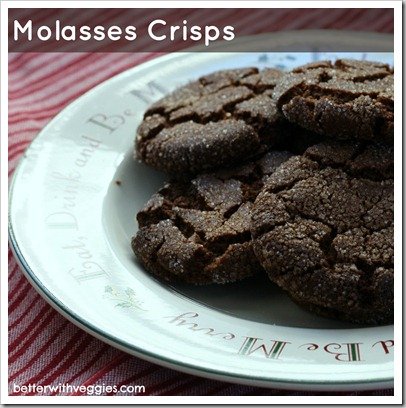 Instead of the typical sweet flavor, the spices in these cookies are more my style. No matter how far away she had to ship them, her version always arrived soft and chewy.
My version of these cookies are a little different than Grandma's cookies. These cookies have the same great, spicy flavors, but they are crispy and ready for dunking in a big glass of almond milk!
Although I haven't had a chance to try it, I was envisioning sandwiching some yummy creamy filling between two cookies. There's NO WAY that wouldn't be amazing!
Unfortunately for me, I had to give most of these cookies away as part of the Great Food Blogger Cookie Swap this year!
Fortunately for me, that means I got 3 dozen cookies from other bloggers to enjoy! From Jacqueline of BeyondNFinity, I got these amazing Chestnut Sweet Red Bean Ginger Cookies (pictured in the front below). My friend/blend Sarah  from The Smart Kitchen was randomly paired with me (yay!) and she sent me the Dark Chocolate Cranberry & Ginger Cookies you see in the background.
From Zaika from Zaika Zabardast, I got these White Chocolate Biscotti that look fantastic, but unfortunately contain dairy. I think Kirk must have put in a request for these, so he could eat them all. 😉
I have to admit I made this experience stressful on myself by running behind on baking and shipping, but it was all worth it to get fun baked surprises in the mail!
And now it's time to share my cookie recipe, adapted from Grandma's Molasses Cookies!
Molasses Crisps
Author:
Ingredients
3/4 cup vegetable shortening, softened
1 cup brown sugar
1 vegan egg (1 1/2 teaspoon
Ener-G Egg Replacer
plus 2 tbsp water)
1/4 cup Molasses
2 1/4 cups cake flour
2 teaspoons baking soda
1/2 teaspoon ground cloves
1/4 teaspoon salt
1 teaspoon cinnamon
1 teaspoon ginger
1/4 cup sugar
Instructions
Preheat oven to 375 degrees.
In a medium bowl, mix together shortening through molasses.
In a separate bowl, mix together flour through ginger. Combine flour mixture with molasses mixture and mix until well combined.
Form mixture into a ball, then split into 4 balls of equal size. Divide each ball into 12 equally sized small balls. Roll each in sugar and space evenly on a cookie sheet, about 1 inch apart. Press each ball with the palm of your hand to flatten slightly.
Sprinkle a few drops of water on each cookie. Bake for 10 to 12 minutes, until just set. Serve hot or cold!
I hope you get a chance to enjoy some delicious Christmas cookies this year too!
********************
Questions for you:
Did you have a favorite cookie that someone in your family made when you were a kid?

What is your favorite cookie?