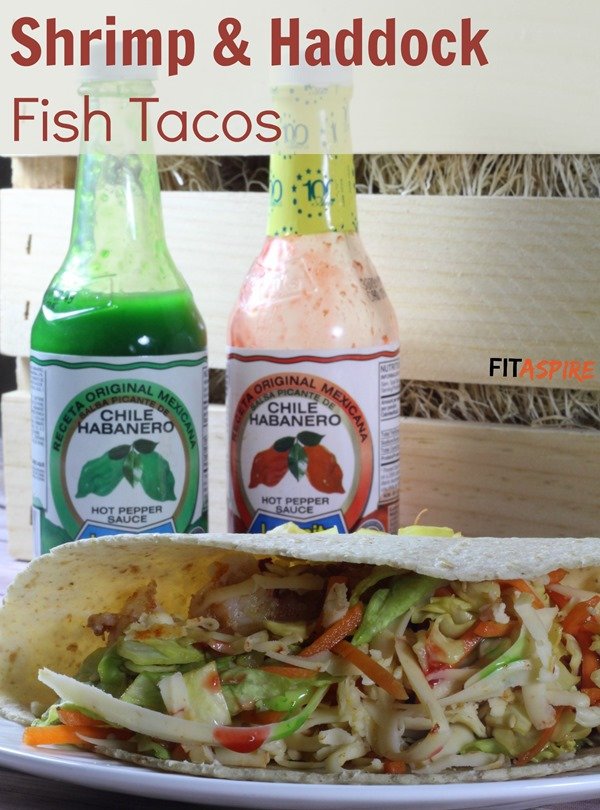 I had this great idea a few months ago to start a weekly meal tradition. I thought it would be fun to celebrate Taco Tuesday each week, with a different version each week. Unfortunately, this is probably the only version of tacos we actually made. And I'm pretty sure it wasn't a Tuesday. It was a fun thought though!
This was a fun meal to create, because Kirk and I worked on it together! Kirk created the fish and seafood filling using our favorite Sizzlefish (affiliate), while I whipped up the slaw. A true partnership that came together to create a deliciously, healthy weeknight dinner. If you're a fan of fish tacos, you're absolutely going to love this one!
Shrimp & Fish Tacos
Recipe Type
:
Entree, pescatarian, fish
Author:
Ingredients
1 serving [url href="http://www.sizzlefish.com/" target="_blank"]Sizzlefish Shrimp[/url]
1 serving [url href="http://www.sizzlefish.com/" target="_blank"]Sizzlefish Haddock[/url]
1/2 tablespoon taco seasoning
1/4 teaspoon ghost pepper salt
1/4 teaspoon cinnamon
1/3 cup chipotle gouda cheese, shredded
4 [url href="http://www.latortillafactory.com/view/products/low-carb-high-fiber-tortillas/" target="_blank"]low-carb tortillas[/url]
1/2 head green cabbage
1/2 cup carrot, shredded
2 tablespoons red wine vinegar
1 tablespoon tamari
1/4 teaspoon habanero sugar
pepper, to taste
Instructions
Combine taco seasoning through cinnamon and massage into shrimp & haddock. Cook over medium-high heat for 3 minutes, covered. Set aside
Thinly slice cabbage and then chop cross-wise. Combine cabbage & carrots in a medium bowl and mix together. In a prep bowl, stir together remaining ingredients. Pour over cabbage & carrot mixture and stir to coat.
Divide shrimp/haddock mixture evenly between 4 tortillas. Top with slaw and serve!
If you don't have ghost pepper salt or habanero sugar, I suggest you get some. But in the absence of that, add a little sriracha to  the mix to capture that spicy flavor. Serve with extra slaw for a crunchy side and extra veggies. Or salsa and chips for a mexican themed evening.
[Tweet "A light, mexican weeknight #dinner — Shrimp & Haddock Fish Tacos. #recipe @sizzlefishfit"]