The past week has included so many good eats, it's hard to pick a few favorites! As always lots of veggies and lots of flavor.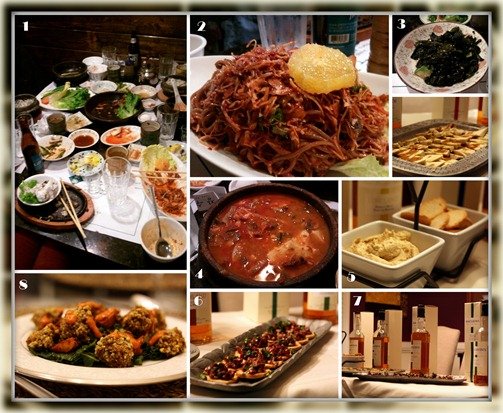 1 – Jang Su Jang Korean BBQ – a table of food we destroyed on Sunday night. 2 – Acorn Noodles in Spicy Sauce. 3 – Seaweed Salad. 4 – Mushroom Tofu Soup (Extra Spicy). 5 – Hummus and Toast Circles. 6 – Olive Tapenade. 7 – Scotch Tasting + Food Pairings. 8 – Walnut Crusted Tofu with Sriracha Aioli on Spicy Kale Salad
Photos 1 through 4 are from my first experience at Korean BBQ – a wonderfully, delicious experience. A surprisingly veg-friendly restaurant in Duluth, the Acorn Noodles were a sweet complement to the spicy kick of the Mushroom Tofu Soup. The soup is usually not vegan-friendly, but they switched out the broth for water, which was surprisingly flavorful with all the Korean spices they added to the mix. I need to learn to make this at home!
Photos 5-7 are from our scotch tasting this weekend, where we paired scotch from the different regions with appetizers that complement their flavor profiles. Food pairings included basic hummus, Truffled Friendly Cashew Cheese, Olive Tapenade, and Kristina's Salted Caramel Browne Fudge.
And finally, the last of the Walnut Crusted Tofu with Sriracha Aioli on Spicy Kale Salad. It didn't last long, but I was glad I made a little extra last week to enjoy. Speaking of which…I think it's time to share the recipe for this tasty meal!
Walnut Crusted Tofu
Author:
Ingredients
+For the Tofu
1 block extra firm tofu
1/2 cup nutritional yeast
1 tablespoon extra virgin olive oil
2 tablespoons Bragg's Aminos
3 tablespoons Sriracha, divided
2 tablespoons liquid smoke
1 teaspoon apple cider vinegar
1 cup walnuts
cooking spray
+For the Aioli
1 tablespoon non-dairy mayo (veganaise)
2 tablespoon Sriracha
1/2 teaspoon chili powder
pinch of dill
Instructions
+For the Tofu
Press the block of tofu for at least one hour (the longer the better, I pressed mine for 3 hours). If you don't have a tofu press, cut the block of tofu in half lengthwise and sandwich between two paper-towel lined cutting boards. Stack heavy objects (cookbooks, cans of soup, whatever) on top of cutting boards.
After pressing, cut tofu into squares – I divided my block into sections of 6 (lengthwise) and then sections of 4 (crosswise).
Combine next 6 ingredients (nutritional yeast through apple cider vinegar) together in a small bowl to make the marinade.
In a resealable container (like Tupperware), combine the tofu squares and marinade. Cover & shake well, until all surfaces appear coated. Place in refrigerator to marinade for at least 1 hour (the longer the better again, I marinated mine for 2 hours).
Preheat oven to 350 degrees.
After marinating is complete, pulse walnuts in a food processor (or blender) until they resemble a course meal. Add half the walnuts to the marinated tofu in the container and shake well to coat the tofu with the walnuts. Add remaining walnuts to container and shake well to coat.
**Note: I added the walnuts half at a time, because of the amount of reserved marinade left on the tofu. I found that the tofu coats better when the walnut is added a little at a time.
Transfer the coated tofu to a cookie sheet coated in cooking spray. Press any excess walnut coating to the cover the tops of any tofu blocks that aren't thoroughly covered. Bake in oven for 20 minutes, or until golden brown.
Serve over a bed of greens or marinated kale salad (see my spicy kale salad for a nice pairing).
For the Aioli**Note: This does not need a sauce, but this spicy Sriracha Aioli puts it over the top if you love spicy foods (like me).
Combine all ingredients in a small bowl and drizzle over tofu.
Spicy Kale Salad
Author:
Ingredients
3-4 cups kale leaves, torn into bite size pieces
1/3 cup nutritional yeast
2 teaspoons hemp oil
1 teaspoon apple cider vinegar
2 tablespoons Bragg's Aminos
1/2 teaspoon liquid smoke
1 tablespoon sriricha
Instructions
Tear kale leaves into bite size pieces, removing the ribs if desired, and place in medium bowl.
Combine remaining ingredients into small bowl to create marinade.
Pour marinade over kale leaves and massage into the leaves for 3-5 minutes with your hands. The leaves should be fully coated and you'll feel the texture of the leaves begin to soften.