The last week has been SO much fun! If you follow me on instagram, you probably already know we got to hang with Lauren, spent a brief time with Katie, and spend a whole week with Laura. Talk about a fun vacation!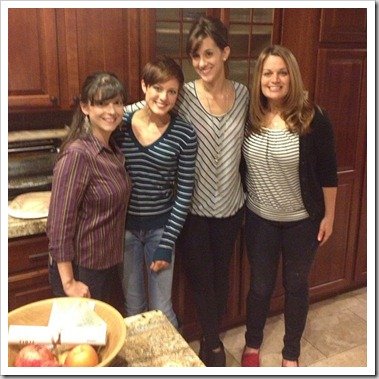 Photo courtesy of Lauren
It's back to reality week for me, but I do have lots of fun to share with you guys!
Starting with the Tour of Europe Pairing Dinner that we hosted on Saturday night (before Thanksgiving). We started planning this dinner when I found out that Lauren, Greg, and Laura were all going to be in town the same weekend. You know Kirk and I have had a great time creating these dinners for ourselves, so we decided it was time to share with our friends!
The only difference is this time Kirk and I brainstormed the menu together, instead of each course being a surprise. Which is how we came up with the Tour of Europe theme – each course from a different country. And Laura joined the game by adding a Petit Bouche to the menu!
Petit Bouche: Roasted Butternut Squash w/ Caramelized Curried Bananas

Amuse Bouche: Strawberry Puff Bites w/ Lavender Rosemary Black Tea Reduction

Appetizer: Mushroom Tortellini Soup

Entrée: Tourtiere

Dessert: Marzipan Schaumrollen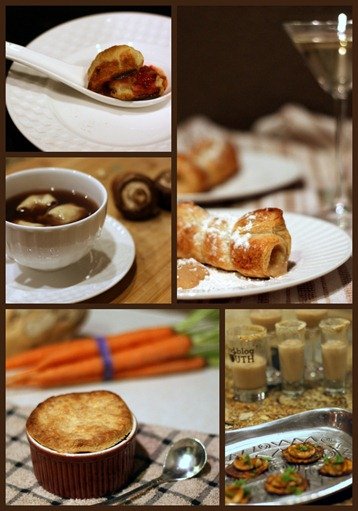 Today I'm sharing the recipe for the British amuse bouche and cocktail – both Kirk's creations. These one bite snacks are just enough to get you ready for the rest of the courses…and maybe wishing you had just a little more. 🙂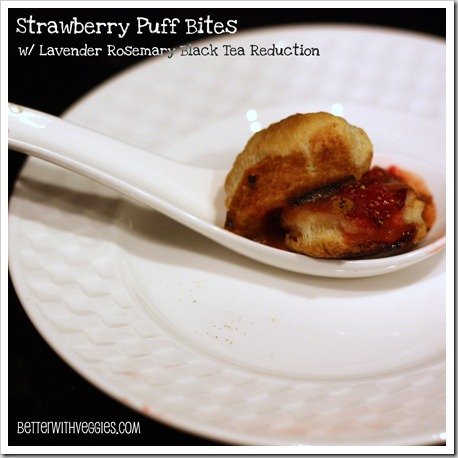 Strawberry Puff Bites w/ Lavender Rosemary Black Tea Reduction
Keywords: bake amuse bouche appetizer vegetarian vegan soy-free nut-free strawberry
Ingredients (serves 1)
1 strawberry
1/4 teaspoon brown sugar
1/4 cup earl grey tea
2 small sprigs rosemary
1/4 teaspoon Herbes de Provence
1 square Puff Pastry (about 3 inches square)
Instructions
Cut two quarter-sized circles of puff pastry and cook according to package instructions.
Add rosemary and Herbes de Provence to hot earl grey and microwave for 30 seconds. Transfer to small pan and reduce for 5 minutes.
Smash strawberry and stir in brown sugar until combined.
Place one puff pastry circle on plate (or chinese spoon), top with smashed strawberry mixture, drizzle tea mixture, and top with remaining puff pastry circle.
Make plenty of tea for the amuse bouche, so you have enough to make the cocktail, as well. I've had this one both warm and cold, both are good options!
One Shade of Grey
Ingredients (serves 4)
1 cup of Earl Grey tea
1 cup of Gin
4 teaspoons Chambord
Instructions
Combine all ingredients in a cocktail shaker filled 3/4 with ice. Strain into 4 martini glasses.
********************
You'll have to wait a little longer for the remaining courses, but I'll leave you with the December ingredients for Meatless Mondays from A-Z!! Just three again this month, so you have some extra time to relax for the Christmas and New Years holidays.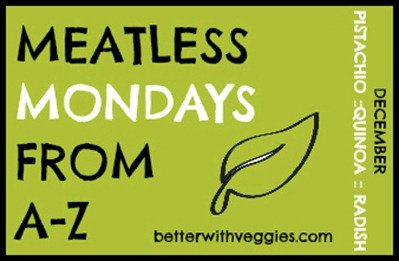 I'll admit that I'm most excited about the first week – I love the green of pistachios!
December 3: Pistachio
December 10: Quinoa
December 17: Radish
********************
Questions for you:
How was your Thanksgiving?! Did you go shopping on Black Friday?

Do you enjoy cooking for friends & family?

Which #MMAZ ingredient are you most excited about?