While I was in Colorado last week, something I ordered on Memorial weekend arrived! Thanks to Kristen who let me know they were running an awesome sale!
Not the boy – you can't mail order a "Kirk" – but the very first "Better With Veggies" shirts!! We only ordered 2 to see how we liked them, but that doesn't mean I'm any less excited than if we had ordered hundreds! It was a great first pass, but I'm looking to get a higher res image for the next trial. I hope we can offer shirts to our friends and athletes in the near future.
Today, I wanted to share a few restaurants that I enjoyed for dinners last week in Colorado. All three were very veggie friendly and I am ready to visit again soon! None of the three are really snack-related (sorry Jenn!), but they are places I would recommend in Colorado and I just have to share!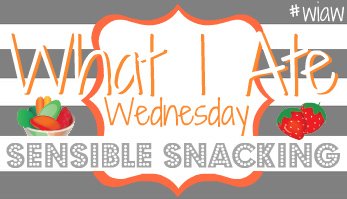 Hapa Sushi
My first memorable dinner of the week was at Hapa Sushi last Wednesday. I wanted a restaurant that I could sit at the bar, enjoy a good meal, and unwind. After driving to a few different options that looked less than stellar from the outside, I decided sushi was a safe bet. I was even more excited when I saw the menu inside.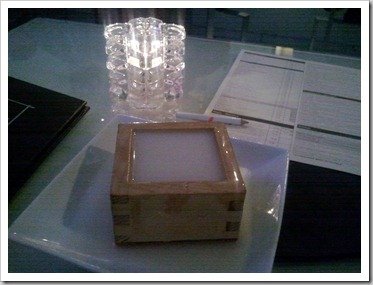 I love when you learn something new from a menu. For me, it was from ordering a Masu of Sake. I thought it was just a certain size of sake, but then it came out in a box and I honestly looked at it a very confused. I decided to make friends with my neighbors and ask what in the world I was supposed to do with it, and they confirmed that I was supposed to drink it straight from box. It was quite fun and very different. 🙂
The menu had several vegetarian sections that made ordering super-easy. Miso soup (no fish!), several vegetarian rolls, and Inari. It wasn't the best vegetarian sushi I've ever had, but it was darn good. I will go back for more.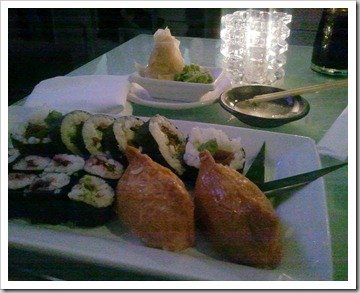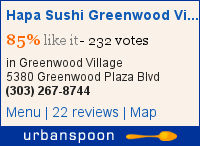 Watercourse Foods
By Saturday, I was worn out on oatmeal and granola and really wanted some delicious vegan breakfast. After some searching, I started to see a lot of positive reviews of Watercourse Foods in downtown Denver. I originally didn't want to drive that far, but the menu convinced me and I'm so happy it did!
The menu here is a vegan dream! It's a vegetarian restaurant, but almost everything (if not everything) could be done vegan-friendly with little effort. The quality of the food was incredible and the service was so friendly! I read on foursquare that we should order the biscuits & gravy, so we did! Topped with tofu scramble and oh-so-good!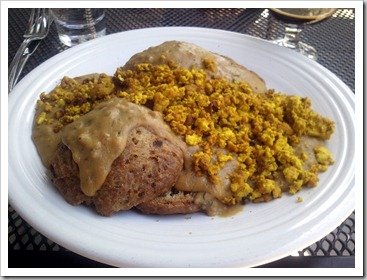 Kirk saw the vegan benedict and ordered that for us to share. Eggs Benedict was my favorite pre-plant-based breakfast and one I haven't quite been able to recreate.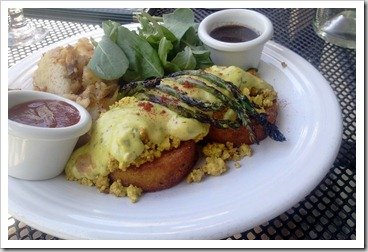 Both meals were amazing! I could have only eaten half of that biscuits & gravy, it was so heavy, so it was a perfect dish to split. I think they also had half orders available on their menu, which I'll have to remember for our next visit. The benedict was very good, but not quite "eggs benedict", that is still on the "to make" or "to find" list. This is my favorite vegan brunch restaurant, I will be back!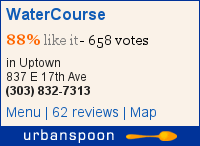 City, Oh City
We headed here after trying out a church on Sunday morning and the bar was set pretty high after our experience at Watercourse Foods on Saturday. City, Oh City is another vegetarian restaurant in downtown Denver that has an incredible array of vegan options. I have to make a note of the espresso here – holy cow! It was from a local coffee house that I have to find when we get in town, awesome!!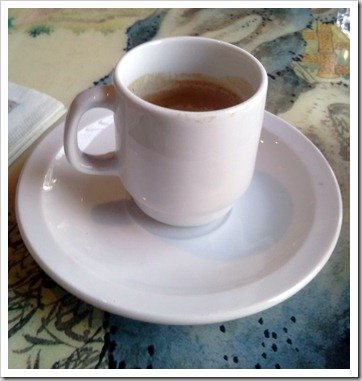 Once I had my caffeine for the morning, it was on to a Bloody Mary.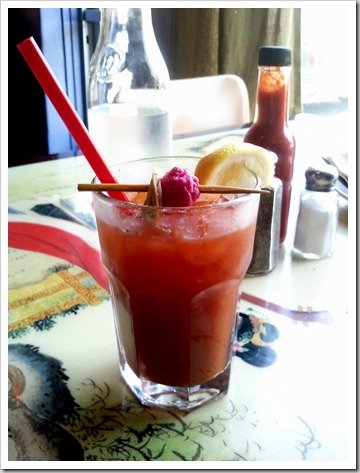 Breakfast choices were plentiful, but after asking for recommendations, I settled on a Sardou: Tofu, grilled artichoke hearts, creamed spinach  (vegan cream sauce), toasted almonds, served with quinoa. Amazing! That's really all there is to it – the flavors were so rich and I mixed it together into an ugly mess and devoured the plate without hesitation.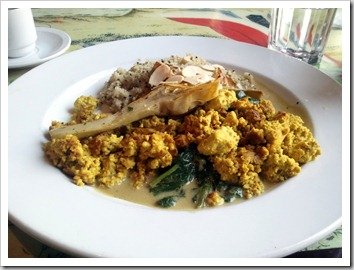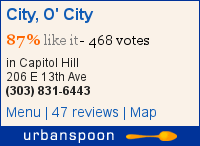 Both Watercourse Foods & City, Oh City are two places that I fully intend to visit on a regular basis after the move. I want the servers to know me by name – they were both THAT good!
*******************
Questions for you:
What is your favorite brunch splurge?

Have you found a plant-based eggs benedict that lives up to its name that you can share?!