What type of runner are you? Are you the type who brings their hydration belt on every one, with your cell phone stuffed in the pocket? Are you a minimalist who runs without extra gear or pressure? I'm somewhere in between, although I used to be the first kind – I like water for anything over 3 miles (especially in the summer). I found a hand water bottle that works for me, so over the past year I've been using that on more "short" runs and saving the belt for longer endevours. That works great, unless I want to listen to music or an audiobook. Where do I put my cell phone?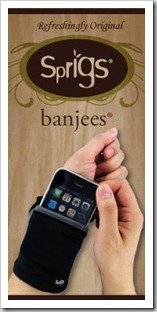 Recently, I had the opportunity to test out a the Sprigs Banjees Wrist Wallet, a product I hope would address this issue for me. Banjees are reversible (mine is grey on one side, black on the other), lightweight, and have two pockets for storing your stuff. The zippered pocket is great for the slightly smaller items, but the hooded pocket stretches to hold my Android smartphone! This makes taking my phone on a run with my wireless headphones an easy choice!
I tested this out in hot weather, comfortable weather, short runs, and mid-length runs. The things I do to give you an in-depth review! Here are my thoughts:
Pros:
Small, stretchy fabric. Takes up virtually no space in your bag.
Easily expands to fit around smartphones, while still holding something smaller on the other side.
Zippered pocket on one side holds small items securely – like room keys when travelling.
Easy take things in-and-out of while running.
Easy to adjust while running.
Pouch keeps your phone safe (and scratch-free) while moving.
Lots of color and pattern options to choose from!
Cons:
For petite people (like me!), it's a little big for our smaller wrists. I slide mine up closer to my elbow to find a spot that feels snug.
Because I am smaller, it does slide around a bit at the beginning of my runs until I get it situated.
Smartphones are NOT small, so it does feel bulky on your wrist.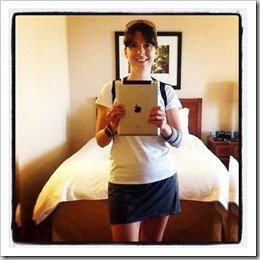 In summary, I think this is great way to carry a few things with you on a run, without having to pull out the larger hydration belt option. Your hands are still free and I can enjoy my shorter runs feeling unencumbered.
Make sure you check out their website for other great products, including several items that would be great for yoga (I have my eye on a few)! You can also find them on twitter & facebook.
Disclosure: I was provided a Banjees Wrist Wallet in exchange for my honest opinions about the products. All opinions are my own.
********************
Questions for you:
What type of runner are you? Do you carry stuff on every run or are you a minimalist?

#RWRunStreak

friends – how are you doing with your runs?! Today is day 18 and I'm still going strong!!