On Memorial Day this year, I finally joined in a Colorado running tradition – the BolderBOULDER 10K!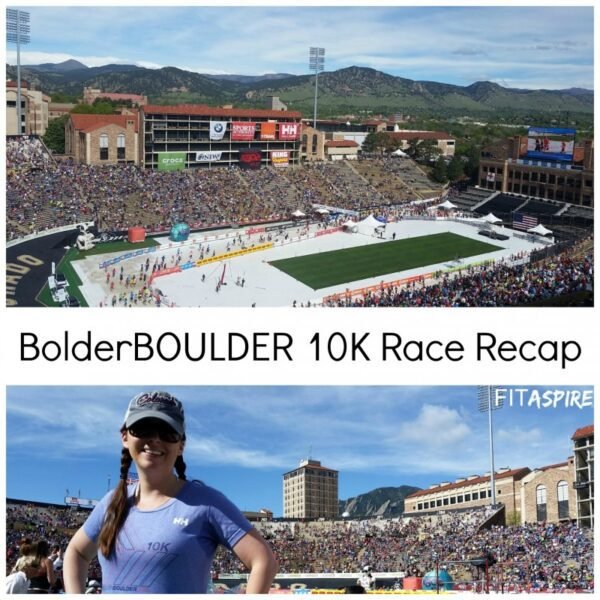 Disclosure: This post is part of a sponsored partnership with BolderBOULDER 10K. While I was compensated for my participation, all opinions are my own. You can read my disclosure policy here.
This was my motivation for cardio the past few months, as I rebuilt my running endurance from nothing from bulking season. So, of course, I ended up with a cold over the weekend and had to run the race fighting a cough! Rotten luck and lots of travel. Although I typically recommend resting when you are sick, I ignored my advice and opted to run SLOWLY and walk when needed. Not quite the race I had hoped for, but I got to experience a great event!
With adjusted race goals, I strapped on TWO Momentum wraps (double the motivation!), my favorite rainbow tutu, and my Sketchers Performance running shoes. My new plan was to run slow enough to prevent a coughing fit and focus on HAVING FUN! That second goal was always part of my plan, but I had hoped to finish the race a bit faster, I admit.
Luckily, this is the perfect race to run for fun, with plenty of entertainment along the way. There was music all along the course – either live bands or recorded music blasting out of speakers. Other than the race-provided stops, groups of spectators passed out their own treats: cans of beer, Jell-O shots (at least 2 stops!), marshmallows, Doritos, donuts, cupcakes, and frozen ice pops. There were also two slip-and-slides that I saw (and passed by). I'm not THAT coordinated.
The race itself is surprisingly flat for Colorado, which was a nice surprise. Although with over 50,000 runners, I wouldn't plan this for a PR unless you're in the early seeded groups. The course is scenic, with both residential roads and city streets. The finish line was the highlight for me, with a lap around Folsom Field (Colorado University stadium)! With spectators lining the stands to cheer you on, it's easily my favorite 10K finish ever!
[Tweet "A look at the @BolderBOULDER 10K – add this to your race bucket list! #FitFluential"]
The only downside of this race is that parking is a bit of a hike. We ended up parking nearly a mile from the start and over two miles from the finish – a bit further than I would typically like. But with over 50,000 people in a small city, I don't know how they could handle that differently. The walk back to the car was a scenic stroll along the riverfront, which was quite nice (since we weren't in a rush).
All in all, this is a great race and one I would recommend all runners add to their bucket list. As I typically like to travel a bit more on holiday weekends, it's not one I'll necessarily do every year, but I'm very glad I finally had the chance to experience it for myself!
*******************
Questions for you:
What's the craziest thing you've seen offered at a race?