Over the past year, Intermittent Fasting has become a hot topic in nutrition & weight loss. Search traffic has almost doubled since this time last year, with the spike starting at the end of 2017. You can see the rise in popularity just as new year's resolutions were starting, but the interest has stayed strong and is continuing to grow. You may be wondering why it's so popular or why anyone would skip breakfast?
When I first learned about this approach several years ago, that's what I thought. Skipping a meal is crazy, I'll be starving! I had tried to do short runs before breakfast in the past and didn't have the energy to make it even a few miles. As I learned more and implemented fasting into my own nutrition plan, I've run half marathons and biked for several hours in a fasted state. Kirk and I have both been practicing Intermittent Fasting daily for the past 18 months with great results.
Based on my experience and research in this area, today I want to dive into intermittent fasting to help you decide if it may work for you.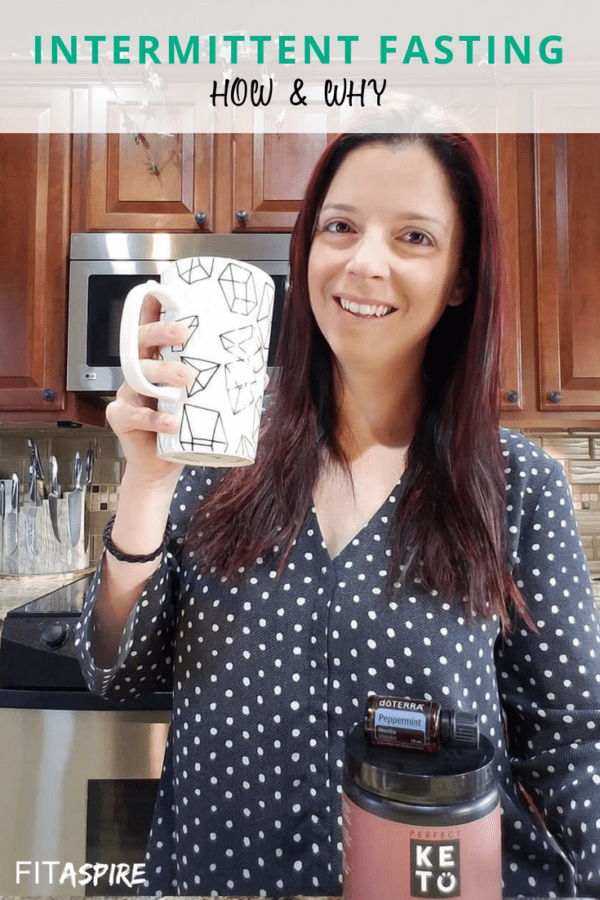 What is Intermittent Fasting
Intermittent Fasting (or IF) is a broad term applied to periods of fasting (not eating) and re-fueling/feeding (eating). It's not a diet, but rather a shortened eating window that can be used for health & longevity benefits. There are a number of variations on this strategy, but two of the most popular are 16/8 (16 hour fast/8 hour feeding) and 24 hour fasts.
Isn't breakfast the most important meal of the day?This advice originates from Good Health magazine, which was edited by Dr John Harvey Kellogg (one of the creators of breakfast cereal). Since then, it has been touted by a number of breakfast brands and became ingrained in our "common knowledge."
Following that advice, our bodies were trained to expect regular feeding as the primary source of energy throughout the day. That morning hunger is partially due to the habit of morning eating, but also based on your bodies' capacity to use stored fat as fuel (metabolic efficiency).
Should You Consider Intermittent Fasting?
Now that you know what Intermittent Fasting is, let's talk about some of reasons why it may be a good strategy for you:
Improved insulin sensitivity: This is a common barrier to fat loss, but fasting can help re-calibrate your body's insulin sensitivity and growth hormone release.
Simplify meal prep: It's amazing how freeing it can be to not worry about breakfast. No meal prep & extra time in my morning for other things
Appetite & Blood sugar control: It seems odd, but you'll notice your LESS hungry as you adjust to fasting & your blood sugar will stabilize. This is primarily due to the increase in insulin sensitive (see the first benefit) and lowering blood glucose levels.
Calorie Reduction: with a shortened eating window, most people find it easier to eat less. If portion control and simply eating too much has been a challenge, this can help you hit your goals easier.
Reduce blood lipids, blood pressure, & inflammation: While you may not get as excited about these benefits, fasting can have a measurable impact on key health markers naturally (no drugs or chemicals here!). Even if you don't have issues in this area today, think of this as health prevention!
You are probably  already getting some of benefits of fasting, as you take a break from eating while you sleep. Most of the benefits, however, come in the later stages of fasting or when incorporating exercise/activity during the fasting period.
If you are fairly sedentary, you'll want to fast 20+ hours to realize these benefits. If you are very active or exercise purposefully during your fast, only 16-20 hours are needed for most benefits. Shorter fasts will see limited benefits, but some benefits are better than none!
Reasons you should NOT Fast
No nutrition strategy is right for everyone, so let's look at a few reasons you shouldn't include Intermittent Fasting in your approach:
Overeating/binging during your feeding window (constantly thinking about food during your fast)
Trying to use fasting to compensate for poor food choices
Resorting to supplements that suppress your appetite to make it through your fasting window
How to Get Started with Intermittent Fasting
Intermittent Fasting may be very easy if you have already been "skipping breakfast" (or waiting a while to eat your first meal of the day). For others who are used to eating every 2-3 hours, this might be quite challenging and you'll want to ease into it. I've included a few phases below to help you find the approach that works for you — then you can progress as your body adapts. Your nutrition plan (and macro split) often impacts how you feel during a fast, so if you're really struggling this might be an area to look into.
Phase 1: Full Fatty Coffee
Often called "Bulletproof Coffee", this is a high-fat, calorie dense blended coffee. (learn more benefits of bulletproof coffee).
My favorite recipe: 2 shots espresso, 1-2 tablespoons Ghee, 1 serving MCT Powder (gentler on the stomach than MCT oil), water. Blend in a high-speed blender. Add a drop of doTERRA Peppermint, Cinnamon, or On Guard oi
Phase 2: MCT Coffee
A lighter version of the full fatty coffee with the benefits of MCT Oil. I alternate between this and the full fast in my own routine.
My favorite recipe: 2 shots espresso, 1 serving MCT Powder (gentler on the stomach than MCT oil) or Ketones, water. Blend with milk frother & add a drop of doTERRA Peppermint, Cinnamon, or On Guard oil.
Phase 3: Full Fast
A typical water-only fast, including calorie-free beverages only. You can still enjoy your morning coffee (black) or tea.
How Often Should You Fast?
There are no hard rules here, but I typically recommend starting with 1-2 days per week. Pay attention to your body & how you feel. If you are watching the clock until you can eat, stick with that schedule as your body adapts. I find that a daily fast is the most sustainable and reaps the biggest benefits.
As the benefits are increased in longer fasts, I typically try to include a 24 hour fast in my plan every 2-4 weeks. I prefer scheduling longer fasts like this on rest days or low-intensity workout days — ideally when I'll be busy throughout the day.
FAQs about Intermittent Fasting
What About Workouts?
The best time to workout with an intermittent fasting schedule is right BEFORE you break your fast. You may choose to take BCAAs or Low-Sugar Pre-workout, but that is completely optional. When you eat your first meal after your workout, the food will be burned as energy to help with recovery.
If you prefer to workout in the morning (in a fasted state), you can choose to take a protein shake after your workout OR continue your fast as normal. There is more evidence than protein immediately after a workout is not necessary and I personally do not break my fast after a morning workout.
One note here — if you have been on a high-carbohydrate diet, you may find the transition to fasted workouts more difficult. Take it slow & listen to your body. For endurance athletes, take a look at your training nutrition to ensure you use products that will stabilize your blood sugar vs spike.
Do you need to eat Keto to Fast?
Absolutely not! While there have been some compelling stories with Keto + Intermittent Fasting, this combination is not required for any of the benefits mentioned above.
I personally follow a high-fat, low-carb approach — but I am not following a ketogenic approach and do not test my ketones. I do find that eating a high-fat, low-carb diet makes Intermittent Fasting easier, as you are teaching your body to use fat for fuel and not rely on the next insulin spike from food.
Have questions that I didn't cover? Leave a comment & let me know.