Endurance athletes have been taught for years that a high carb diet is the way to fuel your training. As a runner or triathlete, you are likely using high carb (and high sugar) sports nutrition products during your training and racing to keep your body topped up ready to perform your best. And while your performance is improving, you often deal with GI issues, bonking at the end of races, deal with frequent cravings, and may struggle with your body weight or body comp.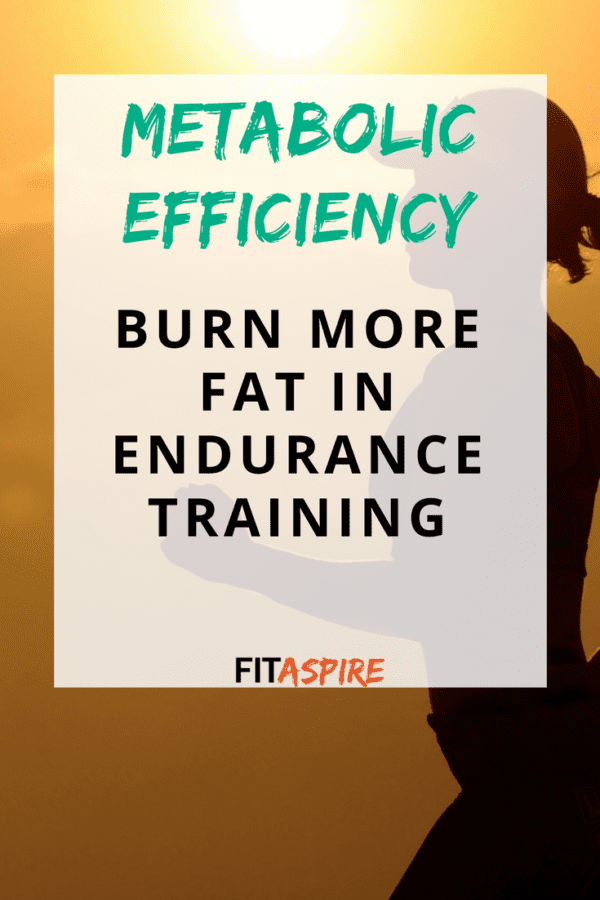 This is the challenge that prompted Bob Seebohar, registered dietitian and exercise physiologist, to create the concept of Metabolic Efficiency™.
Metabolic Efficiency is a nutrition and training strategy that teaches your body to be more efficient at higher intensities. By adjusting your daily nutrition plan & your training, your body learns to mobilize a higher amount of fat stores, while preserving carbohydrate stores. One of the primary goals is to keep your blood sugar stable to help our bodies use fat for fuel.
Four Reasons to Consider Metabolic Efficiency:
1. GI Distress
The more food you eat during training and racing, the higher your risk of GI distress. When your effort is high and you are consuming a high amount of carbs, many people will experience digestive discomfort. The reason is the blood shunting response, which redirects blood flow to your working muscles (especially at higher intensities) and directs less blood flow to your digestive tract. The more you can teach your body to access fat stores at higher intensities, the less you need to rely on external calories and risk this response.
2. Bonking in a Race
Your body has a nearly endless supply of fat (about 80,000 calories), but a very limited storage of carbohydrate (about 1200-2400 calories). You can burn through those stored carbs fairly quickly, which is why high sugar sport nutrition products are so popular.
This issue is even more pronounced if you are a long-distance athlete. When you do the math, you'll find it's nearly impossible to consume enough carbs to support endurance racing – and when you do, you end up with GI Distress (see above). But, if you can teach your body to rely mostly on fat stores, then the issue is minimized and you'll have enough fuel to finish your race strong.
3. Body Weight & Body Composition
Many endurance athletes I work with aren't quite where they would like to be in regards to body composition. Although you are putting in many hours training, you feel stuck at a plateau or even gaining weight.
When you adjust your nutrition to eat metabolically efficient, you will feel more satisfied, experience reduced cravings, increase your body's thermogenic response (fat burning at rest), and control your blood sugar.
Side note: This is one of the primary reasons that I was interested in getting my certification in metabolic efficiency, as this is a very common question I hear from my endurance athletes. While we know that running & triathlon are not the most effective approach weight loss, I want to help my athletes make progress while enjoying the sport they love!  
4. Health
A diet of over 60% carbs increases your risk for metabolic syndrome. If you are eating a high carb diet to support your training, you probably didn't expect that this could impact your health in this way. The metabolic efficiency strategies of eating protein, fat, & fiber at each meal (or snack) is a great approach to reduce those risk factors, improve health markers & lower risk for chronic disease.
In addition, this approach to eating helps to stabilize your mood, improve sleep quality, improve your lipid profile, control inflammation, and improve memory & cognition.
[Tweet "4 reasons you should consider metabolic efficiency for #running & #triathlon."]
Metabolic Efficiency Nutrition
The basic approach to adjusting your nutrition to align with Metabolic Efficiency is to eat protein, fiber, and fat at each meal. For best blood sugar balance, aim for the ideal ratio of 1:1 (protein: carb). You can achieve this simply by filling half your plate with protein & half your plate with fiber-rich carbs.
For many people following a typical "athlete diet", you'll find you need to increase your protein & decrease your carbs. With the focus on fiber, you'll want to avoid simple carbs made with refined sugar, white or enriched flour, or processed foods. Instead, focus on fiber-rich carbs made from whole grains, fruits, & vegetables.
This principle carries over to your training nutrition, as you'll want to avoid sugary products that causes a spike in your blood sugar and inhibits your ability to burn fat. Instead, look for products, like Generation UCAN, that deliver a steady release of glucose that significantly lessens an early spike in blood sugar and steady glucose levels.
Metabolic Efficiency Testing
These nutritional strategies will have the biggest impact as you aim to improve your efficiency. Ideally, you should also adjust your training & racing strategies to increase the body's ability to utilize fat at higher paces. In order to validate your nutrition plan and determine the right training strategies to improve the pace your body burns fat, you may consider testing on a bike or treadmill in a Metabolic Efficiency center.
Your test would ideally begin before any nutritional or training adjustments are made, to assess your baseline physiological and nutrition status. The test results should be analyzed by a Certified Metabolic Efficiency Training Specialist, to develop a custom nutrition plan to improve your efficiency. The results can also be used to provide specific recovery intervals to maximize your fat adaptation and custom energy intake/hour needs to refine your training & racing nutrition plan.
Once implementing the nutrition & exercise recommendations, it is recommended that you re-test after 3-6 months to measure progress and additional adjustments.
[Tweet "Learn how metabolic efficiency training can help you burn more fat in endurance training (like running and triathlon). via @fitaspire"]
The Results
What can you expect from improving your Metabolic Efficiency? Your body can burn more stored fat than carbs, which can help you avoid the crash at the end of training and racing. You'll decrease the chance of GI distress, by reducing your dependence on external calories for fuel. Your blood sugar will stay stable throughout the race, giving you steady energy throughout the event. Quite often, this approach will also lead to improved body composition as you feel more satisfied throughout the day, reduce the amount of calories consumed while training, and have the hormonal stability that comes with controlled blood sugar.
For more info, grab a copy of Bob Seebohar's book: Metabolic Efficiency Training: Teaching the Body to Burn More Fat (affiliate link)
---
In our endurance coaching programs, we offer Metabolic Efficiency services to help you achieve your performance and health goals. This is just one of the ways that we help you reach your goals in running and triathlon. To find out if VIP Coaching or Metabolic Efficiency testing is right for you, schedule a free call here.