Uncover the grill, because grilling season is officially here! And this healthy salmon recipe is a delicious reason to warm up the grill for an easy weeknight meal. The grilled salmon is full of flavor in this easy, dairy free recipe – make extra servings to top your salad for lunch the next day.
Fish continues to be one of my favorite types of protein and I'm always excited when Kirk makes it for dinner. My job is to keep the freezer stocked with our beef from our favorite farm in Eastern Colorado and fish from Sizzlefish (affiliate link). We are very particular about where our meat comes from, with a focus on sustainable sources and high-quality cuts. The bonus with Sizzlefish is they come in pre-portioned packages, so you don't have to cut and save bits & pieces for another meal.
The owners of Sizzlefish are also athletes, so they understand the importance of nutrition to fuel your workouts. The idea for the company came on a training run, where some of my best ideas come to life. Their goal is to provide pure, first-quality fish we can trust. This is the type of company I feel great recommending to you and supporting, which is why I have recently partnered with them as an affiliate.
Now it's time for a new recipe to help inspire your fish cooking efforts. We chose the Paleo Prime package this month for our shipment and started with the Sockeye Salmon. This recipe is ready in under 30 minutes and tastes amazing.
Raspberry Mustard Salmon with Caramelized Onions
Author:
Prep time:
Cook time:
Total time:
Ingredients
2 tablespoons red wine vinegar
2 tablespoons raspberry mustard
2 pieces of Sockeye Salmon (I use Sizzlefish)
2 tablespoon of coconut oil
1/2 onion, diced
1/2 cup cooked quinoa
Instructions
Heat grill to 375 – 400 degrees.
Mix first two ingredients together and cover salmon with 1/2 the mixture. Cook salmon skin-side down for 10-12 minutes with grill cover closed.
While grilling, prepare the onions. Heat pan over medium-heat and melt coconut oil in the pan. Add onions and stir regularly, cooking until onions are brown and translucent. Remove onions from the heat and stir in remaining marinade.
Divide quinoa between two plates and add a serving of salmon to each. Top salmon with half the caramelized onions. Add your favorite veggie and serve immediately.
Tip: Double the recipe and add the salmon & caramalized onion to greens for a nice lunch salad tomorrow!
You can enjoy this dinner with a glass of wine, or a glass of kombucha (which was the route I chose this week). And while this is a quick & easy dinner that works well during a busy week, it's also great for dinner with guests.
[Tweet "Healthy, grilled dinner #recipe: Raspberry Mustard Salmon with Caramalized Onions. @sizzlefishfit"]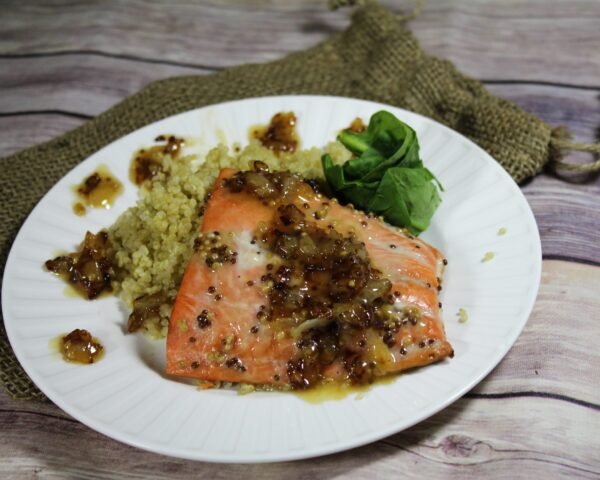 Looking for other recipes to inspire your Sizzlefish order? Try our Shrimp & Haddock Fish Tacos or Apple Sage Sablefish. Or you cou can browse all fish recipes.