What does one eat the week after a bikini competition? That depends! If your favorite foodie is staying with you for the week, probably a lot. I had so much to share with Laura and only 10 days to do it. So we fit in as much as we could. That, of course, included lots of yummy food.
What are you supposed to eat the week after competition? I had a nutrition plan with the goal to refeul my body with all the nutrients – plenty of whole grain carbs, fruit, veggies, and water. I actually did follow the plan for 4 out of 5 meals most days. The other was focused on the experience and enjoying time with Kirk and Laura.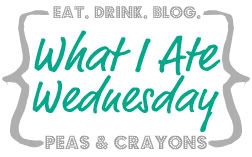 In celebration of What I Ate Wednesday, I thought it would be fun to share a few of the foodie highlights from the past week. After oogling some of these goodies, head over to Jenn's place to meet a few more foodies.
Breakfasts (and Mid-Morning Snacks)
A few healthy and one sinfully delicious. Eggs, toast, fruit; donut from Daylight Donuts in Breckenridge; Laura's homemade Banana Chocolate Chip Protein Muffins; TVP oats almond butter, NuNaturals chocolate sauce, and muesli.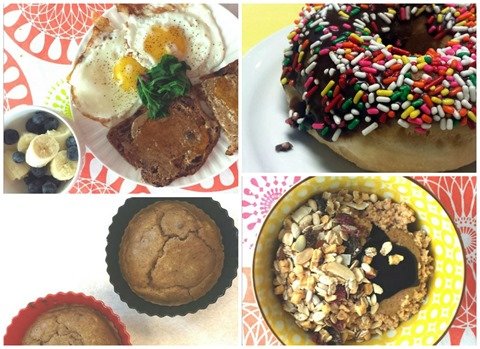 [Tweet "Eating around #Colorado with @FITaspire and @Sprint2theTable for #WIAW! "]
Snacks
Healthy Bites from the amazing Lindsay; Quest Protein Chips; 34 Degrees Crackers & Cheese, Grape Otter Pop (between rafting sessions).
Drinks
Smokey & the European (bourbon, amaro, green chartreuse, and smoked mesquite); liquor tasting at Keystone Wine Festival; beer tasting at Broken Compass; Absinthe at The Absinthe Bar; Trade Whiskey (bourbon flavored with red pepper, tobacco and black gunpowder); beer tasting at Breckenridge Brewery; Wine tasting at Keystone Wine Festival; Giant jug of water for the car rides.
Dinners
Colorado Lamb Saddle at Modis, Buffalo Sirloin Steak Medallions at The Fort, Kirk's homemade antelope burger topped with fried egg, Swiss Mac & Cheese at The Absinthe Bar, Vegetarian Special at The Fort, Peanut Butter stuffed jalapenos at The Fort, Kirk's homemade sushi appetizers, Hunboldt Fog Goat Cheese at Modis, Mountain Man Sausage Platter at The Fort, Laura's homemade sushi dinner.
It was a fun week of food – just a few snapshots of all the fun are covered in this post. Sometimes we were having too much fun to remember to take photos. Or I had already run through multiple batteries in my phone and couldn't take a photo. So many memories smooshed into just one week. I'll be sharing more about our adventures rafting & hiking very soon!
*********************
********************
Questions for you:
What's your perfect meal look like?
When was the last time you made a fancy meal at home?