What do you do when you house is half packed in boxes and you haven't been home for over 24 hours in weeks?
If you're crazy like us, you invite all your friends over to the house for a party. It's a good thing I have understanding friends, because this was far from my best party:
When guests arrived, we were still cooking – which meant the kitchen was a mess!

All the serving dishes were packed, so I was using things like food processor bowls to hold chips.

Boxes in the corners and sides of every room

And with the 100+ degree heatwave, the air conditioner couldn't keep the house quite cool enough.
It's a good thing I have some awesome & understanding friends who didn't seem to mind the imperfections! Including these lovely ladies you all know: Lindsay, Tina, & Laura.
Even with the less-than-ideal party situation, it was a great evening of catching up with friends, margaritas, and sharing lots of food!! I was inspired by this queso recipe earlier in the week and decided on Mexican theme for the party. I didn't actually sit down to plan the menu or shopping list until almost 11AM on Saturday morning, so we were more rushed than I like. You may have seen this photo on instagram this weekend: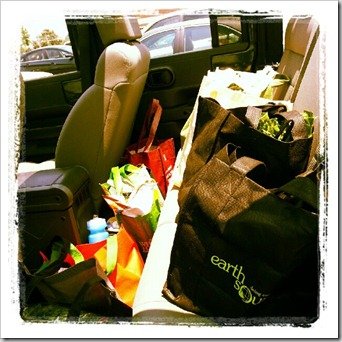 Never ask me to plan how much food you should serve at a party – I am terrible at that! I planned queso, mexican dip, taco bar, and mexican chipotle chocolate bites (recipe below). I planned all the recipes for 40 people – I think I should have planned the dips for 10. You live and learn, right?
We served the queso & bean dip separately, but I also did a basic layer dip that turned out great (listed below from bottom to top):
rice

mexican dip

queso

guacamole
It was like a deconstructed burrito that you ate with a tortilla chip. It's a great snack with some added Tabasco too!
Easy Vegan Baking
My favorite dish turned out to be the Mexican Chipotle Chocolate Bites. I found this recipe by googling for Mexican desserts. I thought this would be a good example of how easy vegan baking can be – even if you're not comfortable making your own recipes. My favorite part of this particular recipe was the chipotle chile powder. The cookies taste normal when you first take a bite, but you taste the spicy kick at the back of your throat after you finish the bite. Yum!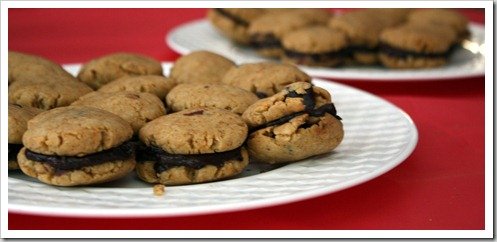 Start with the original recipe: http://www.bhg.com/recipe/cookies/mexican-chipotle-chocolate-bites/
Replace each of the dairy ingredients with the non-dairy substitutes:

Mexican-style sweet chocolate or semisweet chocolate = 9 ounces vegan chocolate chips
whipping cream = coconut milk whipping cream. I used Katie's recipe.
butter = non-dairy margarine
Shortening  = non hydrogenated vegetable shortening
cream cheese = non-dairy cream cheese
egg = Energ egg replacer

Monitor baked goods while cooking. Altering ingredients may alter cooking time.
That's all there is to it! I've had very good luck with substitutes so far, but I can't guarantee it will always work. Special thanks to Tina & Kati who helped assemble the cookies when they arrived to the party. We were definitely behind schedule and your help was greatly appreciated!
And now we have plenty of leftovers to eat before we leave in a week. Anyone want to come over for Mexican?! 😉
********************
Questions for you:
Any success stories (or failures) when you've tried substitutions when baking?

What is your favorite recipe you've made recently?