We left off on Wednesday with all the preparation for WBFF Denver finished and ready to hit the stage for the second time as a competitor! As this was the first time the WBFF has come to Denver, it was also the debut for most of us in this federation. I think everyone was a little nervous, but very excited to get things started!
Pre-Judging (Morning) Show
Most of the judging decisions are made during the morning show, although the evening is more of a production and the most fun for the audience. For WBFF Diva Bikini competitors, we compete in two rounds: bikini and evening gown. For the morning show, however, we only competed in bikini. That's still the most important round and where we spent the longest time on stage.
Each competitor walked onstage one at a time and is announced individually. We walked on from stage right, to the center of the stage, then proceeded down a short catwalk to do our presentation in front of the judges. After the catwalk, you have the chance to do another short presentation off to stage left, while the next competitor is doing their walk and presentation. After finishing, everyone lines up along the back of the stage to wait while all the competitors have their opportunity.
I enjoy getting up on stage, but there is a lot to think about! Stand up straight, look confident, stick your butt out (show off those glutes!), complete your routine smoothly – all in 5-6 inch heels. The fact that you're wearing a small, sparkly bikini barely registers in my brain! I think I was a bit thrown off from running late getting to the venue, so I wasn't quite as relaxed as I would have liked. Looking back at the video my Dad took and some of the photos, I didn't do a good job sticking my booty out in the morning show. Darn!
After everyone is lined up, the judges call out girls in groups of 5. The first 5 are typically the top 5, the second 5 typically finish the top 10, and then the rest. This means you know pretty quickly if you made the top 10 or not – although there is a slight chance things can change in the evening. So I knew in the morning I didn't make the top 10 again this show. Darn again!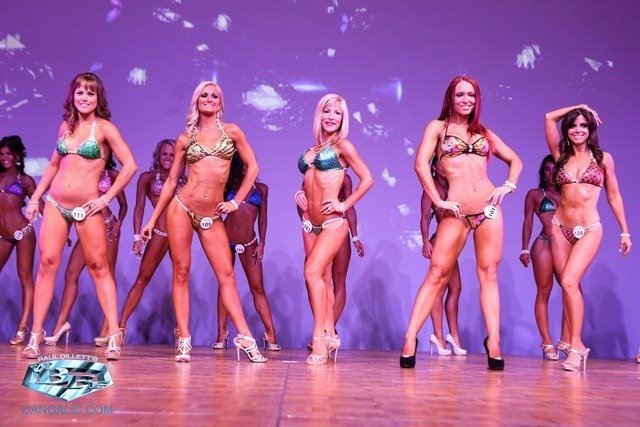 Between Shows
After our time on stage, I was a bit bummed. I was really hoping to place this year, although my number one goal is always to continue to improve myself. I knew I had improved a lot from my first show and am really happy with how much stronger I have gotten over the past 7 months! That said, I was bummed. I let myself be sad for a little bit and then decided to move on and refocus. I was still going to rock the stage for the evening and I was excited to wear my awesome evening gown!
I had a few minutes to catch up with my trainer (who is great about being honest about where you stand & what you need to work on) and see Kirk, Laura, and my parents who were there to cheer me on for both (expensive!) shows. It was so amazing having such a supportive group there for me!
After catching up, our group (my teammates also trained by Ashley) went back to one of the girls rooms who stayed at the host hotel and relaxed. The plan is to stay off your feet, legs up, relax, drink water, and eat. Yes, I said drink water! Although some competitors really dehydrate during the show, we were still drinking 3/4 gallon of water throughout the day. Much better for your body!
I had such a good job relaxing with the girls, we watched a movie (The Other Woman), played on instagram and Facebook, laughed, and just generally enjoyed each other's company. This was really one of my favorite parts of the day!
Although we were having fun, I think everyone was anxious to get going and back on that stage. Finally, it was time to head back to the theater!
Evening Show
The evening show is a spectacular production! It's much more like a performance than what I experienced at The Rocky last year. It starts with an opening parade, where all the competitors (guys, girls, everyone!) walk around the stage and get a moment to show off before things officially get started. It has a very exciting feel and we were all ready to rock after that!
Bikini kicked off the evening, so we stayed backstage after the parade. After watching the Masters group do their thing (35+ is Masters, so I'll be there next year!), it was time for Bikini Short. I was a lot more relaxed and confident this time around and did a much better job showing off my booty this time. It was just FUN! This works exactly like the morning show, so I won't explain it again.
We had some time to relax and take photos after the bikini round. It was nice to have time to cool down too, because it got HOT up there and my back was hurting after posing for so long. If you're back doesn't hurt, you're not doing it right!
Finally it was time to get into our beautiful dresses and I panicked a bit trying to get everything to stay in the right spot. Thankfully, Christel helped to tape me into the dress, so everything stayed where it was supposed to. I would probably try those stick-on bra things next time to hold "the girls" up better. We took a few photos backstage (because everyone looked gorgeous!) before they called us backstage again.
The walk for evening gowns is pretty easy. Similar to bikini, each girl was called to the stage individually and we walked to the center and around the catwalk, before walking off the other side. The only bit of excitement in this round was the train on my dress got caught on the edge of the stage! Thankfully, Jessie (the girl who won our class!) saw what happened and immediately jumped in to free me. This is a great example of how amazing all the girls were – it was a very supportive environment. Although we were competing against each other, everyone also helped each other!!
After everyone had a chance to walk, we filed back onstage for a final look and the top 5 were called out. I love that they give awards to bikini in these gorgeous dresses, it looks so classy!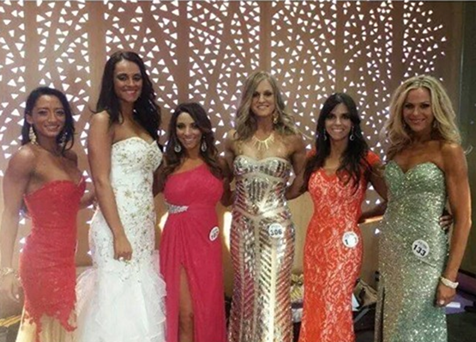 For me, this was the end of the evening and I quickly changed into a nice outfit to wear to dinner. I hadn't gotten much time to spend with my parents (who flew back out on Sunday night) or Laura and Kirk, so I didn't want to take more time away from them. We headed to dinner and enjoyed a wonderful evening celebrating an amazing day and my first drink in 5 weeks! Wine was part of my prep until then – it's all about moderation!
Overall, it was an amazing production. It was organized from start to finish and made you feel a part of something glamorous. From the stage setup, the photography, the changing area, and every detail in-between, it made you feel like part of "the best of the best". I loved my experience with the WBFF and can't wait to compete with them again. But for now, I'll be taking time off to build and come back in 2015 even better!
********************
Questions for you:
What would you have chosen to eat for your first post-show meal?

If you were to do a competition – would you like the addition of the formal dress or no?