I've been back on my nutrition plan and training for several months. My first competition of the year is mid-July, which means I am 11 weeks out from the big day. My nutrition hasn't changed much in the last few months, as I work to decrease my body fat while building muscle.
I continue to use my meal planning template each week to organize my meals and only meal prepping a few days at a time. I'm currently on a a carb cycle that includes 2 days of low carb, 2 days of medium carb, and 1 day of high carb. I'm sharing what I ate yesterday, which happened to be a medium carb day.
What I Ate on Medium Carb Day
Meal 1: My favorite breakfast – fried eggs, toast, and spinach.
The picture below is actually from Sunday, which was a high carb day. My normal breakfast is just one slice of toast but I admit I forgot a picture yesterday morning. I thought I would be tired of this combination by now, but it's just so darn tasty!! I look forward to this every.single.day.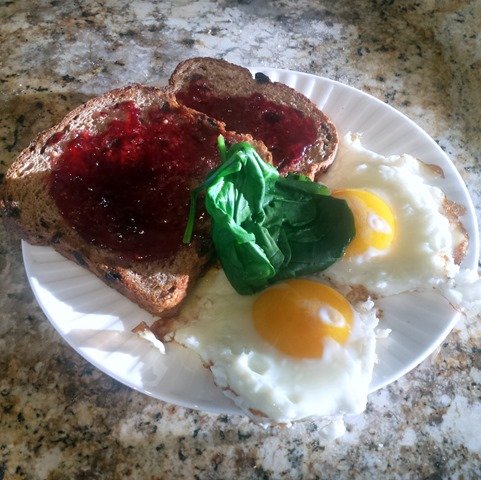 Meal 2: Mocha Smoothie with Vega Protein
After my morning workout, I refuel with a protein smoothie almost every day. One of my favorite ways to prepare my snack recently has been to add my morning espresso to the mix. I'm still perfecting the recipe to be something to share with you, but you should try including coffee in your espresso if you haven't! Of course, I always use Vega Protein in the mix, since it includes both BCAAs and Glutamine.
Meal 3: Spring Salmon Salad
A tasty way to enjoy a LOT of veggies and a healthy mix of protein. Tooped with a homemade lemon vinaigrette, this spinach salad with broccoli is topped with my new favorite Honey Smoked Salmon – the Chipotle Lime flavor goes really well with the other bright flavors!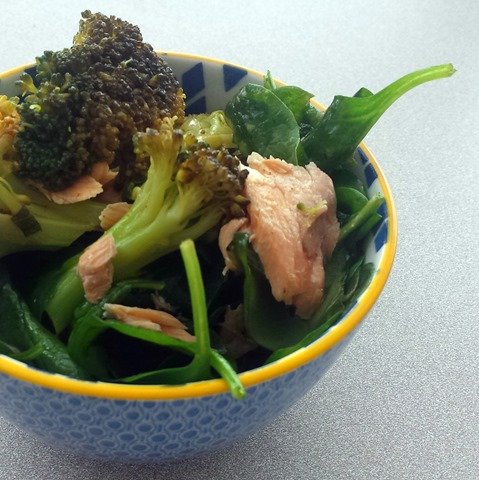 Meal 4: Chocolate Chip Cookie Dough Quest Bar and Broccoli
I am hopelessly addicted to Quest Bars and I love all the flavors. We set up auto-delivery for boxes to be delivered automatically each month to keep us in good supply. When I can fit these into my macros, I pop them in the microwave for 15 seconds (at work) or 4 minutes in the toaster oven (at home). Served with a side of leftover veggies from salad prep to get in some veggie carbs for this meal.
Meal 5: Cinnamon Toast Rice Cake topped with Almond Butter & Vegemite
My favorite flavor of rice cakes by far, it tastes like a treat. And with the addition of vegemite today, my mouth was very happy!!
Meal 6: Asian Cod over Spinach, Peppers, and Carrots
There are no words to describe this yummy dinner. Kirk made an asian sauce that flavored both the veggies and the fish (affiliate). The veggies almost tasted caramelized in the sauce and the fish was SO moist and flavorful. One of my favorite dinners recently made my the best guy around!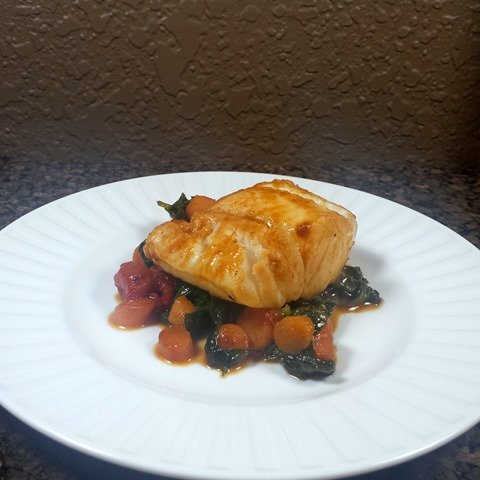 *****************
Questions for you:
What is your favorite breakfast recently?
What was the best thing you ate yesterday?