I know many of you are runners (if you run, you are a runner) and I will always love running! It's an easy sport to pick up, fairly inexpensive to participate in, and you can explore new places with it when you travel. But have you thought about trying something new this season? If you're already a runner, maybe it's time to tri a triathlon!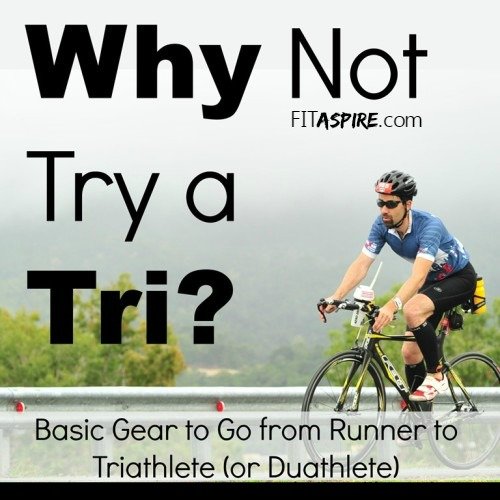 Cross-training is a great way to help prevent injuries and can even strengthen your body for your primary sport. In fact:
Biking is GREAT cross-training for running. It using your leg muscles in a different way, which increasing your overall leg strength for running.
Swimming is a great way to add variety without any impact. It's also great for your core and gives your legs a break.
Add these two activities to the running you're already doing and you might as well add a triathlon (or duathlon) to your calendar. Interested? If you're ready to give it a try, you're going to need a few things to train and race in your first triathlon. With the six items below (and two optional items)  you'll have everything you need to get started.
Swimming Basic Gear
Swimsuit – you could swim in a bikini, but it's not going to be quite as comfy. Although it might turn a few heads when you swim laps.  A basic one-piece swimsuit at Target or an online swimming store will work nicely. I have had good luck with "uglies" at swimoutlet.com.
Goggles – Another item you can pick up at Target or an online store. I use Aqua Sphere Kaiman, but you may want to try a few to find a pair that fits comfortably on your face.
Biking Basic Gear
Bike – any bike will do. If you're just thinking about your first triathlon, there's no reason to go out and buy a fancy bike. Have one collecting dust in the garage? Pull it out and put it to use. Have a friend with a bike collecting dust? Borrow theirs. If absolutely no one owns a bike you can use, look for a used bike on Craig's List or eBay or a local garage sale.
Helmet – Please DO NOT ride your bike without a helmet. You can get one at Walmart, Target, or a bike store. It can save your life and it's irresponsible to ride without one. Get a helmet!
Shoes – If you're on an old or borrowed bike, you probably can just use running shoes to ride your bike. If the bike has clips on them, you can swap them out or you'll need a pair of cycling shoes (if you have a pair from spin class, those should work!).In that case you will need to get cleats that screw into the bottom of your shoes. Bring your bike to a cycling store and they can help you find cleats that work with your pedals.
Padded Bike Shorts – You can technically go without this one, but I wouldn't recommend it. It will make you more comfortable to get a pair of padded bike shorts and your butt will thank you for it.
Bike Pump – Unless you live near someone's you can borrow, you should probably get a bike pump. I pump my tires every 2-3 rides, depending on the frequency and the distance.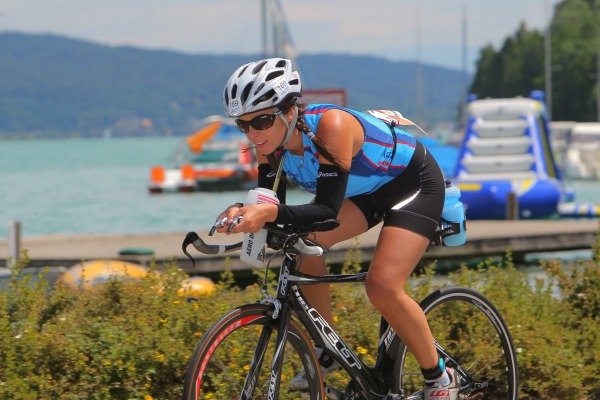 Running Basic Gear
Running Shoes – A good pair of running shoes that are fit correctly for your feet. Spend some time at a running specialty store to get this crucial piece of running equipment. Read more about why running shoes really matter.
And that's all you need! There are plenty of other things that you can get and may help as you get further into the sport, but I encourage you to go the basic route to start out.
[Tweet "Learn the basic gear you need for your first #triathlon! #FitFluential"]
For my first two triathlons, I rode an older mountain bike (knobby tires and all) with regular pedals and my running shoes. After that first year, I decided I really liked the sport and upgraded to a road bike. Bikes aren't cheap, so save that investment until you know you're going to have it (and use it) for a while!
Don't miss the other posts in the Why Not Try a Tri series:
Editors Note: This post was originally published in April 2012 and has been revamped and updated for accuracy and the latest information.
********************
Questions for you:
Have you done a triathlon? What was your favorite (or least favorite) thing about your first race?
Have you thought about doing a triathlon? What's held you back?