Sometimes simple is good. I don't often make simple recipes and when I do I forget to write them down. A few weeks ago I threw together a nacho cheese that was fantastic. But I didn't pay any attention to the ingredients.
When Katie and her hubby came over for dinner this week, I though a Nacho Bar would be fun. Easy to prepare after work and it let's everyone customize their dinner. And I could remake the nacho cheeze and take notes this time!
I took a chance that I could figure out the cheese in the few minutes between work and their arrival. As they rang the doorbell, I was transferring the cheeze from the food processor to a bowl – not bad!
We had a great time talking, watching this cutie play Angry Birds, and eating (of course). I love easy weeknight meals with friends.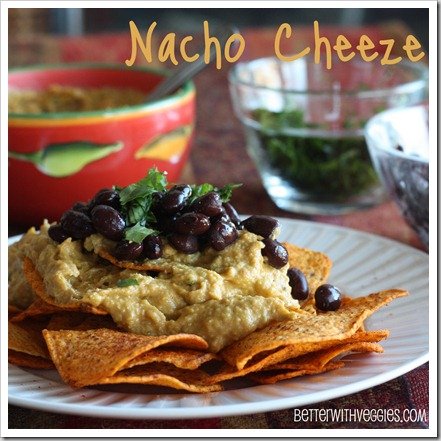 The next day, Kirk created a burrito out of the tortilla crumbs and remaining leftovers. I was so jealous and convinced him to buy more tortillas and make ME one for lunch yesterday.
So that's how I have TWO recipes to share with you today. One planned, one a leftovers creation.
Nacho Cheeze
Author:
Ingredients
1 cup cashews
2/3 cup almond milk
2-3 jalapenos, diced
1/2 tomato, diced
2/3 cup nutritional yeast
1/3 cup Daiya Pepperjack Shreds
1 tablespoon Frank's Red Hot Sauce
Instructions
Process cashews in food processor until ground. Pour in 1/3 cup almond milk and remaining ingredients. Combine until smooth. Add remaining almond milk about a tablespoon at a time, until desired consistency is reached. Serve cold or warm.
This second one made a great lunch at work, although it does get just a bit softer than if served fresh. If you're working from home – assemble right before serving. In either  case, it's delicious!
Nacho Burrito
Author:
Ingredients
2 flour tortillas
1/2 cup tortilla chips, smashed
6 tablespoon Nacho Cheeze
6 tablespoons meatless crumbles
1/2 black beans, drained and rinsed
6 tablespoons Daiya Pepperjack Shreds
1/2 cup lettuce, sliced
2 teaspoons cilantro
4-6 tablespoons guacamole
Optional toppings: salsa, hot sauce, non-dairy sour cream
Instructions
Combine tortillas through pepperjack shreds on a plate and microwave for 30 seconds (or until cheese is just starting to melt). Mix together thoroughly with a fork.
Top tortilla with mixture and add remaining ingredients. Roll into a burrito and put back in microwave for an additional 30 seconds. Serve warm for best texture, or save for lunch (tortillas won't be quite as crispy).
********************
Questions for you: