On Saturday morning we woke up without an alarm. We then lounged in bed for a while, enjoying the warm bed while listening to the wind outside.
When we got out of bed, we make fall-spiced lattes. Then I decided we needed something delicious for breakfast. Down to the last of our groceries, I went through a mental list of what we could make. We seemed to be out of most everything I thought of.
And then I thought of donuts.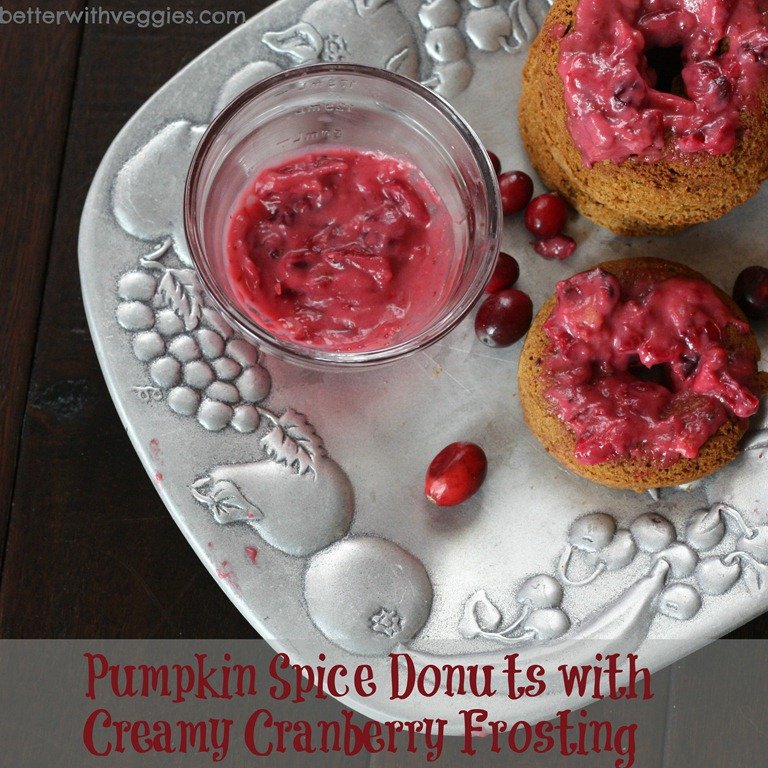 Pumpkin Spice Donuts with Creamy Cranberry Frosting
Recipe Type
:
breakfast, dessert
Author:
Ingredients
+For Donuts
1/2 cup Chickpea Flour
1/2 cup Cake Flour
1 cup pumpkin
1/2 cup brown sugar
1 1/2 teaspoon baking powder
1 teaspoon allspice
1 teaspoon ginger
1 teaspoon cinnamon
1/2 cup almond milk
1/2 teaspoon apple cider vinegar
1/2 teaspoon maple extract
4 tablespoons non-dairy butter (Earth Balance)
+For Frosting
1 1/2 cup cranberries
3/4 cup apple cider
2 tablespoons brown sugar
6 tablespoons non-dairy cream cheese
Instructions
Pre-heat oven to 350 degrees.
In a small bowl, combine almond milk & apple cider vinegar. Set aside.
Combine flours through cinnamon in a medium bowl and whisk together until combined.
Add remaining ingredients to milk mixture and mix to combine. Add wet ingredients to dry ingredients and mix until just combined.
Spray donut pan with cooking spray. Transfer batter to donut pan using small spoon or tablespoon – stopping below the top of the center piece. This will ensure that your donut still has a hole after baking.
Place pan in oven and bake for 14-16 minutes, or until donut springs back when lightly touched.
While donuts are baking, simmer cranberries, apple cider, and brown sugar over medium heat in a small saucepan. Simmer until cranberries pop, then crush with a fork or potato masher. Mix together and transfer to a small bowl. Whip in cream cheese until creamy.
Allow donuts to cook completely, then use butter knife to loosen the donut edges from the pan and transfer to wire rack or plate.
Spread frosting on donuts with a spatula.
I like to use chickpea flour in baked goods, because it does add a little protein to the mix. You could just use all cake flour, however, if you don't have any on hand.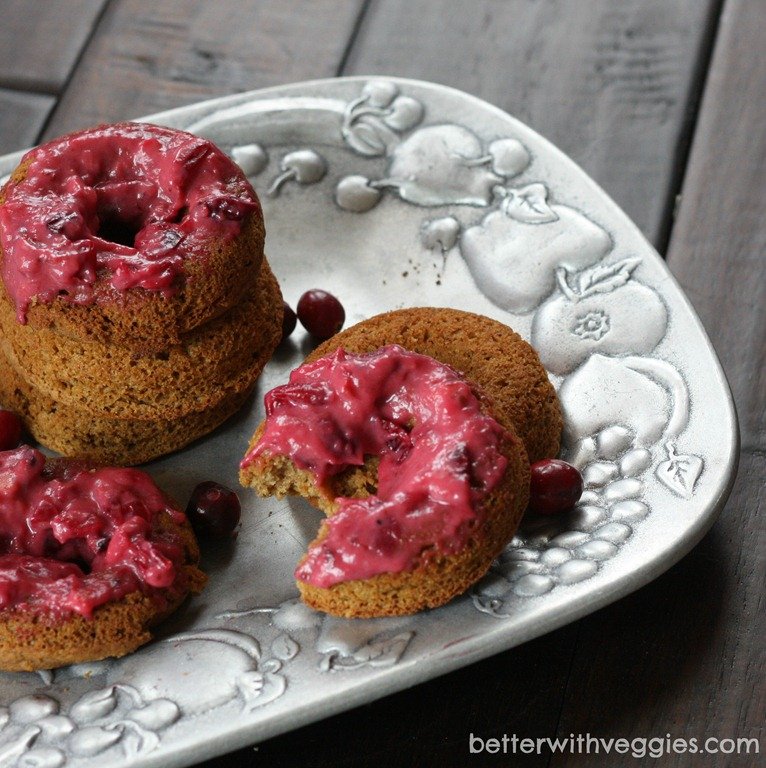 I'm thinking these donuts would be a great way to start Thanksgiving day – kind of like a breakfast version of Cranberry Sauce & Pumpkin Pie. Although I won't tell anyone if you really want pumpkin pie for breakfast. 😉
Serve with hot apple cider or spiced lattes to really make your breakfast festive and fun!
********************
Questions for you:
Do you eat jellied cranberry sauce or homemade on Thanksgiving?

What are your favorite holiday flavors?