When we decided to plan a cycling trip through France, I didn't know anyone else who had done this type of trip. I knew I liked to ride my bike and liked to travel, so surely the two would fit nicely together. I also knew I didn't want a group tour, where I would be riding with people I didn't know. I just needed someone to organize the logistics, so we could focus on the fun. We chose Discover France Adventures, an independent cycling tour company that also has an office in the US. This "tour" turned out so much better than we expected – it was the highlight of our trip and an experience I hope to repeat (in a new location) many times in the future!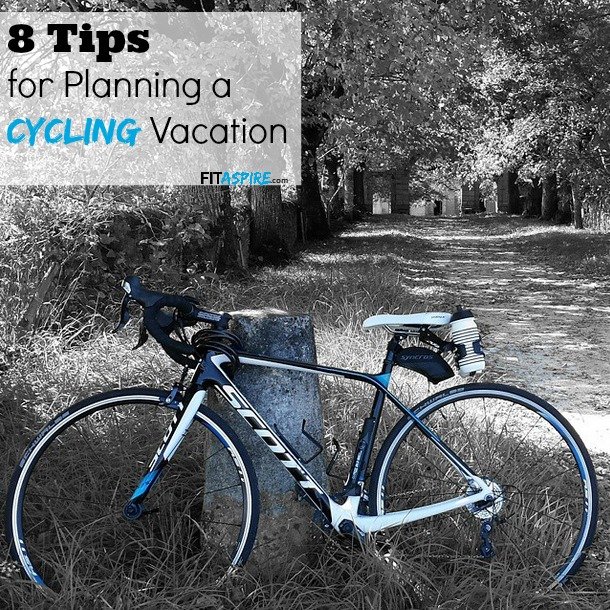 Although Discover France provided a lot of information to help with planning, it was almost TOO much information for me. There were also a few things we learned along the way, that might not have been in that info. Or I overlooked it! That's why I decided to save you a little time and boil it down to 8 tips to help plan your vacation.
8 Tips for Your Cycling Vacation
1. Know the stats
It's important to know what you're getting yourself into, so you can be prepared. Know the average daily distances and average elevation gain. This will be your baseline. You want to be able to comfortably cover the distance, including the amount of climbing that you'll encounter.
You also want to know the total cumulative distance and elevation. While there's no need to mimic that total distance in training, it's good to get close (depending on your cycling experience).
2. Train for the distance
Now it's time to put in the work. Your goal is to put in the work ahead of time, so that the trip is fun (not a struggle). At a minimum, I suggest working up to a long ride that covers the distance of your longest day, mimicking the elevation as much as possible. You're not going to be worried about speed on the trip, but I would review your average pace at the end of long rides to estimate how long you'll be on the bike each day.
Don't forget that you'll be on your bike for multiple days in a row – probably more often than you ride in a typical week. Make sure you have a few weeks where you are on your bike more frequently, to help prepare your body for the repeated effort. Get used to sitting on your seat several days in a row, so you're not suffering on the trip. We didn't prepare as well for this one and it would take me some time to get comfortable again each day.
3. Make it comfortable
If comfort is your TOP priority, you might want to take your own bike on vacation. We decided that the hassle of carrying our bikes through Europe was too much this time and rented road bikes through the tour company. You can make a rental bike much more comfortable by bringing a few things with you: bike seat & pedals. Believe me, your booty will thank you for the seat!
In addition to the bike basics, you'll want to bring a few more things to keep you comfortable:
cycling shoes (if you bring your pedals)
good cycling shorts
comfortable tops
chamois butter
sunglasses
4. Consider a Backpack
One of the reasons we chose wine country for our cycling vacation was to visit wineries. And while we were visiting, we wanted the option to buy a bottle (or 3). We decided to purchase a cycling backpack, big enough to carry a few bottles of wine. We also used the bag for spare clothes, wallets, phones, and a camera.
This was a last-minute purchase, but it turned out to be a key item for us!
5. Equip your phone
Have you ever wanted to call the hotel to change dinner plans or notify them of your arrival? What about a mechanical problem with your bike along the route? This is a bit tricky in Europe on your phone, unless you have international calling. But you can purchase a pre-paid SIM card to use during your trip, which is much more cost effective. We didn't follow this tip on our last trip and there were several times we could have used it. Luckily no mechanical problems!
If you want to check in on social media along the way (share those vacation photos on Instagram), you might want to buy wifi access, as well. I found this a few days into our trip and I loved the flexibility of wifi outside our hotel. There are several phone companies that offer wifi passes, which you can find and purchase when you're in a populated area (just turn on wifi and browse the open options). This won't cover you everywhere, but I found it to be pretty useful.
[Tweet "Get ready to #travel with these 8 Tips for Planning a #Cycling Vacation via @FITaspire."]
6. Pack snacks (just in case!)
Don't forget some snacks! Most days there were places to stop and grab lunch along the route, but others we arrived too early/late or it was too remote for restaurants. I packed two of my favorites for this reason – Vega Electrolyte Hydrator and Quest Bars.
Vega Electrolyte Hydrator was added to a water bottle each day, to make sure we had the electrolytes needed to stay hydrated. It was warm during our trip, so a bottle of plain water and a bottle with Hydrator was perfect! We packed enough Quest Bars for the trip to have 1 each per day. It was great to have this as a healthy snack option along the way. We enjoyed one as a picnic in front of a 7th century castle!
7. Pack a camera
If you're someone who likes to take pictures on vacation, you're going to want to pack a camera. I used both my phone camera (for quick shots) and my DSLR (for the really amazing views) and we packed both in the backpack (see #4 above)
8. Throw away your watch
This is vacation, not a race, so don't focus on your pace. Take your time and enjoy the sights! Look around and experience the areas you're cycling through. Plan to stop and take breaks often, so you can eliminate any rushed feelings. This trip really IS about the journey, not the destination.
In case you missed it, check out all the recaps from our cycling vacation through Bordeaux:
********************
Questions for you:
Where would you visit on a cycling trip?