Are you ready for more from our vacation in France? Last week I recapped our time in the Loire Valley, which was the first 3 days of the trip. Now it's time to hop on a train even further south, to Bordeaux. You can see all my France vacation recaps here.
Day 1 – Bordeaux
Even if you're not a wine connoisseur, I'm sure you've heard of the Bordeaux region of France.  Wine has been produced in this area since the 8th century! What I didn't know is that Bordeaux is not only the name of the region, but also the major city. Our cycling tour chose this city as the start (and finish) for the trip, so we had plenty of time to explore.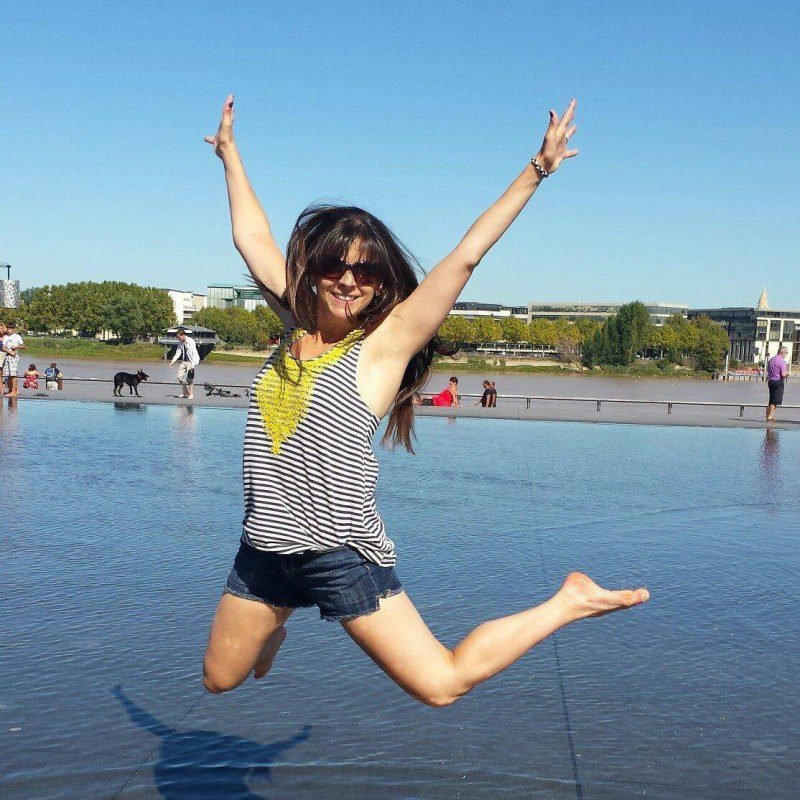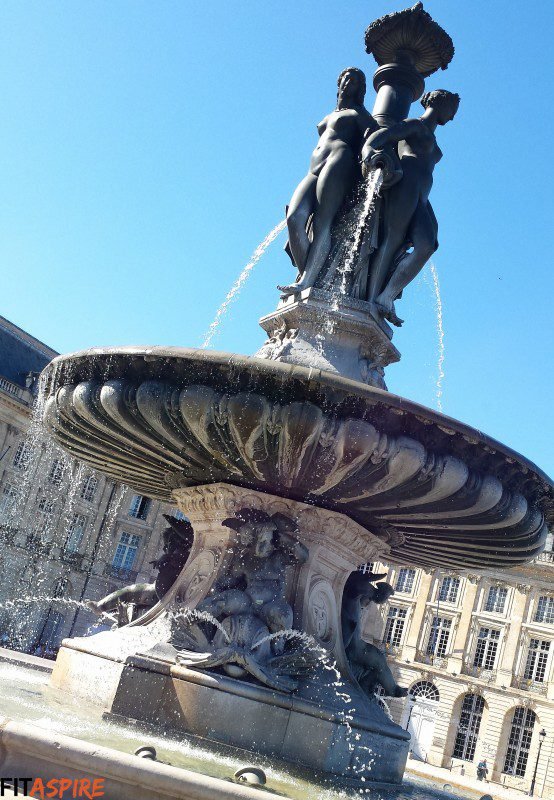 The major sights in Bordeaux that we visited are the Mirror Pool, Grand Theater, and a beautiful church. Most of our time we spent wandering the streets or eating and drinking in cafes. Not a bad way to spend a few days. The most memorable stop in Bordeaux was the roof bar at the Grand Hotel de Bordeaux. The views of the city at night were worth the overpriced drinks!
A tour company rep met us at our hotel late Tuesday afternoon for our "orientation" and bike setup. We rented road bikes for the trip, but brought our own pedals and seat, which we set up and tested out in front of the hotel. Although there was a bike fit described on the tour description, the rep didn't seem like much of a cyclist and we did the setup ourselves. Not a problem for us, but something that might have been tricky for someone with less cycling experience.
After getting the bikes set up, we had a briefing to review the route maps (paper and a Garmin GPS). The GPS was a fairly old model, but it worked well enough to get us from place to place without having to pull out the queue sheet.
[Tweet "A glimpse into traveling in Bordeaux, #France via @FITaspire. #travel #vacation"]
Day 2 – Bordeaux to Saint Macaire
On Wednesday morning, we woke up and got ready to ride! We brought a cycling Camelback for the trip, so we could carry extra clothes and any bottles of wine we bought along the way. Kirk was a gentleman and offered to be the one to take on the extra weight.  The tour company arranged moving our suitcases to each hotel while we rode, so all we had to do was have them packed and ready to go. And since this was an independent tour, it was up to Kirk and I to set the pace and follow the map!
Our first leg of the tour was the longest – 64 km (or 40 mi). Once we got out of the city, we were riding on a paved bike trail (basically a rails-to-trails path, if you're familiar with those). The path was basically flat, which made this stretch pretty easy going. A good warmup for what was ahead! We stopped near the halfway point in a city that was recommended for lunch and found it was market day. We spent some time wandering the stalls, before sitting down for lunch at a creperie.
After lunch, we headed back out on the trail and started to see vineyards on either side! We stopped to take photos a few times, before we turned off the trail and onto the roads. Yay!
We were both so excited to be riding throughout the countryside in France, surrounded by vineyards, with blue skies and perfect weather! It was exactly what I had pictured for cycling through wine country! We made a point of stopping for photos along the way and wandering off the route (for short distances) when there were signs pointing out interesting sights. The journey really was the point of the trip and we soaked it all in!
The second half of the route has some good climbs – two especially memorable ones. I have more gears on my tri bike at home than I had on my rental road bike, so I was very happy that I've gotten to be a stronger climber over the past year. I can't imagine the people who do this route on a hybrid!  Usually the tough climbs were rewarded with an ancient chateau or castle at the summit, which is a good substitute for my typical mountain views.
About 5 miles before we reached Saint Macaire, we found a small winery that was open for tastings. And by open, I mean that they advertised they were offered tastings (degustation) and direct sales (vente). We didn't make reservations for any wineries along the wine route, but had great luck finding 1-2 small wineries each day. Chateau Du Mont was our first Bordeaux winery and one of the most memorable.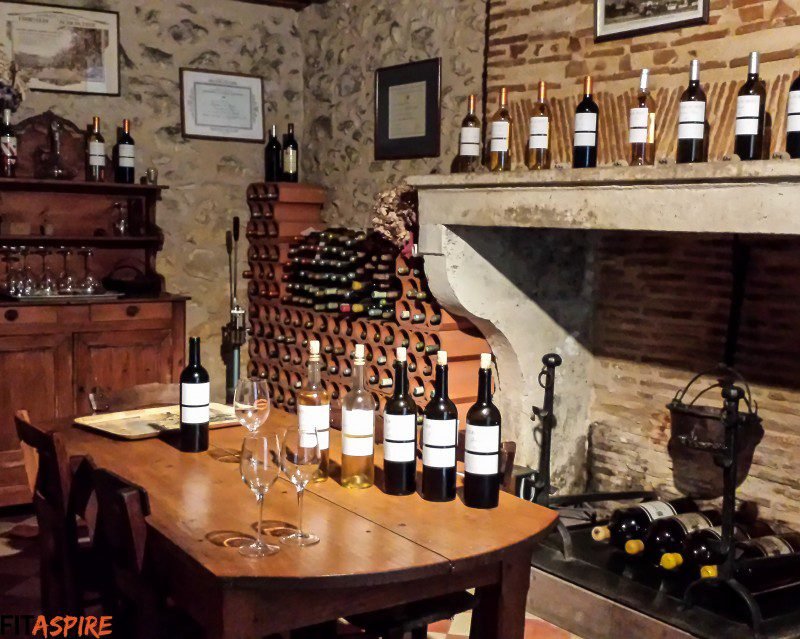 The guide (who appeared to also be the owner) spoke no English. Since our French is very limited, we used the few words we knew and lots of pointing to communicate that we wanted to taste four of his wines. Our tasting was in the old kitchen and you couldn't ask for more appropriate surroundings. We left with 3 bottes, stuffed in Kirk's cycling backpack.
[Tweet "Cycling through the vineyards in #France from @FITaspire. #cycling #FitFluential #travel"]
When we arrived in Saint Macaire, the first thing I noticed was the noise. Or the complete lack of noise. It was silent! I've never been to towns that were so quiet in my life. This medieval, walled town was great to explore, but nothing to do. We stayed at the Hôtel Les Feuilles d'Acanthe, which is basic hotel with an amazing restaurant.  I plan to do a separate post highlighting some of our favorite meals later, but I'll say that dinner was an amazing three-course menu that exceeded our expectations! Our server (and I believe partial owner) was also our French language teacher and helped us learn new words through the evening. She even wrote down what we learned at the end of the night.
Breakfast is very different than what I'm used to in most French hotels. Coffee, bread, and jelly. It's a good thing we brought Quest Bars!  After breakfast, we left our bags at the hotel and hopped back on our bikes for the next leg of our tour.
To be continued…