The day before a weekend of races, you'd probably expect a healthy breakfast to prepare my body for the task ahead, right?
After all, I'm the one who talks about eating like an athlete.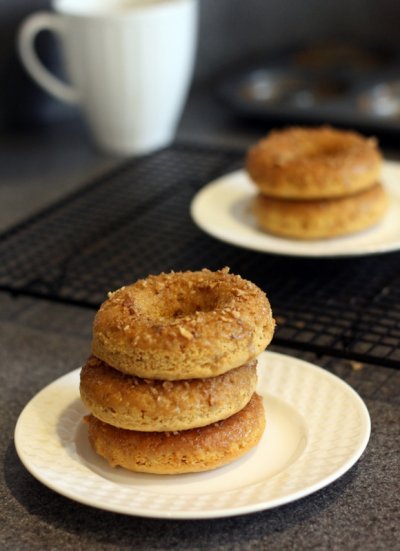 Are you getting the feeling that I didn't go that expected route this morning? The title might have also given it away. I did use chickpea flour in the mix for a little extra protein kick, does that help? =)
You see, I've had this bottle of Bac'Uns sitting in the cabinets – taunting me – for weeks now. When I bought the bottle, I knew I was going to make Maple Bacon Donuts. I just hadn't sat down to think about the rest of ingredients yet.
Last night, I decided it was time to actually give it a try. That meant today's post was going to be late, but I crossed my fingers that they would turn out good enough to be worth the wait.
This morning, Kirk made us gingerbread lattes to sip on while cooking. Having a tasty drink always makes cooking more fun! Note to self: use a clean coffee cup as a prop in photos. No one wants to see latte residue in your cup.
The topping on these donuts is a glaze, instead of the traditional thick frosting, which results in a lighter finished product.
Maple Bacon Donuts
Recipe Type
:
breakfast, donut
Cuisine:
vegetarian, vegan
Author:
Ingredients
For the Donuts
1/2 cup Chickpea Flour
1/2 cup Cake Flour
1/2 cup sugar
1 1/2 teaspoon baking powder
1/2 teaspoon smoked sea salt
1/2 cup almond milk
1/2 teaspoon apple cider vinegar
1/2 teaspoon maple extract
4 tablespoons non-dairy butter (Earth Balance)
2 tablespoons vegetarian bacon bits (I used Bac'Uns)
For the Glaze
1/2 cup powdered sugar
1 tablespoon almond milk
2 tablespoons maple syrup
1/2 teaspoon smoked salt
2-4 tablespoons vegetarian bacon bits (I used Bac'Uns)
Instructions
Pre-heat oven to 350 degrees.
Mix the dry ingredients together in a medium bowl (flour through salt).
Mix the wet ingredients together in a small bowl (almond milk through Bac'uns)
Combine wet & dry ingredients together in one bowl and mix until just combined.
Spray donut pan with cooking spray. Transfer batter to donut pan using small spoon or tablespoon – stopping below the top of the center piece. This will ensure that your donut still has a hole after baking.
Place pan in oven and bake for 14-16 minutes, or until donut springs back when lightly touched.
While donuts are baking, mix together all ingredients except Bac'Uns for glaze.
Allow donuts to cook completely, then use butter knife to loosen the donut edges from the pan and transfer to wire rack or plate.
Holding the bottom half of the donut, dip the half into the glaze and rest on plate. Sprinkle with Bac'Uns, as desired.
Powered by
My pan makes 6 donuts at a time, so I made half the batch and put the remainder in the fridge. We quickly gobbled up this first batch (3 donuts each), so another batch will likely be made tomorrow. After the race, of course!
*******************************
Questions for you:
Are you a fan of the maple and bacon flavor combination? Obviously, I am!
What other flavor combos would you like to see in a donut?
Any fun weekend plans to share?