I am so excited to share with you the updated look of  Better With Veggies! I've been working with an amazing designer (who I will highlight in a future post) on a new logo – which I hope you guys love as much as I do. If you look carefully, you'll see the triathlon theme woven into the logo – a swimmer, cyclist, and runner.
I've been hard at work getting everything ready for the new design. I thought that with my background in web development (back in the day) it would be a snap, but it wasn't quite as easy as I remember. I guess I'm really rusty! I did learn a few tricks along the way, so let me know if you're planning a redesign of your blog in the future and I'll be happy to share what I learned (and save you some time)!
And now for the really big announcement…
Online Coaching Services!
I'm pleased to officially launch online coaching services for both running and multisport events! This is another thing that's been in the works for a while and I really wanted to launch the new look and new coaching options together – success!! Kirk and I will both be coaching, so as you continue to read "we", that's why. =)
We are offering two different types of coaching options: Race Training Plans and Monthly Coaching.
Race Training Plans are for those who are looking for a customized schedule for an upcoming race, including: 5K, 10K, Half Marathon, Marathon, Sprint Triathlon, and Sprint Duathlon. Instead of a generic schedule, each training plan will be customized for your current ability level, goals, limiters, and available training time.
Monthly Coaching is best for those that are looking for guidance on building a long-term training plan with multiple races and priorities or multisport athletes targeting longer races. We'll build an Annual Training Plan (ATP) and design your training to maximize your performance throughout the year. Three levels on monthly coaching are available, with increasing levels of interaction and frequency of plan updates.
Interested in learning more? See the Coaching Services pages for a detailed breakdown of the benefits of our coaching plans, options, and pricing. You can also send me an email if you have any questions not covered there.
TWO Race Recaps Tomorrow
I'll be back tomorrow with TWO race recaps from this weekend – Run the Rocks 10K Trail Race and Publix Half Marathon! For now, let me just say that I had a great time and finished both smiling. Honesty, running two races didn't feel as crazy (and tiring) as I expected.
In case you missed it on Facebook, I'll leave you with this early morning picture of my AWESOME TUTU!!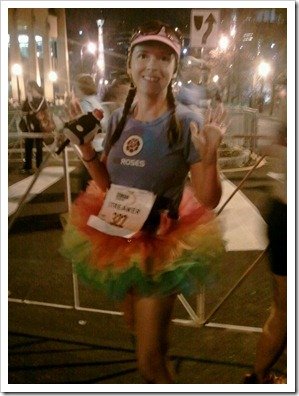 ***********************
Questions for you:
I'd love to hear what you think about the new site and logo – like it, not your thing, don't care either way?
Did you race this weekend? Brag on your accomplishment!!
Are you ready to run out and buy a tutu for your next race yet?!