It's time to get back to the Taste of Europe Pairing dinner today! We're up to the entrée, which in this case is a French-Canadian dish called Tourtière. It's traditionally served in Quebec around Thanksgiving, so the timing was even appropriate!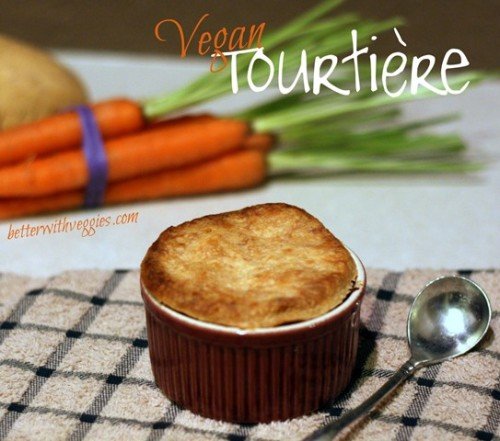 What is Tourtière? It's traditionally a meat-pie, and has been made with many different fillings (I had pork in my pre-veg days).  When we were brainstorming entrees from different countries, I remembered this one and thought…hey, I could veganize that!
I first made this dish years ago when I used to cook almost exclusively from Cooking Light. That was my favorite magazine from college through the first several years of our marriage. I never felt comfortable creating new recipes, but make our menus each week from recipes in the latest magazine.
In it's original version, Kirk and I always thought this dish was special (which means I made it multiple times). The filling is packed with warm, rich spices that I associate with cooler temperatures. The texture of the filling is juicy and the pie-crust top is the perfect contrast. Plus, the presentation is just beautiful.
I also remember taking this to a friend who just had a baby. Her husband is French and I thought he would enjoy this dish. It got the French seal of approval after that delivery. =)
My version is one of the best veganized dishes I've created, and I think I've had pretty delicious results in the past. Both the textures and flavors are spot on in this dish, more than I hoped for, actually. This dish was voted the best of the night, so if you only try one…try this one!!
[Tweet "A #vegan version of the french dish you have to make: Tourtière"]
As far as pairing, we served this with 2010 Chateau del la Coste Margaux. It held up wonderfully to all the flavor in the Tourtière and the fruit was a nice complement to even things out. The funny thing is we actually had a different wine planned (a Châteauneuf-du-Pape), but our wine seller didn't even know what that was. Yea…we won't be trusting their opinion on wine.
A Veggie-fied Tourtiere
Author:
Ingredients
Cooking spray
4 Fieldroast Italian Sausages (368g)
1/2 teaspoon ground cinnamon
1/8 teaspoon ground red pepper
1/8 teaspoon ground cloves
1 tablespoon olive oil
1 cup onion, diced
1/3 cup carrot, diced
1/4 cup celery, diced
1 white sweet potato (or regular sweet potato), peeled and diced
3 garlic cloves, minced
2 tablespoons all-purpose flour
1 1/2 cups No Chicken Broth
1 batch vegan pie dough
Instructions
Preheat oven to 400°. Coat 6 ramekins with cooking spray.
In a food processor, combine sausage, cinnamon, red pepper, and cloves. Process until mixture resembles a "chopped meat". Set aside.
Add about a tablespoon of olive oil to a large pan and heat over medium-high. Add onion, carrot, celery, and potato to pan and saute for 5 minutes, stirring frequently. Add garlic and saute for another minute. Add sausage mixture and sprinkle flour over the top, stirring until combined. Add broth, scraping the bottom of the pan to loosen any crispy pieces. Bring to a boil and cook for 2 minutes.
Divide mixture among 6 ramekins (about 1 cup in each). Roll pie dough to about 1/8-1/4 inch thick. Cut 4 rounds from the pie dough, each large enough to cover the top of the ramekin. (I used an extra ramekin to cut mine). Ball up the dough scraps and roll out to 1/8-1/4 inch thick. Cut the remaining two ciricles.
Top each ramekin with a pie crust, then cut a slit in the top to allow it to vent (note: I forgot this step when I baked mine and the tops were small enough to vent from the edges).
Bake for 40 minutes or until the tops are browned. Serve hot, but be careful as the insides will stay pretty warm until opened.
Powered by
Recipage
I hope you get a chance to make this one, because take a look at the yumminess you get with each bite. You would never guess this one is vegan, but it really is!!
********************
Questions for you:
Have you ever had Tourtière?
What is your favorite pot-pie style dish like this?