I started thinking about this race in early 2011. I hadn't even completed my first Ironman, but I was already planning the next one. After doing much of the training solo, convincing Kirk to join me for parts of my long rides, I was dreaming of having a training buddy.
Several months ago, I learned the company that traditionally owns this race was bought out by Ironman.
Uh-oh…
Usually registration for these races opens the day after the last event. Often the date for next year's race is posted on the web before the current year's race even happens. For weeks, there was nothing…anywhere.
I started to worry – was Ironman going to cancel this race for 2013? Do I need to start looking for a different event? They do sell out a year in advance…
Finally…an announcement was posted!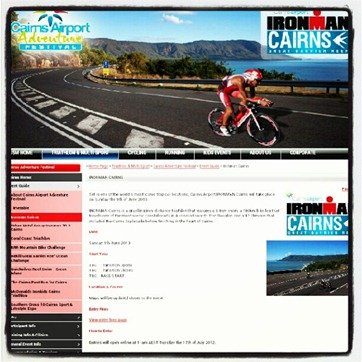 June 9, 2013!
Believe it or not, I actually enjoyed 90% of training for Ironman Australia, my first Iron-distance race. It takes a lot of time, but I was very happy with the way I balanced training and regular life. I really enjoy the challenge of the training and the process of getting your body ready to go strong all day! I have been looking forward to this race since my first Ironman was over.
And now it's official!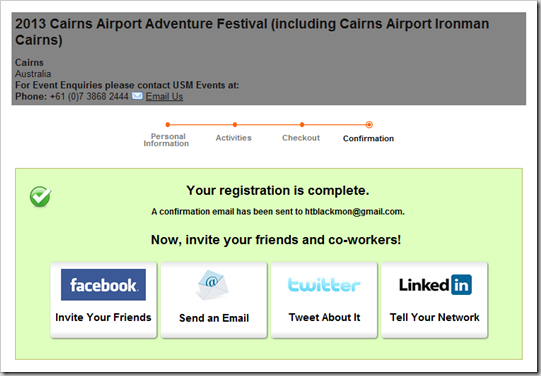 Not only am I registered for my second Ironman, I'm registered for the most expensive Ironman I've heard of. It's a good thing I've been saving since the beginning of the year in preparation for this race registration. Anyone want to sponsor me for my first 100% plant-based Ironman?!
So now I have to start thinking of swimming again. Just thinking…I'm not planning to get back in the pool until December. No, this is not the typical approach. Or one I recommend in most situations. But it works for me and makes me happy.
And yes, I've already started planning a high-level training plan. Just making sure I know what coming and when I can plan vacations. For now, I still have almost 6 months until I have to really start training for this. Plenty of time, right?! 😉
********************
Questions for you:
What's the earliest you've ever planned for a race?

What event (fitness or fun) are you most looking forward to in the next year?