If you're a well-endowed female who plays sports, you know the frustration of finding a sports bra. The cute sports bras aren't supportive enough and the supportive ones are so tight you feel claustrophobic. At least this has often been my experience. This is a big reason reason I was excited to learn more about Title Nine's #Bravangelist campaign.

Disclosure: This post was sponsored by Title Nine. While I was compensated for this campaign, all opinions are my own. You can read my disclosure policy here.
Badly fitted sports bras cause a lot of problems. In fact, according to Jene Luciani, 85% of women are wearing the wrong size bra! And many women quit exercising after having a baby because they can't find the right bras/exercise clothes. I didn't realize how big an impact the sports bra really has on our fitness. 
That's what this campaign is all about – helping women find the perfect sports bra!
A few weeks ago, I visited a Title Nine store to be fit in a sports bra for running. We started with measuring to see what size I should be wearing. I think this is particularly important with vanity sizing being so common – it's hard to know what size is going to fit in each brand. If there's not a store near you, check out their Bra Genie for guidance.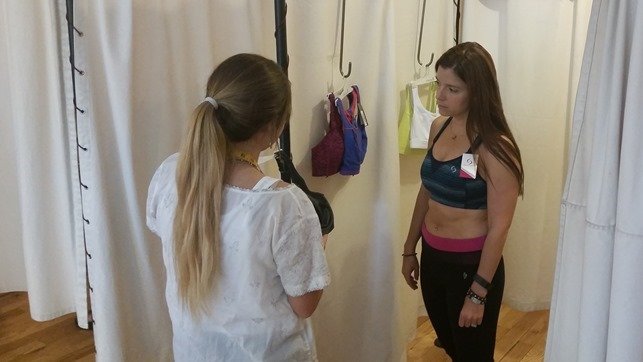 Katie (the bra fitting expert who helped me) asked me several questions to understand how I like my sports bra to fit, then gave me suggestions on styles might work best for me. I tried on A LOT of bras. I am very particular in how they look and fit, so I took my time with this. Katie was so patient and kept bringing me new options based on the feedback from each bra I tried on.
From what I learned, there are three major considerations to finding your perfect fit.
Find the Perfect Sports Bra
1.  Get Fit by a Pro
I always advise my athletes to visit their local running store to buy shoes from the running experts. Why don't we go to the bra experts to buy our sports bras? Title Nine wants to help you do just that. They have tested, worn, designed, and rejected thousands of bras and found the ones that fit and work.
2.  Be Clear on Your Purpose
I've been guilty of using one sports bra for everything, and not necessarily the best supporting one for high-impact activities (like running). One of the questions they ask when fitting at Title Nine is what  you will use the sports bra for. They use a "barbell rating" system to describe the amount of support you need for your cup-size and activity. So the barbell level you need for lifting weights or yoga is different than what you need for running.
 3. Take Your Time
This can be a time consuming process, don't rush it. There are so many sports bras to choose from and trying on many different options will help you find one that fits you well and you are most comfortable in. Here are a few tips from Title Nine to help you narrow down your selections:
If chafing is a problem you may need to go down a band size and up a cup size.
Do you see wrinkling and puckering on your bra?  It means the cup is too big.
Does your bra ride up in the back?  It means it's too loose.
Your bra straps should not dig into your shoulders.  If they do you may need a smaller band size.
4. Replace Every Year
I also learned that sports bras, like running shoes, should be replaced when they begin to wear out.  After a year, the elastic and fabrics of your bra just aren't what they used to be & it's time to replace them. I know I have several in my closet that are at least 3 years old, so this is another tip I'm guilty of breaking! Time to replace them for sure.
[Tweet "DYK: Sports bras only last ONE year? 4 tips to find your perfect fit. @titlenine #FitFluential"]
My Perfect Sports Bra
I finally settled on the 3 Reasons Support Bra (by Moving Comfort). It was a good mix of support, comfort, and looks for me. It has velcro-adjusted straps, which was something I hadn't seen before and makes it very easy for fine-tuning the fit!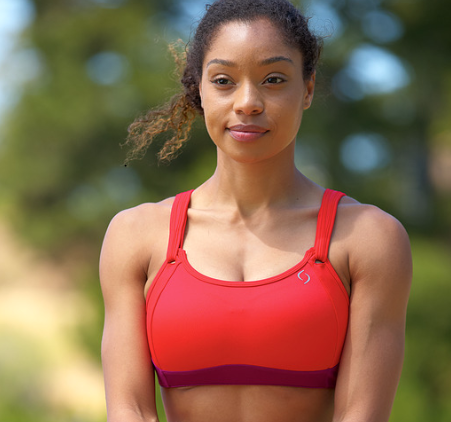 (photo from Title Nine)
I've used this new sports bra a few times for steady-state and interval runs — and I have been impressed! I think it's fair to say I haven't been buying the best fitting sports bras for running. I didn't know what I was missing! It was really nice that "the girls" really stay in place, making for a much more comfortable run.
I'm going to keep putting this new well-fitting sports bra to the test and share a follow-up review in a few weeks. There may also be a giveaway in the works for you!
[Tweet "Find Your Perfect Sports Bra – 4 Tips! @titlenine #fitfluential"]
If you're interested in connecting more with Title Nine, you can find them on Facebook, Twitter, and Instagram. 

Edited: I also shared a Persicope video on this topic – you can watch the replay on Katch if you're interested!