As you might remember, I started (sorta) following Making the Cut a few weeks ago to get my butt back in the gym, increase my metabolism, and try to drop some extra pounds I've picked up over the past few months. I've had a few questions about how things are going, so I thought a mid-point progress report might be interesting.
First, I have to say how much fun it is to workout with a buddy! Kirk has joined me for most of the sessions and it really helps for us to push each other. We've been learning new exercises together and complaining about the ones we dread – which usually means it's a good one.
Some of the new-to-me moves that I've enjoyed most are:
Scorpion Pushups

Pike Pushups

Plank Twists

Lunges with Lateral Raises
I think one of best things I'll be taking away from this workout are the new moves. I know these are going to make it into some of my future workouts, even when I'm not doing the program.
So far, I love how quickly I can move through the workouts. Since I'm removing the cardio portions, I can generally finish in 20 – 30 minutes. Most of the variance is waiting on equipment, depending on what others in the gym are doing. I feel like I'm already stronger than I was 2 weeks ago! I also really love that the workouts change every week. Mondays and Thursdays are the same workout, as are Tuesday and Friday. Every week is new though – you never know what you're going to be doing. Your body really has no time to adapt.
I do feel like my legs are a little tired on the runs from all the work, but it's not overwhelming and I think the benefits are still outweighing that extra heaviness in the legs. Last Wednesday it really caught up with me and I struggled on my run.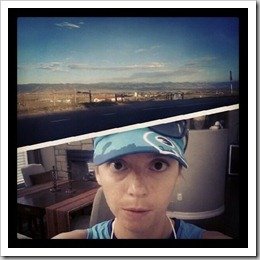 But otherwise I'm feeling better and more confident on my runs.
How about my weight? It's so hard to tell on me sometimes, but I think I'm down a few pounds over the past few weeks. I've only been weighing myself on Mondays, so I'll wait until the end of the 4 weeks to evaluate how my clothes and the numbers are looking. Honestly, I'm more concerned with the way my clothes fit.
I haven't been as good at counting calories as I planned. It's a lot of freaking work since I make new recipes all the time. I know it's a good approach for me, but I would like to hire someone to do it for me. 🙂
So – halfway done, with halfway to go. I'll share another update when I've wrapped up the program.
Last Week's Workouts
I'm halfway through Making the Cut – which means I've been back in a real gym for 2 weeks! I am enjoying the feel of weights again (not better, just different), but there are some things that aren't so awesome. Like the guy who I swear just works out his pecs 4 days a week, always while I'm there. And always on the piece of equipment I need! That something I don't have to deal with when I work out at home. 🙂
Monday – Making the Cut(Day 8 modified)
Tuesday – 4M Run + Making the Cut(Day 9 modified)
Wednesday –

6M Run

4.5M Run
Thursday –

1:00 Bike

:45 Bike + Making the Cut(Day 11 modified)
Friday – Making the Cut(Day 12 modified)
Saturday –

3M Run

6M Run (Repeats)
Sunday – 8 Mile Run
A mix of good and bad runs last week, but as the week went on I felt stronger! I ran the distance on Saturday AND Sunday, and although it was really hard, it was closer to my pace than it has been. YES!The bike on Thursday morning from our house was also insanely awesome. Lots of climbing, but I actually enjoyed the challenge on the bike and enjoyed the crisp morning ride before work.
This Week's Plan
This week it's more of the same. Although I get a little break in the long run department. Thank goodness – maybe I can run most of it!
Monday – Making the Cut(Day 14 modified)
Tuesday – 4M Run + Making the Cut(Day 15 modified)
Wednesday– 6M Run (Marathon Tempo)
Thursday – :45 Bike + Making the Cut(Day 17 modified)
Friday – 4M Run (Hills) + Making the Cut(Day 18 modified)
Saturday– 14M Run
Sunday – 3M Run
Since we didn't get in any hiking last week, I'm hoping to get outdoors for something active this weekend. I have a friend at work who was talking about a 14er, so I'm hoping that works out and I can tag along.
********************
Questions for you:
How have your workouts been over the past week? I love hearing your progress!
Have you learned any new strength moves recently? Do share!