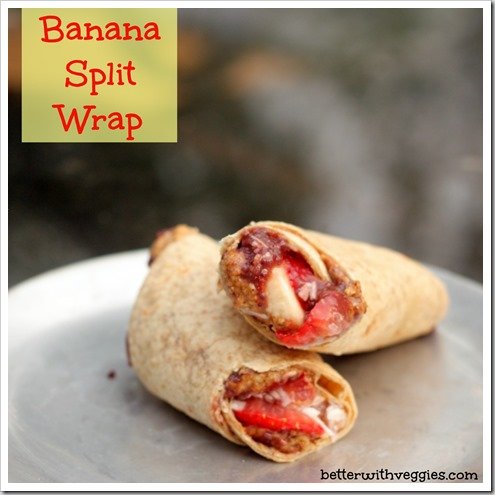 Do you ever have those weekends that are good, but leave you exhausted by 9PM on a Sunday night? That's how Kirk and I were feeling last night. After a full day of whitewater rafting in Buena Vista to celebrate our anniversary, we came home to do a full evening of "stuff". This week that included meal prep for the week, weekly training plans for a few athletes, & work meetings (not normal for either of us!).
I think I'd like a personal assistant, personal chef, and a mini-vacation. 🙂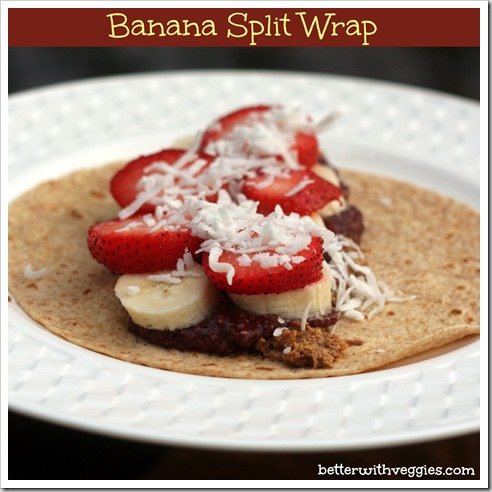 As we were driving home from rafting, I was thinking about what recipe we could make with jelly that would be quick & easy (and require no additional shopping). Since we still had plenty of chia jelly in the fridge, I thought a variation of an old favorite sandwich was something Kirk should enjoy. I have very limited fruit on my current diet, so this was a meal I did not partake in.
Not your basic pb & jelly, but think of this as amped-up version of the old favorite. And if you're feeling extra sweet, I would add a few dark-chocolate chips to the mix and pop it in the toaster oven for a few seconds to let the chocolate melt a bit. Yep…you're welcome.
Banana Split Warp
Keywords: no-cook breakfast brunch sandwich snack fruit summer spring
Ingredients (serves 1)
1 whole wheat tortilla
2 tablespoons almond butter
2 tablespoons Blackberry-Peach Chia Jelly
1/2 banana
2 strawberries
1 tablespoon sweetened coconut
Instructions
Slice banana & strawberries.
Spread almond butter & chia jelly over tortilla. Top with sliced banana & strawberries. Sprinkle coconut on top. Roll into a wrap & enjoy!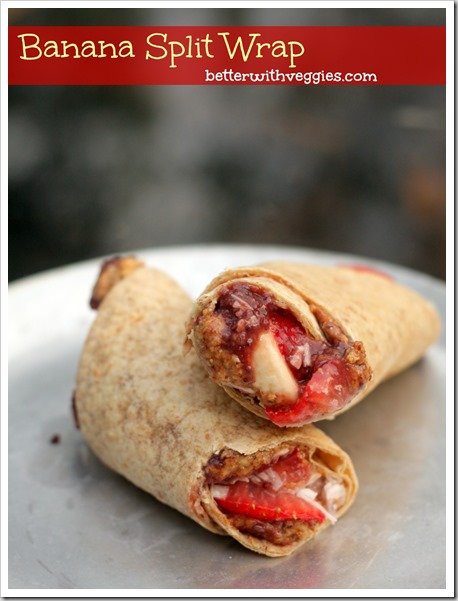 So, if you made my chia jelly from last week, you probably have everything on hand to whip up this quick wrap at your house tonight. I feel pretty comfortable saying this is a quick treat that kids would also approve of (even though there aren't any of those in my house).
********************
Now before I turn it over to the other MMAZ participants this week, I just wanted to let you know about some other fun stuff I have planned for the rest of this week. Did you know that Better With Veggies turns 2 on Thursday?! It's true! To celebrate the fact that YOU have been such loyal readers over these past few years, I've arranged some great giveaways for the rest of the week!
I'm keeping the companies a secret for now, so you'll have to come back each day to find out more. But trust me, you're going to love them!
Okay, now back to the Jelly fun!
I can't wait to see what recipes you cooked with Jelly. Everyone is welcome to link-up a meatless recipe they cooked for jelly or included jelly as an ingredient:
********************
Questions for you:
Are you feeling refreshed from the weekend or a little worn out?
Did you eat a lot of PB&J sandwiches as a kid?