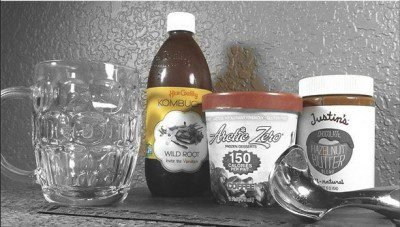 A few weeks ago I had an unusual craving after work. I had seen an ice cream float earlier in the day, but wanted a healthier alternative to the typical version. With my recent love for Arctic Zero, I decided to check out the flavors they had available. I immediately zeroed in on coffee. Perfect!
Next I needed a kombucha that would pair well with coffee, instead of the typical fruit flavors. The High Country Wild Root sounded promising, so I crossed my fingers and bought them both.
As I prepared to assemble this easy treat after dinner that night, the hazelnut butter caught my eye and I added this optional (but amazing) flavor to the bottom of my mug. The result is a more sophisticated mix of flavors than your typical float, but just as fun!!
[Tweet "A #healthy dessert to enjoy tonight – Coffee Spice Kombucha Float via @FITaspire. "]
Coffee Spice Kombucha Float
Author:
Prep time:
Total time:
Ingredients
1-2 tablespoons [url href="http://justins.com/item/chocolate-hazelnut-butter/" target="_blank"]Justin's Hazelnut Butter[/url]
1/2 cup [url href="http://www.arcticzero.com/store/Coffee" target="_blank"]Arctic Zero Coffee[/url]
1/2 bottle High Country Wild Root Kombucha (or similar spiced kombucha)
Instructions
Add hazelnut butter to the bottom of a glass mug and microwave for 20-30 seconds, or until soft.
Top with several scoops of arctic zero, leaving a good amount of room between the top of the dessert & top of the mug.
Slowly pour kombucha over the top, allowing the foam to settle before filling to cover the top of the dessert.
Enjoy with a long spoon and a big smile!
And since this healthy spin on an ice cream float isn't quite so normal, I am happy to be adding this new recipe to Laura's weekly Strange But Good roundup. Make sure you check out some of the other treats featured over there!
*******************
Questions for you:
When was the last time you enjoyed a float?

What is your favorite dessert right now?