Ten and half years ago, we built our first house. We signed the initial paperwork the day after we were married and picked out all the customizations. We watched them pour the foundation, frame the house, raise the walls, and eventually we moved in.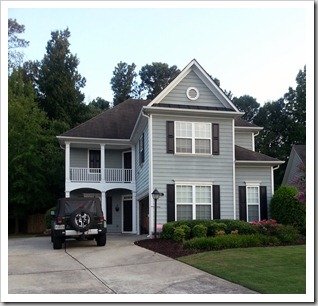 Today, we officially close the door on that chapter of our life here in Atlanta, because on Friday this truck took all our stuff. Don't worry, we paid them to do that and they promised to bring it to Colorado!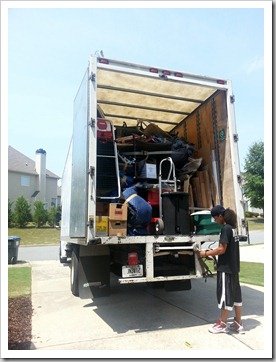 I vaguely remembered that the house looked different before we added all our stuff, but watching it happen in reverse confirmed it.
Kitchen: Before
Kitchen: Packing
Kitchen: Empty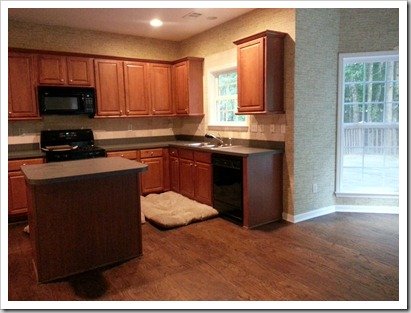 The only thing that makes the house not look completely boring, is all the color on the walls. I can't imagine how odd this must look if you're someone who keeps the walls white. Although if you're used to white walls, maybe that's normal? I even painted the walls in the apartment before we moved to this house. I only lived there for 6 months.
Dining Room: Before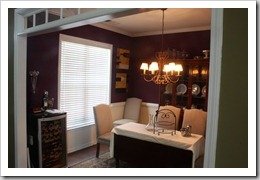 Dining Room: Packing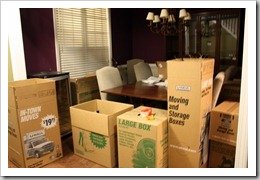 Dining Room: Empty
A house is not the same without your belongings. When it's filled, it expresses part of your personality. When you take that away, it's just walls and floor. I think our living rooms looks smaller somehow without nothing in it – is that possible? 
Family Room: Before
Family Room: Packing
Family Room: Empty
It was amazing what we found while moving out. It was also disgusting sometimes. Smooshed cockroaches under furniture. LOTS of dog hair, even more than our normal amount of doggie tumbleweeds. Old socks. Pretty gross stuff actually.
Guest Room: Before
Guest Room: Packing
Guest room: Empty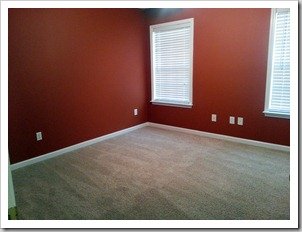 I hope the new renters bring lots of their own things to liven the place back up. It's a great house and it likes to be filled with people. And animals. They are bringing a little dog – yay!
Office: Before
Office: Packing
Office: Empty
The strangest room to think about someone else living in is the bedroom. It's just a little creepy to think about someone else making this their bedroom, but I know it's completely normal.
Master Bedroom: Before
Master Bedroom: Packing
Master Bedroom: Empty
I hope our renters have as much fun living in our house as we have, it's been a great 10 1/2 years and it's time for new adventures. I'm not exactly sure if we'll end up with a similar style of decorating in Colorado or if I'll do something different. I'm really excited about moving in and starting the transition to make our new house a home next weekend!! Just a quick trip to San Antonio between now and then. Where I'm hoping to meet up with this girl! =)