I remember when the Georgia Aquarium was being built back in 2005. Kirk and I love aquariums and even discussed getting seasons passes for the inaugural year. We decided to wait, because we expected there to be so many people, it wouldn't be as much fun.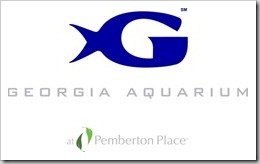 (source)
Fast forward to July 2012, the week were are moving…we still hadn't been to the Georgia Aquarium! You know what they say when you live in a city…
Luckily, we had no plans for the 4th of July holiday, so we decided to change that and head downtown for a day with the fishes. Our scuba gear was already packed, so this was as close to "getting wet" as we could manage for the day.
I'm kind of a dork about underwater creatures – I love learning all about them! I recognized many from our dive trips and we looked up info on a lot that we didn't know.
Let's start with the little guys: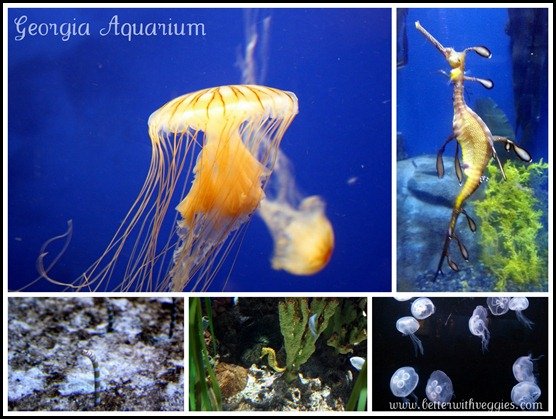 On the top left we have Pacific Stinging Nettles. These are the kind best observed from afar – no fun to get stung underwater. Side Note: I actually remember swimming through a line of small jellyfish in my second half ironman (Gulf Coast). Just one of the MANY reasons I will never do that race again.
The little guy on the top right does not look real, right? Well I promise it is! It's a Sea Dragon and they are small and gorgeous. I would love to see one of these in the wild, they were beautiful and very surreal!
Bottom left are a small variety of eels, although the name is escaping me. They were like little snakes floating just out of their holes. Bottom middle is a seahorse – another little creature I have yet to see in the wild. And finally more jellyfish (moon jellyfish, if I remember correctly). Just beautiful.
Next up, the big guys:
Top left is a shot of the opening screen from "Dolphin Tales" a show with…dolphins. 🙂 I know, you would have never guessed that one, right?! The show was like a Disney production with music, "acting", singing, and 5 fascinatingly talented dolphins. No photography allowed during the show, so you'll have to see it for yourself, but I did find this great photo of the theater to share.
(source)
Next up is the star of the aquarium, although tough to catch on film – the Whale Sharks. I think I counted at least 4 and they are magnificent. The largest fish known (they are sharks, not whales) and so graceful. The tank that the large fish are in is gigantic and the tour around the tank ends in an atrium of sorts, where I could sit and watch the fish swim all day. We were there for quite a while and I even took a video to share with you. I even added background music and muted the sound of all the people and kids screaming in the background. You can thank me later.
And finally, just a few more pictures of beautiful marine animals before I wrap up for the day:
I hope you enjoyed my brief look into the Georgia Aquarium. And if you're in Atlanta, I hope you check it out. Don't wait 7 years, like we did. 🙂
********************
Questions for you:
Do you like visiting aquariums?

Favorite marine animal?