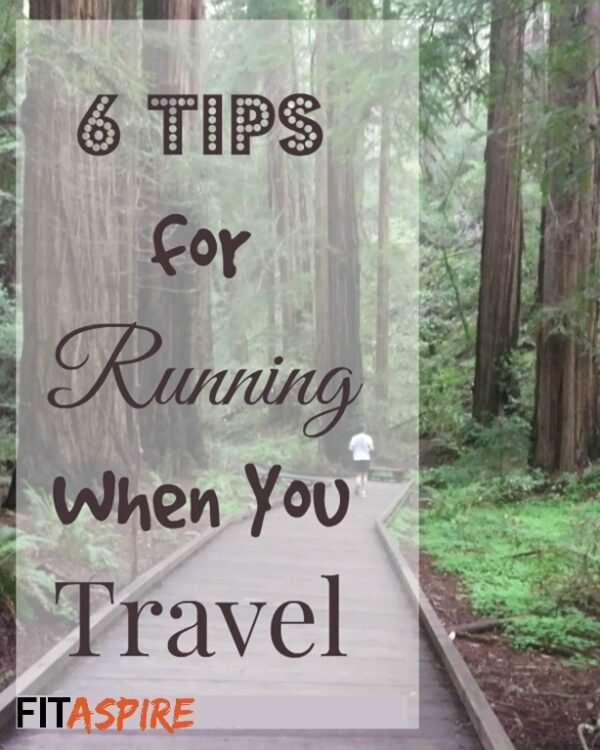 This past week I had the opportunity to visit several beautiful cities. I attended a Digital Marketing conference in San Francisco, so we flew out early to enjoy wine country over the weekend (more to come next week on that trip!).
On Sunday morning, we had the chance to do a trail run in Muir Woods. Running through those majestic redwoods is incredible and something I hope you get to experience. On Wednesday morning, I got up early to head to the Embarcadero Waterfront and run toward the Golden Gate Bridge. I've done this route a few times and it's one of my favorites.
These are just a  couple of runs I've had recently that reminds me of the JOY of running. I want to share that joy with you, so you can also spend some time exploring a new location with your running shoes.

6 tips for running when you travel:
1. Bring layers
Check the weather when you're packing and pack a few options. You don't want to be uncomfortable while exploring a new city, so I almost always bring layering options to be ready for anything. On top, I bring a sleeveless and long sleeve shirt. This ensures that I'm ready for a brisk or rainy morning run where a little extra warmth is nice. And when you start to warm up, it wraps nicely around your waist.
2. Find local running routes
When you're visiting a new area, it's good to look into running routes that others have tried out. Depending on the area, some may be safer than others, so I search MapMyRun to see what streets are popular. If you're staying in a hotel, you might also ask the front desk or concierge if they have any recommended routes – especially if there's a certain landmark you want to see.
3. Run with a Camera
The smallest camera I own is also the one I always have with me – my Galaxy S4 smartphone. Most phones these days have a pretty impressive camera, which is perfect for snapping photos of the great sites you discover on your run. I will keep my phone on the camera app to make taking pictures a very quick stop.
4. Don't forget your GPS
My smartphone also has a GPS, so it sometimes doubles as my running GPS to track how long and far I run. I tend to be a data geek, so I like to know these details even on a fun run. I also have a Garmin GPS that I often pack when I'm going to do real training runs.
5. Have a backup plan
One of the fun things about exploring a new city is discovering new places. In case you change your route mid-run, it's helpful to have an alternate way back to the hotel. On my recent trip to San Francisco, it was too foggy to see the Golden Gate bridge from my planned turnaround point. I decided to run a bit further and only run partway back to the hotel. I ended at a Starbucks, used my phone to pay for coffee and breakfast, then called and paid for a cab with Uber. I would have missed one of my favorite sights without a backup plan!
[Tweet "Explore while #running on your next trip with these 6 #tips! #travel"]
6. Have fun!!
Seeing a city from your running shoes is a unique way to experience the area. Don't rush through it and focus only on your run – appreciate the sights around you! Slow down and look around as you cross a bridge, peek into shop windows, make note of the food cart that setting up for a few hours later, grab a photo of the sunrise over the city landmarks.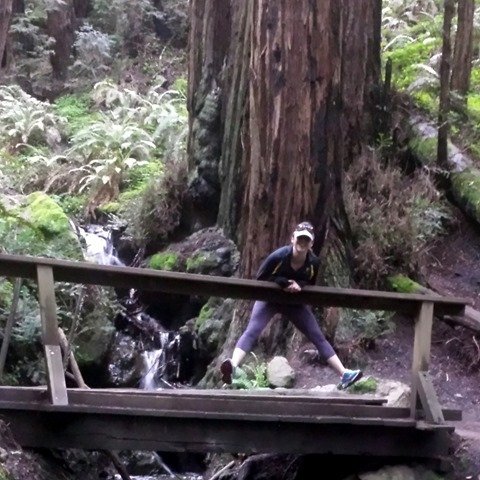 I hope these tips help you prepare for your next trip. Have a friend that could use these tips? Use one of the sharing options below to pass this post along!!
*******************
Questions for you:
Do you have any travel plans to a good run location?

Any tips to add to this list?