My favorite way to kick of Thanksgiving is to run a race! I think it's a wonderful, healthy way to start a typically unhealthy day. It's my way of shifting the focus away from the overstuffed bellies. =)
For the past few years, my Thanksgiving races have been of the 5K or 10K variety. This year I decided to sign up for my original Thanksgiving Day tradition and head back to the Atlanta Half Marathon. I didn't really like the old route, but I heard good things about the new course that was launched last year. It was time to find out for myself if they had planned a more interesting running tour of Atlanta.
The race organizers always recommend Marta, but it was a mile walk from the closest station to the start. Plus, Marta is the most inconvenient public transportation – it would actually take me at least an extra 30 minutes to take the Marta route from my house. No thanks! Parking was a breeze – I think we waited in traffic for at most 3 minutes and parked steps away from the start. Now that's convenience!
About 15 minutes before the start of the race, we pulled our stuff together and headed to the B corral to line up near the 1:50 pace group. I went into this race not knowing how fast I could run for the day. I've been working just on building up my volume since recovering from my injury, with very little speed focus. I thought I'd give it a try anyway and see how I felt. Kirk and Kevin (a friend of ours) planned on running with me, whatever pace that was. They are both much faster than me. 🙂
When it was our turn to start (7:35AM), we took off running and quickly settled into my pace. Actually a little quicker than the 8:20 average I was shooting for, but I was very aware of the hilly back-half of the course.
The first 7 miles were good – although I wasn't sure if I could sustain the for the entire 13 miles. I just tried my best to focus on keeping my breathing under control and run by feel. I rarely looked at my watch, just ran. The average pace for these first 7 miles was 8:15 – which would have been great!
A little after mile 6, I decided I really should take part of my gel. Pretty soon after that I could really feel it just sitting there and drinking more water wasn't helping break it up. I held on through mile 7 before giving in. Ugh…not again…
This is a pretty common issue for me – I do not digest nutrition well when I'm running faster. At short races, I avoid anything slightly solid (which includes gels). At longer races (half ironman distances) I'm not going quite as fast and I seem to have gotten this under control. For half-marathons & even marathons, this is crops up more than I would like.
After mile 8, I knew my PR was impossible and it was hard to motivate myself to push past the discomfort. The run turned into more of a jog to the finish line. My average pace for the second half of the race was 9:23.
I was disappointed with my finish time immediately after the race, but I got over it pretty quickly. I also know that gels are tough for me when running faster, so I need to focus on figuring out what works for me. I have been reading that many people have an issue with the maltodextrin found in many sports products (the gel I used was 82% maltodextrin), so I am toying with the idea of making my own based on a Brendan Brazier recipe in Thrive Foods (but much thinner) to see if that helps.
I may try for my sub-1:50 time again in January, I know it's within my capabilities. After another month or so of training I will have more miles on my legs and more consistent speed in my workouts. Not every race is going to be a Personal Record, sometimes it's about the journey and enjoying the ability to run this distance.  This was one of those races…and that's okay with me!
Did you race for Thanksgiving? Good, bad, or just for fun?
Thanksgiving Dinner
After the race, we headed over to my Aunt & Uncle's house for Thanksgiving dinner. Dinner is probably the wrong word in this case, because I think we sat down to eat around 3PM, but I was ready to eat!
I brought the foods I shared in yesterday's post, but I was really excited because many people made the veggies vegan-friendly for me too! A few photos of the foods I enjoyed: Brussels Sprouts with Chestnuts, Green Beans with Mushrooms, Cranberry Sauce, Kale & Avocado Salad with Chickpeas, White Gravy, Mashed Potatoes, & Veggie Casserole.
Quick phone pic of my plate piled high with goodies. I ended up eating WAY too much food, but everything was so good! I really didn't eat any dessert – I was too full! 🙂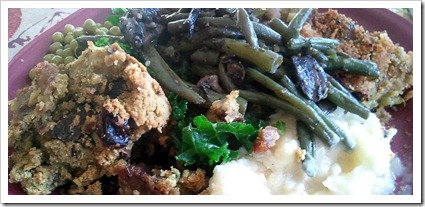 How was your Thanksgiving?! Any new favorite dishes that you enjoyed?