One of my favorite desserts when I was younger was rhubarb pie. My grandmother had a delicious recipe that she made for me when I was growing up and it's one of the foods that still reminds me of her. It's not a food that I see very often, but it's under-appreciated! Technically it's a vegetable, but it used most often in the same way as fruit. When I found some fresh in our grocery store, I knew I had to use it in this week's recipe.
The crumble part of this recipe was my original plan. I love the flavor and textures of a crumble on top of fruit. Although it uses a fair amount of "butter", it's a healthier option than a full pie with crust. And it adds just enough of that pie-like flavor to make you smile and say "Mmmm".
Although you could make this rhubarb crumble in one big batch, I love using single serving dishes for prepping. It makes serving a snap and it's easy to top with plastic wrap to save for later.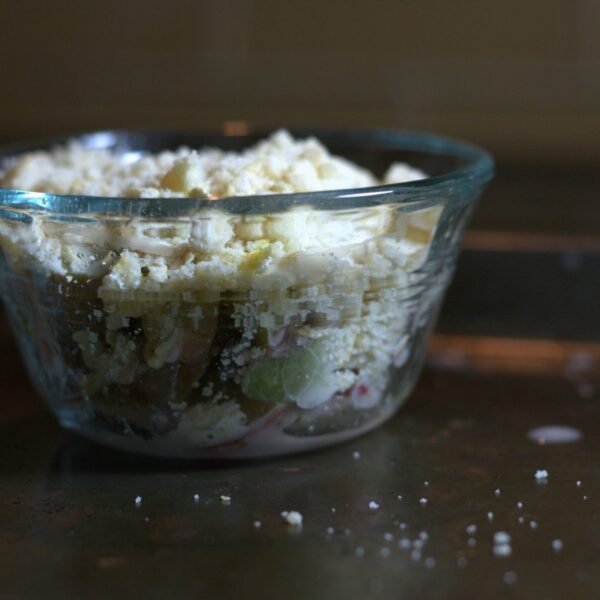 Kirk and I really enjoyed these for dessert last night – and Kirk isn't really a big fan of rhubarb. That's called a successful recipe in my book!
[Tweet "A rhubarb #dessert like grandma used to make, but healthier! #recipe"]
Rhubarb Crumble
Author:
Prep time:
Cook time:
Total time:
Loosely adapted from Smitten Kitchen's Strawberry-Rhubarb Crumble
Ingredients
For the Topping
1/3 cup unbleached cake flour
1/4 teaspoon baking powder
2 tablespoons tagatose (I used NuNaturals brand)
Lemon Zest (I used 1/3 lemon)
2 tablespoons rolled oats
1 tablespoons earth balance buttery spread
For the Filling
2 cups rhubarb, diced (about 2 stalks)
Juice of 1/2 lemon
2 – 2 1/2 tablespoons tagatose
1 tablespoons arrowroot (or cornstarch)
Instructions
Preheat oven to 375 degrees.
For the Topping
Mix together flour through rolled oats until combined. Pour melted butter over the top and mix with dry ingredients until fully incorporated. This makes a very generous portion of topping, so feel free to use less if desired.
For the Filling
Place diced rhubarb in a medium bowl. Top with remaining ingredients and stir until coated.
Assembly
Coat 4 ramekins with cooking spray. Transfer rhubarb mix evenly among the ramekins. Sprinkle topping over rhubarb. Bake for 20-25 minutes, or until filling is bubbly and topping is golden brown. Allow to cool slightly and serve!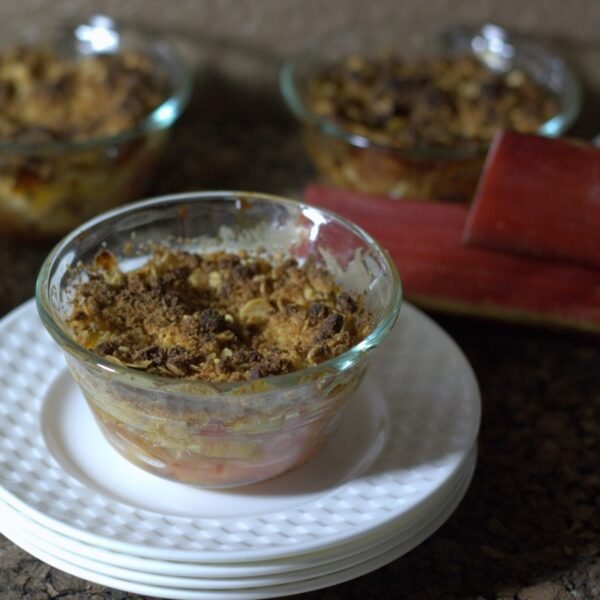 *******************
Questions for you:
Do you have a favorite dessert memory from your childhood?
Have you cooked with fresh rhubarb?