Sometime in the past few years, I became very interested in brewing our own beer. I think it's a natural progression for someone who enjoys beer and loves cooking – why wouldn't I want to make my own?
We have a friend (Doug!) who brews great beer that had us over to participate a few years ago and I knew we had to do it. But the initial investment in equipment (we're cheap) delayed our start for longer than it should have. Luckily, there was a Groupon that showed up (about a year ago) for a beginner kit that helped us make the leap.
If anyone tells you brewing beer is hard, those people are lying through their teeth! 😉
From our experience over the last year or so – it's all about having the right equipment and keeping it clean. And time. It does take about 3-4 hours, although most of that time is inactive. And it's best if you have a gas stove or gas burner (like a turkey fryer) for accurate temperature control.
The last two weekends, we've brewed a batch of beer on Sundays. Last weekend it was a double IPA. This week, it was a Belgian Grand Cru. These were also the first two batches of all-grain brewing, which Kirk and I both enjoyed even more!
Step 1: Get all equipment together, make sure it's clean, and ready to use.
For all-grain brewing, we use: the burner, propane tank & connector, 9 gallon stainless steel pot, grain, 4 gallon pot, converted igloo (mash tun), sauce pan (for transferring hot water), 7.5 gallons filtered water, colander & paper towels, beer recipe ingredients (hops, etc.), wort chiller & plastic tubing, sterilizer, plastic slotted spoon, bucket, bubbler, & yeast.
Step 2: Heat water to 160- 165 degrees Fahrenheit. Notice the awesome Georgia Dawgs propane cover in the background. 🙂
Step 3: Put crushed grains in mash tun – which in our case is a converted igloo beverage container. This had been sitting in the garage for way too long, don't you love when you can re-use something?!
Step 4: Transfer hot water to the mash tun, covering the grains.
Step 5: Put top on container & hold temperature at around 155 degrees for an hour. Relax and enjoy a nice break…and hopefully beautiful temperatures outdoors!
Step 6A: Heat 3.5 to 4 gallons of water to 165 degrees.
Steps 6B: While water is heating, drain the wort into large stainless steel pot.
Step 7: Transfer hot water slowly into mash tun over grains. This time, we use a colander with paper towels in the base to help "filter" the water as it is poured into the container – so it doesn't go into all one area.
Step 8: After all liquid is drained into pot, move the collected wort to the heat & bring to a boil.
As the temperature gets close, watch it – you don't want this to boil over and lose good beer!
Step 8: Add hops (whatever your recipe calls for) and allow to boil for an hour (or so, whatever your recipe calls for).
Take pictures and be silly while allowing to boil. 🙂
Step 9: Cool liquid as quickly as possible. We used to do this in the kitchen sink with ice & water, but the shiny copper wort chiller makes this SO easy and well worth it.
Step 9: Transfer to Bucket & add yeast. I've been loving this Wyeast brand and we've used it for the last 3 or 4 beers (at least) – very consistent. Once yeast is added it's time to agitate and get everything mixed together! Either put the top on REALLY shake the bucket or sanitize a spoon and mix the heck out of it!
Step 10: Store it somewhere with a cool, consistent temp. We put ours in our front coat closet.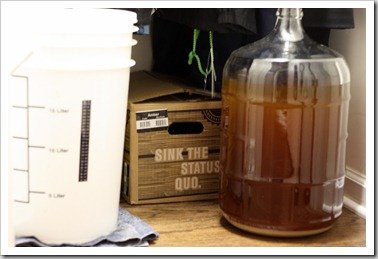 And that's it for a while…it sits in the closet until fermentation slows down. Typically this is one week, but it has been up to 3 weeks. At that point, we transfer to the carboy (the glass container on the right in the photo above) and let it sit for another 1 – 3 weeks (depended on what we are brewing). Finally we transfer to the bottle.
The best part, is when you get to crack open that bottle of beer YOU made and enjoy!
******************
Questions for you:
Have you brewed your own beer before?

What is your favorite kind of beer?