This is a bit unconventional for WIAW, but I am excited to share my experience at Seed Kitchen & Bar last Thursday evening. I hope Jenn will forgive me from deviating from the traditional post style just a bit to share this great restaurant with you!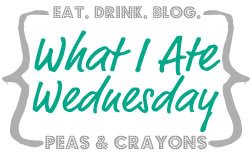 I avoided this restaurant for months when in opened in East Cobb. I was immediately intrigued by the name, but disappointed by the menu. From the name, I expected a list of choices with tons of veggies and easy to customize. Instead, I found a very meat-centric menu.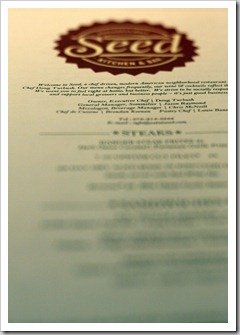 I had visited once with a friend for drinks and was extremely impressed with the drinks. That's why I thought of it last week when we wanted a night out for dinner. Let's put my menu customizations to the test!
Their wine list is fairly good, but their cocktails are what really stand out. Kirk opted for the The B.O.S.S. and I started with the Aviation. I had been wanting to try something with Crème de Violette for a while, but had no idea how to use it. This cocktail was fantastic!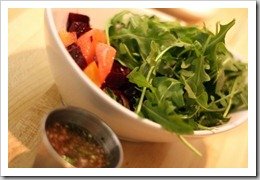 For our appetizer, we ordered the Roasted Beets and Grapefruit salad, without the liquid parmesan (of course). The fruits & veggies in this salad were amazingly fresh and flavorful – exactly what a salad should be. So many people serve a pile of iceberg lettuce and wilted tomatoes, this was the complete opposite and I really appreciated it!
With dinner, Kirk ordered a Belgian beer and I ordered a Paloma Caliente. Serrano Syrup in the mix? It was a no brainer! Unfortunately, it must have been a mild syrup (or just not much of it), as it didn't have the kick I was hoping for. I'm a bit of a heat snob, though!
I forgot to mention the best part! As I prepared to order dinner, our waiter made a recommendation. He mentioned that if I wanted to trust the chef, he made a delicious vegan plate. Wow! I love when chef's step up and offer something custom made – you know I ordered that!
When my vegetable stack was served, I was so excited! The plate piled high with potatoes, mushrooms, onions, artichokes, radishes, microgreens (I think I'm missing something) and drizzled with a Riesling sauce – oh yea! On the side, sautéed spinach with garlic. Simple, yet so delicious.
My recommendation to the waiter and the chef? Add this to the menu! A restaurant that creates such a delicious vegan plate would get a lot more requests if people knew it was available.
********************
Questions for you:
What restaurant recently surprised you with an amazing meal?

What do you order most often with dinner – wine or cocktails?