I'm so excited it's Wednesday! This has been a crazy week at work, filled to the brim each day and I'm looking forward to this weekend's trip to Sacramento. That's right – the 50K is this Saturday! I'm nervous and excited to finally be coming up to "race" day. It seems weird to call this a race, when my every intention is to go slow and just tackle the distance, I think the challenge of 31 miles of running is plenty for me. 🙂
Moving back to today – let's focus on FOOD!! I rushed back from FoodBlogSouth on Sunday morning to attend this month's Brunch edition of the Atlanta Underground Market. This was my third visit to the "traveling market", you can see my summaries of the first two here and here. The brunch theme had piqued my interest and we (Kirk & I) met up with Laura, Lee, and Felix this week to see what the vendors had cooked up this time.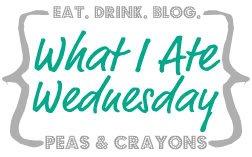 What WIAW

isn't

about

Comparison – Judgement – Restriction – Guilt

What WIAW is about

Celebrating one of the glorious things we all have in common: We all eat!

WIAW is about food and fun! It's about making new friends, breaking out of a food rut, inspiring yourself & others, embracing fruit & vegetables, finding new ways to eat your favorite foods, and so much more <3

Celebrate blogging. Celebrate Food. Celebrate Individuality.
[Cause over here, we like to party!]
One of the fun things about attending this event regularly, is I'm starting to know the vendors and who has consistently good food. Two of my favorites are Kushina Catering &  Cookie Underground – both completely different and delicious!
Kushina Catering offers Ethiopian fare, something I don't get to eat much of elsewhere. The first photo shows collard greens and lentils, covering the fun & spongy teff bread. In the second photo, Tofu Masala! These two bowls were so filling on their own, but I was ready to suck it up and try out many of the other vendors.
Next up is Cookie Underground, a bakery that always has several delicious vegan offerings. Today I had the Vegan & Gluten Free Cookies & Crème – which I made with one Chocolate Sweet Potato cookie, one Vanilla Parsnip, and one cup of Espresso Rum Frosting. The cookies were good, but that frosting was incredible! The flavors of both the espresso and rum really shone through that chocolate and it was a delicious mess. It's a good thing I ate that cookie sandwich in a quiet corner, it was all over my face and I didn't care. 🙂
I also had a Crispy Lemon Kale (because we all know I'm obsessed with kale), which was good – but didn't stand out like the cookie sandwich amazingness. 🙂
Other than the two above are my favorites, there are also many other great vendors I visited. Dr. Sweet's Cake Emporium was one of the first foods I had, being situated right by the entrance. This week, they had gluten-free, vegan pancakes with several toppings to choose from. We went with the apple jalapeño & grapefruit juniper berry. I really enjoyed these dense pancakes, but I could have used a little more spice in the apple jalapeño topping (although I do like things spicy!).
Next up, Navarro Twisted Pastry offered a nice Zucchini Bread, which I took home with me and enjoyed at work yesterday. Light & moist with a normal zucchini bread flavor.
And finally, Melon sa Malamig, a Filipino iced shredded melon drink. The melon in this drink must have been VERY ripe, because the flavor in this drink was unreal! So refreshing and the bits of melon in the drink were fun to munch on. I wasn't sure about trying this drink, but it was a very pleasant surprise.
And that wraps up this week's AUM Brunch edition of What I Ate Wednesday! What was your favorite eats from the past week?
Before you head out, check out these other recaps of Atlanta Underground Market from my friends & co-conspirators this weekend:
Lee @ In My Tummy: Atlanta Underground Market – Brunch Version