When people find out that I eat a plant-based diet, they often ask what I typically eat. That's a really hard question for me, because I don't make the same thing twice very often. What do you mean you don't make the same thing twice? Don't you run out of things to make?
Ha – never! =)
Before I found healthy living blogs, I typically planned my meals around new issues of Cooking Light. In the past year, I actually cancelled my long-time subscription, because there are so many amazing recipes online and I enjoy the challenge of creating my own recipes!
I think the best way to really answer the "typical" question is to share my recent meals. Recently this has been filled with recipes from others and I don't see that stopping anytime soon. I realize I just did a similar post last Friday, but there's already more to share and WIAW is so much more appropriate. And it is my blog. =)
So what did I eat this week?
1 – Quinoa Basil Bean Burgers with Basil Aioli from Spabettie. For this meal, we cut the burgers in half and served in a corn tortilla with diced avocado & tomatoes.
2 – Artichoke Power Dip (from me!). For breakfast, I spread this over toast and topped with a fresh sliced tomato. Yum!
3 – Tofu with Peanut Ginger Sauce from the NYTimes.com (Kirk actually found this one)
4 – Beet Burgers from Oatmeal After Spinning. For this meal, I made it Mexican-style with fresh guacamole, heirloom tomatoes, and spring greens!
5 – Tiramisu Protein Parfait from Sprint 2 The Table, served with Raw Whipped Cream from Fork and Beans. I used the whipped cream in place of yogurt to make this plant-based and amazing!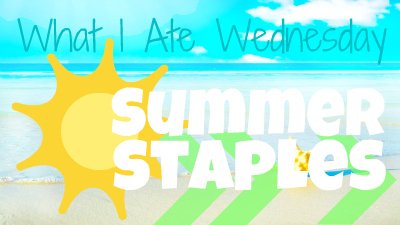 How does this fit into the Summer Staples theme? How about a few "staple" tips for maximizing "summer" cooking time:
Prep ahead of time, when possible. This is one I'm working on, but looking ahead to see if you can make all or part of the recipe when you have a few minutes free – then just assembling when you're ready to eat.
Always make at least double the servings we need for a meal. That means you'll have enough for at least TWO meals from one cooking session. It doesn't usually take longer to cook more of the same recipe.
Using the same ingredients, tweak the second (or third) serving of a meal to make it a little different. Like the beet burgers above, adding different toppings or side to give it a different feel.
Pre-portion the leftovers in Tupperware, so it's easy to grab on your way out the door for lunch!
I hope you enjoyed this peak into my weekly eats and maybe you've found a few ideas or recipes to try as you go into the next week!
********************
Questions for you:
1. Do you have a rotation of meals that you repeat often?
2. What's your favorite tip to save time in the kitchen?