This post might be a little self-serving. Why?  I want to eat at your house!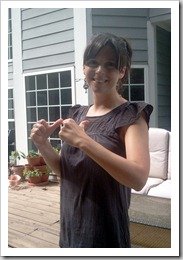 I understand that having someone over who eats differently than you can be intimidating. What do they eat? Will you be able to make something they like?
But really, I promise it's not as hard as you think and you may even find it's something you could cook for yourself every so often! In fact, you can probably make your favorite meal with just a few substitutions and still make everyone happy.
But what do I serve in place of the meat?
These are very loose substitution rules, but they work pretty well for almost anything. If buying a pre-packaged option, just double-check the ingredients to be sure they contain no milk or egg products)
There's no way I can bake without dairy?!
I think this might have been more difficult in the past, but it's a snap now!
Milk: There are so many non-dairy milks to choose from. My favorite is Almond Milk, but you can also look for Coconut Milk, Rice Milk, Soy Milk, Hemp Milk, Flax Milk…there's probably more! You can use these exactly as you would regular milk in recipes.
Butter: The most common vegan "butter" is Earth Balance Buttery Spread. I use this in cooking & baking exactly as I would have used butter in the past.
Whipped Cream: You can chill and whip (full-fat) Coconut Milk or you might be able to find a non-dairy soy based version in your grocery store.
Eggs: There are a few options here, but I've found Ener-G Egg Replacer to be the easiest & most reliable. You can also use Chia Seeds or Flax Seeds mixed with water as a good substitute.
Cheese: This can be the hardest one for many people. If you're cooking with cheese, I recommend looking for Daiya Shredded Cheese or Follow Your Heart blocks of cheese. Both of these are similar in flavor and melt fairly well. The only cheese I've found good enough to eat by the slice as an appetizer was homemade using this recipe.
Sour Cream and Cream Cheese: Two different products, but for both I just get the non-dairy version at the grocery store. My favorite brand is Follow Your Heart, but any will work.
I'm still nervous about serving the "wrong" thing!
Most people who eat a plant-based diet would LOVE to help make the meal, even if it is served at your house. Or, I bet they have LOTS of recipes that they could recommend to make it a little easier to plan for you. You can, of course, search the recipes on this site – all 100% plant-based!
Think about some foods that are already plant-based that you eat today:
Hummus
Salsa
Pita Chips
Fruit
Vegetables
Salad
Oil & Vinegar dressing
Rice, Quinoa, etc. (just make sure you use water or veggie broth in cooking)
Oreos
Sorbet
And don't forget about:
Wine
Mixed Drinks
Beer (just be careful about stouts, which are sometimes refined with fish bladder – gross, I know!)
This is a very small selection of items, but I hope it helps get you thinking. 🙂
*******************
Questions for you:
For the Plant-Based folks: What other tips do you have to share?
For the Non-Plant-Based Folks: What else do you worry about that we can help you with? Are you ready to invite me to dinner yet?!