I have to admit – this was not a very interesting food day for me. In fact, I don't even have photos of Breakfast or my snack or any new photos of my lunch (leftovers). Let's count this as a very honest post – not every meal is truly blog-worthy in my life. 🙂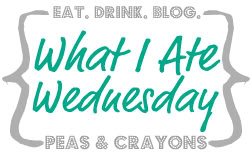 What WIAW isn't about

Comparison – Judgement – Restriction – Guilt

What WIAW is about

Celebrating one of the glorious things we all have in common: We all eat!

WIAW is about food and fun! It's about making new friends, breaking out of a food rut, inspiring yourself & others, embracing fruit & vegetables, finding new ways to eat your favorite foods, and so much more <3

Celebrate blogging. Celebrate Food. Celebrate Individuality.
WIAW is hosted by Peas & Crayons and features lot of great (usually interesting) meals for you to discover. As I mentioned last week, I'm sharing what I ate on Tuesday in each WIAW post.
What I Ate for Breakfast:
La Belle Vert Smoothie from Thrive Foods, with a little added maple syrup to provide a sweeter breakfast flavor. This is not the tastiest smoothie, but it gives me such a kick of energy I've been having it every few days anyway. This smoothie includes kale, parsley, pineapple, banana, dates, and help seeds.  I wish I had a picture of this one to share – pretend there is a picture of a NEON green smoothie below. .
What I Ate for Snack:
Lack of self control, meant I had a bag of mini oreos (leftover from Halloween) before a lunchtime doctor's appointment. The appointment went well – he checked out my knee and confirmed I don't seem to have done any damage (beyond bruises and cuts). Yea!
What I Ate for Lunch:
Leftovers at the office: Shanghai Rice Bowl. This is a recycled picture of the original meal, no one wants to see what lunch looks like after being stuffed into Tupperware and bounced around in the car on the way to the office. 🙂
What I Ate for Dinner:
After grocery shopping on the way home, we ended up eating dinner fairly late. As usual, tonight's Mama Pea recipe was another winner – a tasty Pad Thai with broiled tofu. The marinade was simple, but added a lot of flavor to both the tofu and the overall dish. I did let the veggies sauté a bit longer than instructed, because I didn't really want much crunch in my dish tonight (other than the peanuts).
Question of the Day – What is the best thing you have eaten so far this week? Anything you are really looking forward to cooking or eating later in the week?
For me, I'm really excited about trying the vegan Caviar that I ordered last week. I have been looking forward to it for a few days now, but I want to have a calm evening at home to do it right. My plan involves blinis, crème fraiche, and sparkling wine. I'm hoping that experience can be documented with some very blog-worthy photos! 🙂