I'm happy to report that our first backyard BBQ was a success! Great friends, plus lots of good food and drinks – that combination made for a wonderful Saturday night. I was pretty impressed by the great flavor in the Nojito (one of the mocktails I shared a few weeks ago) and the Jalapeno-Lime Aoili topping the grilled corn (one of the backyard BBQ recipes I shared this weekend).
The third treat that made a delicious appearance this weekend was Sarah's Raspberry Joy Bars. These babies should come with a warning label! I dare you to make these without licking the spatula or bowl throughout the preparation. Luckily you have to freeze them before serving, so there was a period of time where I took a break from eating them.
That was until photos yesterday when I tried (and failed) to restrain myself from licking my fingers or eating another one. In fact, these replaced my cheat drink for the week. Gasp! I was just as shocked as you are.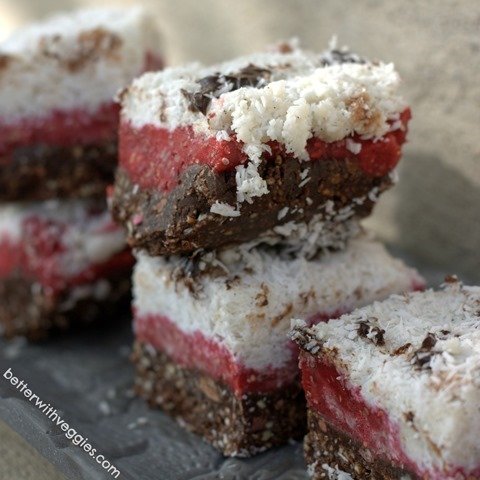 These do have quite a few steps, but they are pretty easy to assemble despite what it looks like.  I replaced the final step to make chocolate sauce with a NuNaturals NuStevia Cocoa Syrup. The only problem with that replacement and that most of the sauce ended up on my hands and I cut the bars into squares. Oops!
I think that's enough talking about these treats, it's making me hungry and I am trying to avoid the rest of these hanging out in my freezer right now. Kirk is going to be the lucky guy devouring most of these as I try desperately to stick to my diet. So head over to Sarah's blog to get the full recipe and to see her amazing photos of these decadent treats.
And now it's the time to see what others created for this week's challenge!
In case you are new to MMAZ, the goal is to cook a meatless recipe that features the ingredients from the month, preferably one of the recipes created by one of the other participants (in this case – watercress or xocolatl). If you join the fun, make sure your visit at least a few other participants to help build our little community and share the wealth:
And are you ready for the LAST SET of Meatless Mondays from A-Z ingredients? Come back tomorrow the announcement of June's ingredients!!
********************
Questions for you:
What's the best dessert you've eaten lately?
Which would you choose: wine or dessert?