This was my first real race since Ironman Austria in July. Ok, I technically also raced at the Georgia Veterans Tri in August, but my knee was injured during that race and I really just turned the run into an easy day to keep my knee pain under control. So, this really is my first real race since Ironman!
Going into the race, I really just focused on getting my endurance back and building up my running volume. I haven't done any speed work, just a few "up-tempo" runs with Kirk. So although I felt pretty good about my ability to go the distance, but I wasn't feeling very good about my ability to "go fast". I decided to just have fun and see what happened.
The course was 2 laps – with the 5 mile runners turning off after the first lap. The first lap was super crowded. I made the mistake of not worrying about my position at the start and couldn't really run my own pace. I was talking too much with others around me and ran into some old friends, a girl's got to have her priorities. 🙂
The first 2 miles were pretty packed and one we actually got on the trail (a little under a mile into the race), it was difficult to pass. There is a lot more strategy in trail racing – I had to look for an opening where I could pass and time my pace to pass the person in front of me. The trail was technical, lot of rocks, roots, and turns. I really enjoyed the course, but it really takes a great deal of concentration to run and not trip.
Starting the second lap, I started rolling my ankle as I ran more often. I could tell my legs were getting tired of running and forced myself to pay more attention. Unfortunately, between miles 7 &8, my luck ran out and I caught my toe on something (rock or root) and went down HARD, with my right knee smashing into a rock. After a fellow runner helped me up (and I said I was fine), I realized I couldn't put pressure on my foot. Uh-oh.
I sat on the ground for a few minutes, not really sure what to do. All the runner who passed me were so nice and I kept having to wave them on – I didn't want to hurt anyone else's race. I got back up and limped around a bit. I finally decided I really wanted to wear my race shirt that was actually the size for once (yes, it was a stupid reason) and started walking/limping. After a bit, I started to loosen up and started to jog. The pain started to subside and I was able to pick up the pace just a bit – although I still had to walk up some hills.
As I was running this section (and no longer worried about my time), I had a chance to look around and really appreciate where I as racing. It a windy morning and the fall leaves were raining down as the wind whipped through the trees. Gorgeous!
Finally, I could hear the finish line and I was so happy I would get to stop soon! As I got close to the finish line, I could see my friend Jennifer (who ran the 5M) standing just past the finish line – how cool! She snapped this picture with her phone as I was crossing the finish line. Notice the big hole in the knee of my running tights – ouch!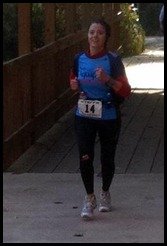 Total time was nothing to write home about (1:45:53), but did earn me 4th out of 9 in my age group. If I hadn't fallen, I'm pretty sure I would have secured 3rd place. Next time! The real distance of this 9M race was actually 10.2M. Why don't races just advertise the real distances?
After chatting for just a few minutes, I rushed out before the adrenaline wore off an my knee started hurting again. On the way home, it really did start hurting, but at least I as closer to home. After a bit of limping, some icing, and soaking in a hot bath – I was still able to get my run in on Sunday.
My knee is already looking better, not too swollen. Definitely scraped and bruised, but I think it should be okay based on today's run.
Dinner Time
On Sunday night, Kirk and I had a belated celebratory dinner for his marathon last weekend. The celebratory part was really our bottle of Zlatan Plavic that we brought back last year from Croatia.
This wine is made from the grapes are the predecessor of zinfandel grapes, Plavac Mail. It's a deep burgundy colored wine, very full bodied, with dark fruits and medium tannins. This was a fabulous wine when we tasted it in Croatia and a fabulous wine at home!
My dinner with the wine was another winner from Thrive Foods. Tonight was the Shanghai Rice Bowl and Mashed Kabocha Squash with Toasted Coconut. This was a HUGE meal, which I turned into 4 servings.
In the mix: brown rice, bok choy, shiitake mushrooms, chickpeas, buckwheat sprouts, hemp seeds, and tahini sauce.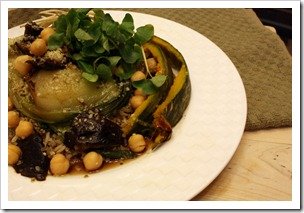 Hope you had a great weekend too!
Question of the Day: What did you do to stay active this weekend?