On Saturday, I actually remembered to take photos of my food! That might not sound special, but it means you don't have to look at photos of things in Tupperware or paper plates. That's pretty exciting to me!
Meal 1: I started my day with Butternut TVP "Oats" topped with a poached egg. I've been having different variations of this almost every morning, but the recipe is nothing special at this point.
Meal 2: After my workout, I was in the mood for something different. I decided to make a granola bowl packed with Vega Protein Powder, Kind granola, canned pumpkin, Vega Omega Oil, and Almond milk. When it was mixed up, it was kind of like chocolate pudding with a crunch.
Meal 3: On the way home from church, I ate 3 of my Veggie Protein Muffins (recipe below). I got these new awesome silicone muffin "containers" from Amazon and I'm loving them. I just put 3 on my food scale and fill with the appropriate ounces of protein & veggies for my meal. I may have to order more of these!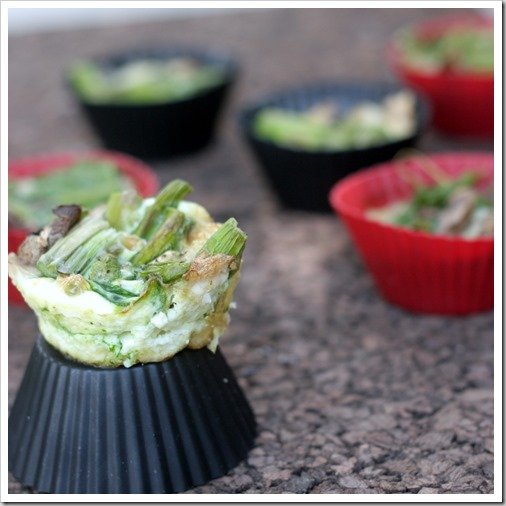 Meal 4: Next I made an artichoke using Ari's Lemon Rosemary Grilled Artichokes – although I broiled mine instead of grilling. Then I stuffed it with some asian tofu and enjoyed every bite!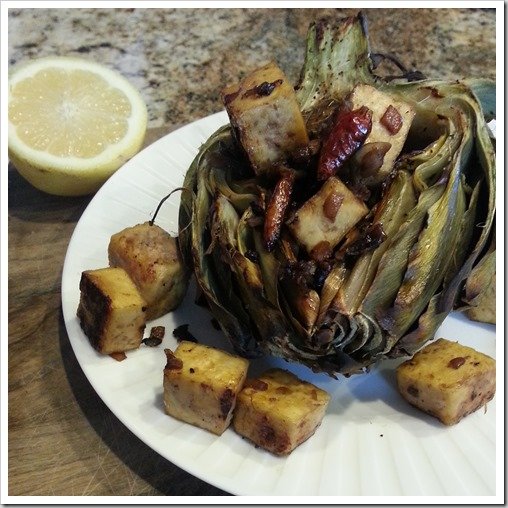 Meal 5: A little later in the day than planned, but I enjoyed a small bowl of gazpacho with crab meat. I actually tried this with imitation crab & real lump crab to compare the two. Believe it or not, I preferred the fake stuff. Weird. I'll be sharing this recipe soon!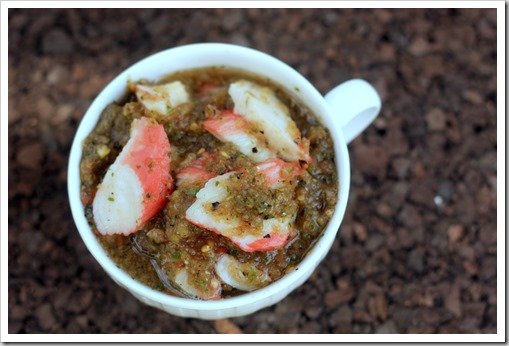 Meal 6: My cheat meal for the week – yay!! We love to make sushi at home and this week we bought tuna, salmon, and mussels. We never have a plan, but make things up as we go along. You'll see a mix of rolls, nigiri, and sashimi were on the menu on Saturday. There was also a delicious glass of 2009 Arrowood Viognier, which I thoroughly enjoyed!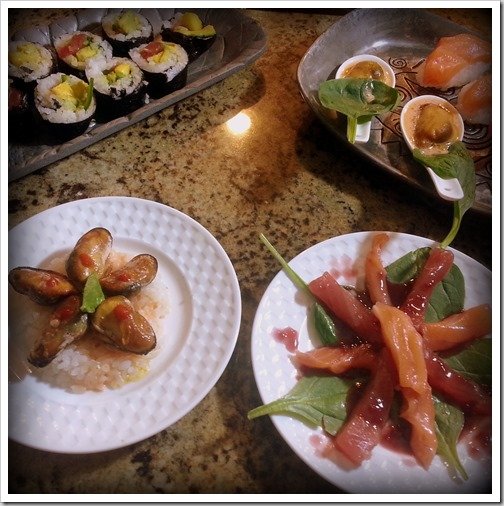 Meal 7: I realize that this is two weeks in a row on WIAW that I skipped the last meal, but I promise I do usually fit them all in. I definitely had more than normal at my cheat meal. 🙂
********************
Now for the Veggie Egg Muffin recipe! Last week, Amber requested I share the recipe, so I had to follow-through on my promise. 🙂
Veggie Egg Muffins
Recipe Type
:
breakfast, snack
Author:
Ingredients
16 ounces egg whites
12 ounces veggies (I used a mix of asparagus, spinach, & mushrooms)
salt & pepper, to taste
Instructions
Preheat oven to 350 degrees.
Divide veggies between 12 muffin tins (I use silicone muffin cups). Pour egg whites evenly over veggie-filled cups. Don't worry if eggs don't cover the tops of veggies, it will come together during cooking. Sprinkle lightly with salt & pepper to season.
Cook for 30-40 minutes, or until eggs are set. Remove and let cool. Store in Tupperware containers or Ziploc bags. Enjoy hot or cold. As my mid-morning meal, I typically eat 3 muffins without reheating.
These have quickly become my favorite mid-morning snack (meal 3) on my competition diet. I put the silicone cups directly on the scale, so I can add the specified weight of veggies & protein (egg whites). As my protein changes daily, so I just make mine in groups of 3 and place them on the tray in a way I remember which is which. I store them in Ziploc bags and label each with the protein ounces – easy to grab out of the fridge in the morning for work. 🙂
Phew – this was a long post!!
********************
Questions for you:
What veggies would you put in the egg muffins?

Have you made homemade sushi?