Another Saturday post? How did this happen? Actually, I'm trying out something new this week!
One of the questions I get often is "wow, you're doing an ironman. what do you do for training?". Honestly, I have a tough time answering that question. Are they curious about how many hours a week I train? What my workouts look like? When I do train? And the answer to all those questions could easily change depending on where I am in the training cycle.
I also like the accountability of logging my workouts in a public place. I used to be REALLY good about that when I used beginnertriathlete.com. I still go back to review what I did in training for a particular race occasionally –  it's a good guideline for what worked or didn't in certain areas. That slipped over the last year and I don't even know how many miles I ran or biked last year (gasp!).
So all that is my wordy way of saying I'm going to start sharing my workouts for the week on Saturdays. While I could share my workouts on Mondays, that's MMAZ and I'm not changing that! Instead, I'll share my training on a Saturday – Friday schedule (instead of the Monday – Sunday schedule I actually plan my workouts). We'll see how that works.
And because I appreciate you keeping me accountable, I'll also share one workout from the week that you can use in your own training!
********************
Saturday 12/29: 2 hour bike
Getting back to normal after a week of family + Christmas. After snowboarding for a few hours in the morning, we got on the bikes in the basement and rode while watching Brave on onDemand.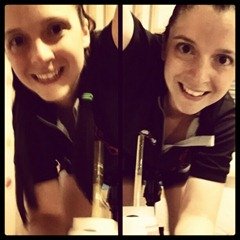 Sunday 12/30: 9 mile run
It was cold and the trail was covered in snow and we left our new Yaktrax at home. But I enjoyed the beautiful scenery while listening to the end of Redeeming Love on Audiobook. Pace was a little slower than I hoped, but within my long run target range.
Side note: Mama Pea recommended this book and it was fantastic!
Monday 12/31: 1400 yard swim + chest/tri strength
After a very lazy morning in my PJs, going to the gym was a bit of a struggle. We hit the weights first, so I got to wear my new PV Body pink shirt and Yogi Clothing pants for the first time out of the house. Getting stronger a little at a time!
Today's swim was an endurance focus, so more long intervals. I'm working on slowly increasing my interval distances, so today's 500 was a new record for this round of training.
Tuesday 1/1: (BRICK) 30 minute bike + 5 mile run
After watching UGA beat Nebraska in the Capital One Bowl, we did an easy ride on the trainer, followed immediately by the run. To make the ride more interesting, I picked up the pace during commercials for fartleks on the bike!
Very cold on the run, but the pace felt okay. I need warmer gloves for running in Colorado!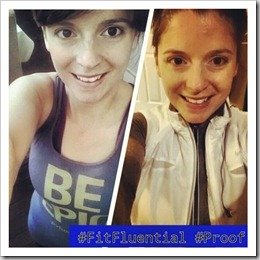 Wednesday 1/2: 1400 yard swim + 5 mile run
Swim before our first day back to work. Today's swim was a speed focus, my first of this round of training. With both fast 25s and 75s, I was reminded that I have a ways to go in training!
Run on the treadmill after work, using the office gym. Had the gym to myself and did my 5k/10k intervals while listening to my Selena Gomez Pandora station (yep). My paces still feel harder than they should, but I'm feeling a little bit of progress here.
Thursday 1/3: 1 hour bike + back/bi strength
Bike before work on the trainer, watching the beginning of The Thomas Crown Affair on OnDemand (free). Did a cadence workout today with 1 minute all-out intervals at the end. Trainer workouts make the time go by so much faster!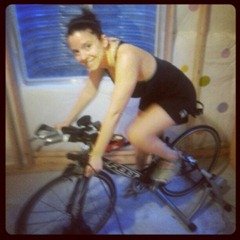 After work we headed to the gym for strength training, where I rocked my PV Body cropped pants. I'm at a weird weight with preacher curls and really struggled to get my sets done. Good thing Kirk works out with me to spot!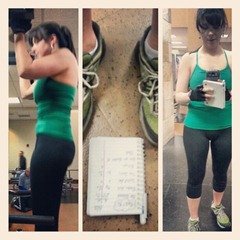 Friday 1/4: 10 mile 5.5ish run
Tried moving our long runs to Fridays, since they are shorter than the long bikes and we want one weekend day off (for snowboarding). Realized after we got up early and dressed, that neither one of really wanted to go running in the dark & cold – we'll figure out a new plan next week.
Postponed until after work, which ended up still being dark by the time I got home. Almost didn't go, then remembered I had this post and forced myself out the door. Then my stomach started bothering me on the run and my Garmin died around 4 miles. I gave in and just headed home…I think the route I finished was about 5.5 mile. Fail…
********************
Question for you:
What do you think – do you like weekly workout posts?

How was your training over the past week?