It's Wednesday – yipee!! This week is going by so fast and I'm loving it! It's been so busy with starting the new job, house-hunting, and workouts that I've hardly had time to sit down. In fact, I started my workout last night after 9PM. It's nights like this that remind me how awesome you guys are – immediately tweeting out support when I asked for it. 🙂
That's social media at its finest – thank you ladies!!
What I Ate Wednesday (While Traveling)
And now onto the star of this post, Jenn's weekly food party – WIAW! This week kicks of a new theme of sensible snacking.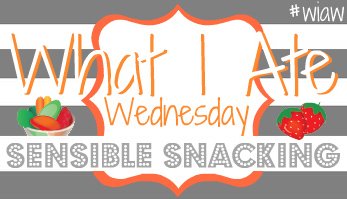 I am focusing this week on finding as much fresh, clean, and colorful food as possible while I'm traveling. I tend to eat a lot beige, carby foods when I travel, but I'm doing a good job breaking that habit this week!
Breakfast 
I started the day with room service, although choices are pretty limited (as usual). How I would love to see a green smoothie on a room service menu. I won't hold my breath!
Even with limited choices, I was pretty happy with my breakfast of oatmeal (with brown sugar, raisins, and banana), english muffin with peanut butter, and fresh fruit. WAY too much food, but a little of everything was perfect.
Sensible Snack
I ordered a variety pack of Primal Strips a few weeks ago and packed a ton of them for this week's trip. These are so easy to stash in your purse (or laptop bag for guys) and pull out when you need a snack. Packed with protein, but low in calories.
Lunch
I grabbed lunch to-go today and found a great salad place that I think will be a regular once we move here – Fourleaf Chopped Salads. You can choose from one of their "favorites" or build your own salad. Once you place your order, they put all the ingredients in a bowl, then chop on a cutting board, and mix together with your chosen dressing. Fresh, flavorful, and healthy – what a great way to have a huge salad for lunch on the go!!
Sensible Snack
I went straight from work to house-hunting, but I wasn't actually hungry again until we were done (around 8PM). That salad really did fill me up! I had another Primal Strip before dinner, because I got really hungry suddenly and didn't want to wait until I found something to eat.
Dinner
I found dinner in quick meal restaurant near the hotel: Larkburger. The cashier was vegan, which made ordering extremely easy. The bad news is they were out of vegan bread, so I got the Amy's Portobello "burger" wrapped in lettuce (without sauce). I also ordered a small spinach salad (unpictured) for some extra green fuel – I did still have a workout, after all!
And that's all for me! Don't forget to check out some of the other awesome eats shared on Peas and Crayons this week – you may find a new sensible snack you just HAVE to try. 🙂
********************
Questions for you:
What are your family plant-based snacks to pack when you travel?
What is one bad health habit that you have to watch when you travel (like my overuse of carbs and underuse of veggies)? I'm doing pretty good on this trip!